Do you want to start a vegetable garden for the FIRST time, but have absolutely no idea where to start?
Do you look at other people's gardens and want to have one too?
Do you love the idea of growing fresh, organic veggies in your backyard?
Perhaps you've grown a few herbs or tomato plants in your backyard, but now you want to extend your garden.
Do you want to start a garden that can provide your family with homegrown vegetables so that you can decrease your grocery store dependency?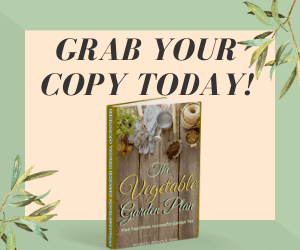 Imagine if you could…
Grow your own vegetables and herbs instead of having to go to the store for them
Reduce how much you spend on produce
Eat more organic food than ever before
Make your very first year of vegetable gardening successful
Have enough food that you could give to friends and family
You Need Real Advice From a Real Gardener
The advice offered here will make your first garden more successful and bountiful than you imagined.
The Vegetable Garden Plan: Plan Your Most Successful Garden Yet ebook teaches you how to:
Decide whether you want to grow plants in raised beds, containers, vertical gardens, or another option.
Pick the best seeds for your garden and location, increasing your chances of having a large harvest.
Understand where to plant each vegetable crop in your garden beds.
Select the right companion plants for each veggie to increase yield and decrease pests.
Know when to start seeds, whether inside or outside.
Does that sound like some of the help you need to have to create a successful garden? It is! Gardeners need to make decisions about how they want to garden and when to get started.
Those decisions are hard to make when you're new to gardening! How are you supposed to know that tomato seeds need to be started inside but zucchini seeds can be planted outside?
The Vegetable Garden Plan helps teach you so much, including charts on:
The average germination period for the seeds you start inside.
How much sunlight each of your veggie crops requires.
The best crops for vertical gardening.
Companion planting suggestions for each vegetable.
When to start seeds inside.
Plants that handle frosts and which don't.
Don't forget the 4 colored printables as well!
The Vegetable Garden Plan is an instant download PDF ebook that you can download and read on your smartphone, tablet, or computer.
Ready to hear more about what's inside The Vegetable Garden Plan? Here's a sneak-peek into the first 5 chapters!
Chapter One gives you some helpful tips on how to decide which vegetable crops to grow.
Chapter Two shows you how to decide how much space you have to create a vegetable garden.
Chapter Three explains the different types of veggie seeds and how to select the right seeds for your garden and location.
Chapter Four talks about picking the right location for your crops and how much sunlight each one requires.
Chapter Five is a simple recommendation for new gardeners!
That's Not All!
The following chapters discuss your soil and the nutrients required for proper growth, when to plant each crop, seed starting supplies, and more.

Ready to get started gardening? Grab your copy above now!