How to Make Calendula Salve with 2 Ingredients
Learning how to make calendula salve is easy and a great skin care remedy for the whole family!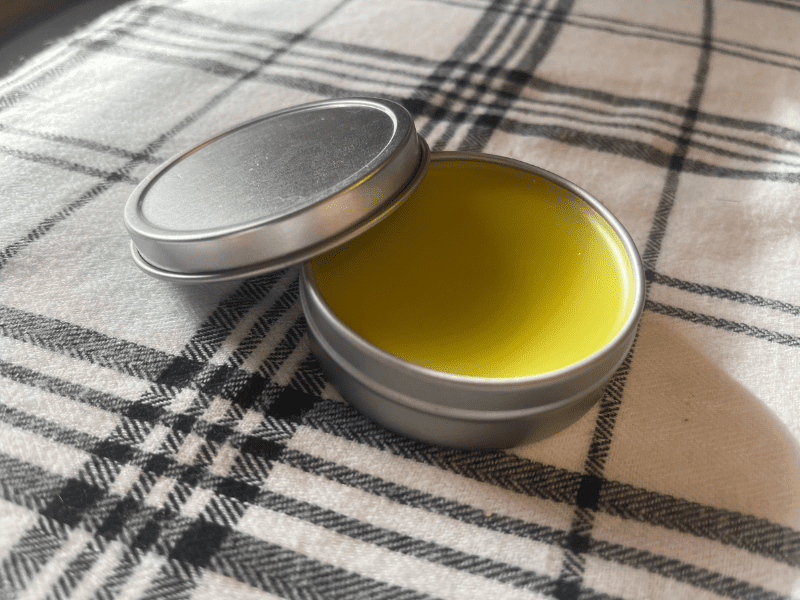 Calendula salve is one of my favorite natural skin care remedies that I use regularly. It's simple and offers powerful benefits for your skin. It's great for insect bites, minor cuts, burns, dry skin, and more. Learning how to make calendula salve is easier than you may think.
I love growing calendula in my garden. The pretty orange flower pops in my vegetable gardens and is useful for various natural remedies. If you want to grow herbs, I would be sure to include calendula in your list.
Calendula petals contain rich compounds to nourish, hydrate, and support skin healing. We know it is great for skin health, and a simple two-step process is all it takes to make your own salve.
Making calendula salve is easy to do and only uses two ingredients. Once you have infused calendula oil, only a few more steps lead to calendula salve that will nourish and heal your skin.
Once you learn how to make a homemade salve, it becomes addictive. You'll find yourself on a spiral creating more salves and other homemade products with your favorite herbs, like lip balm or lotions!
Keep reading to see my easy DIY calendula salve recipe.
Related: 11 Medicinal Herbs to Grow in Your Backyard
Calendula Benefits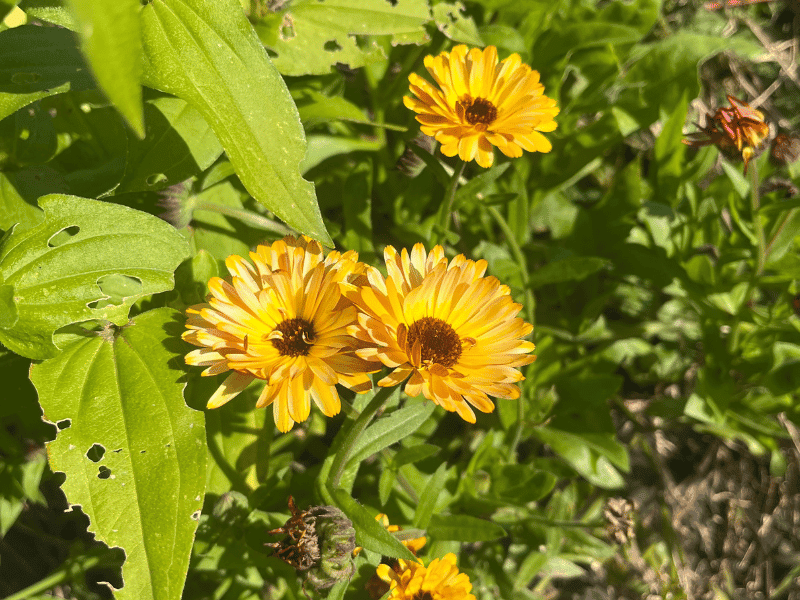 Calendula Officinalis, sometimes called pot marigold, is one of the most commonly used medicinal herbs by herbalists and natural healers. It's safe for internal and external uses; it's gentle yet a powerhouse herb with many medicinal properties.
Here are some of the benefits of calendula.
Promotes cell repair and regrowth
Antiseptic
Anti-fungal
Astringent
Anti-inflammatory
Overall, calendula is a heal-all, used for minor cuts, scrapes, rashes, and so much more. It's a gentle herb that rarely causes reactions.
What is Calendula Salve?
A salve is a healing solution you use on your skin; creams, ointments, and balms are all a type of salve. These are thick, shelf-stable skin products that use nourishing oil, such as coconut oil, olive oil, jojoba oil, sweet almond oil, or anything else. Salves also contain natural waxes or butters to bind together the other ingredients, making a semi-solid product at room temperature.
Beeswax is the most popular binding agent used to make salves. it's readily available and easy to work with. I prefer using pastilles because they create a smooth consistency and melt well for salve-making.
Calendula salve, or really any herbal salves, is a mixture of calendula-infused oil and beeswax. Some people include other herbal oils and essential oils, but the base recipe only contains two ingredients. It creates a hardened oil that can easily apply over your skin.
Calendula salve has many uses; it eases and heals various skin conditions. A few things you can treat with homemade calendula salve include:
Skin rashes
Sunburn
Swelling and inflammation
Eczema
Acne
Bug bites and insect stings
Minor wounds
Minor burns
Scrapes
Cold sores
Chickenpox
Razor burn
Stretch marks
In our house, we find many ways to use this salve, and it's safe and gentle enough to use on babies. So, you can use it to soothe a diaper rash, cradle cap, and other minor skin irritations. Any dry skin benefits from it, and it works as a hand moisturizer as well.
Supplies & Ingredients Needed to Make Calendula Salve
This recipe makes roughly one cup of finished salve, so you make about 10 ounces of salve. I use 2-ounce tins for storage.
You can double the recipe or scale down to make less if you want. If you want a harder salve, use more beeswax or less beeswax for a softer salve. The overall recipe is easy to adjust.
How to Make Calendula Salve: Step-by-Step
1. Make Calendula Infused Oil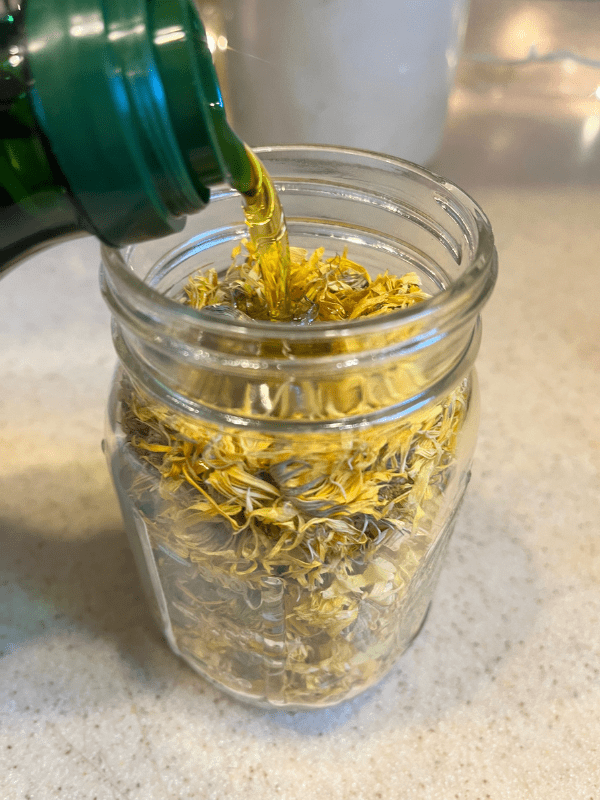 Making calendula salve starts with having calendula oil first. You can make your own at home – which is what I do – or buy some ready-to-use. Herb Pharma is a trustworthy brand, but you will spend a lot to buy enough to make a salve.
Making your own calendula oil is easy and affordable. First, you have to source the calendula flowers. Growing calendula plants is relatively easy, but you can get whole flower heads online.
Steep the dried calendula flowers in carrier oil inside a glass jar for three to six weeks (or longer). Then, strain out the flowers, and you have calendula oil. I use a new glass jar with a canning funnel and cheesecloth to strain herbal-infused oils. This is a slow infusion method; it's the method I prefer because it is easy to set up and takes less hands-on time.
The other way to make calendula-infused oil is a quick extraction. Use a double-boiler to gently heat calendula petals or calendula flowers in carrier oil. Some use a slow cooker to reduce heat exposure, which could reduce the medicinal benefits
When making calendula oil, it's important to consider the base oil you want. Think about your goals and how you plan to use the salve. Some oils are comedogenic, so they may clog your pores.
You don't have to use only one type of carrier oil. Try a mixture like 50% olive oil and 50% coconut oil.
You can see my full instructions here: How to Make Calendula Oil & 10 Ways to Use It
2. Gather Supplies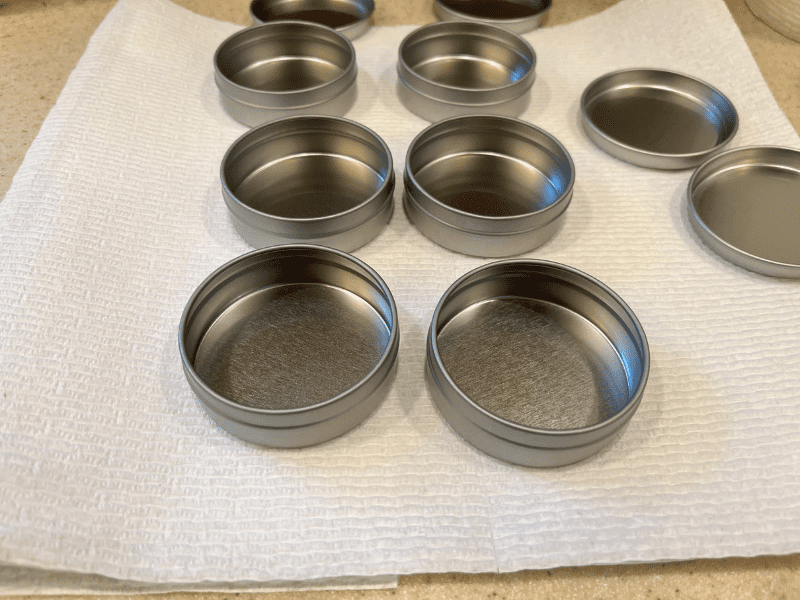 Next, ensure you have all your supplies, listed above, ready. Decide what clean containers you want to use and set them up, ready and waiting for the melted oil soon.
3. Heat Beeswax & Calendula Oil Together
In the top part of the double boiler or your DIY double boiler, put one cup of calendula oil and 3-4 TBSP beeswax. This is also when to put the optional ingredients.
Put enough water in the bottom part of the double boiler, so the top bowl touches the water. Turn it over medium-low heat on the stove. You don't want to overheat the oil; your goal is to only melt the beeswax. So, use low heat if your stove tends to run too hot.
Stay near the stove, stirring regularly to ensure everything mixes well. As soon as the last bit of beeswax melts entirely, remove the pot from the stove.
4. Pour into Containers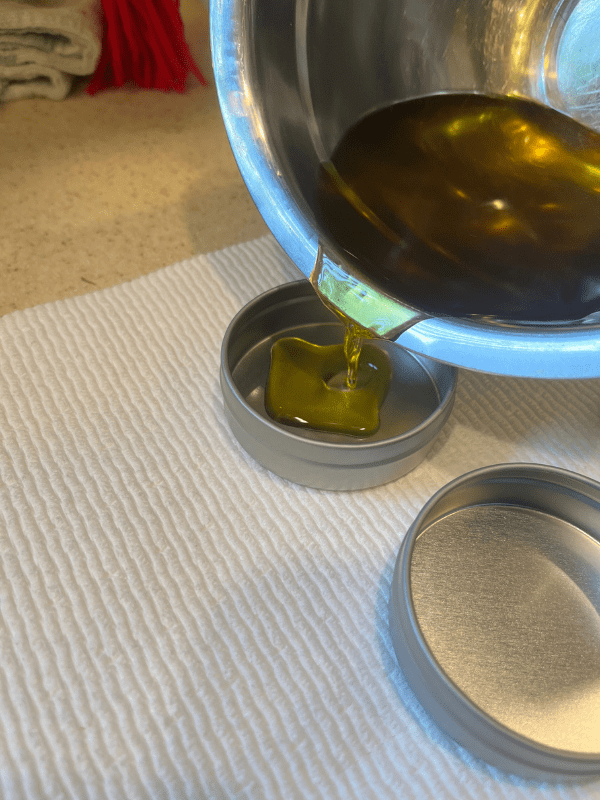 Carefully, pour the liquid calendula salve into the awaiting metal tins. Leave the lids off and let them fully cool. This takes several hours, so be patient.
5. Harden and Use!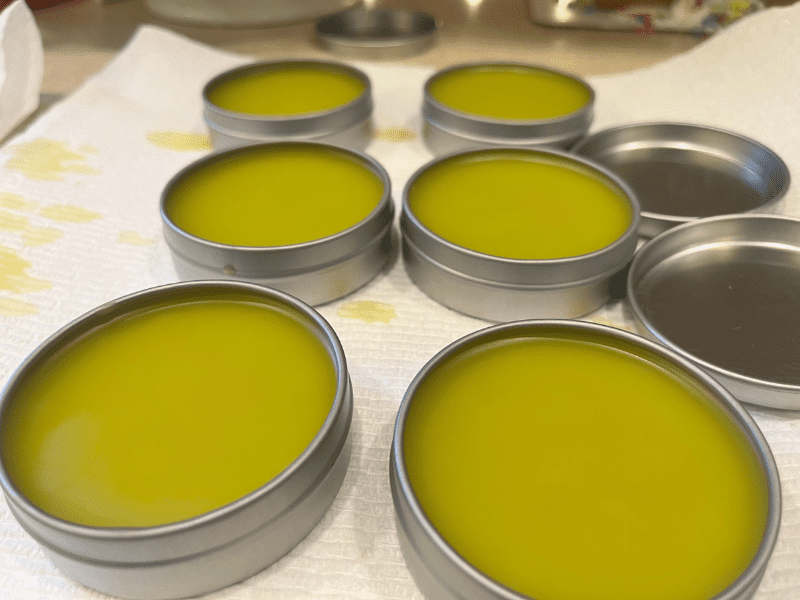 Now, it's time to use it! Use clean fingers to collect a small amount of salve and spread it over whatever skin ailment you have. Start with a little bit since a little goes a long way with this stuff.
Storage & Shelf Life of Calendula Salve
Calendula salve should be stored in its containers in a cool, dark place. I usually have one out that I use, and store the rest in one of my kitchen cabinets. Make sure it's not somewhere in direct sunlight.
Homemade calendula salve has a shelf life of several years. Its storage life depends on the oil you use; some have a shorter shelf life than others. However, the medicinal potency may decrease over time, so I try to use mine up within a year or two.