20 Best Books on Canning & Preserving in 2023
When you dive into food preservation, grab some of these best books on canning and preserving for your bookshelf!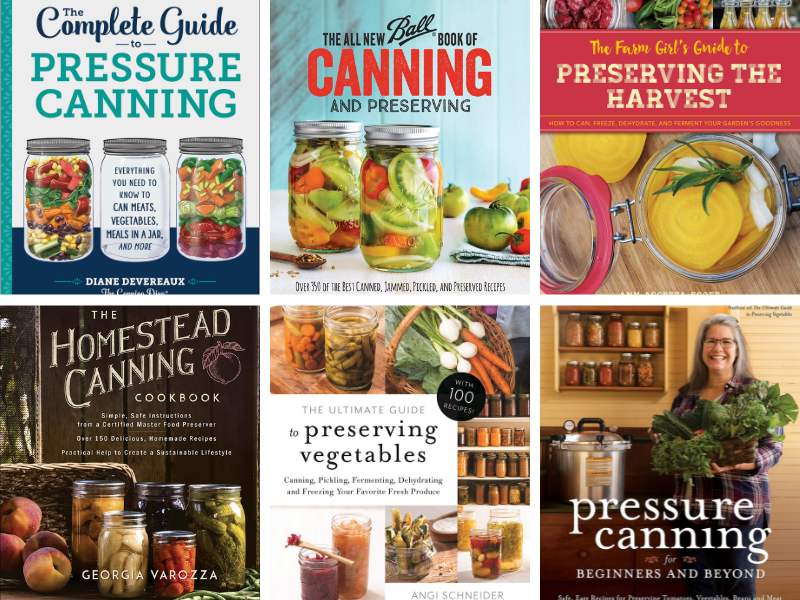 When I dove headfirst into food preservation, I grabbed several books on canning and preserving. While the internet is a great source of knowledge, sometimes, having a book in hand with all the information you need is where you should start.
One problem with internet canning recipes is safety. Do you know if they are safe? If you turn to the National Center for Home Food Preservation, then you know it's good to go, but their website isn't great. They need more recipes, and I know I often look elsewhere for recipes.
Reading canning books is a way to ensure you are getting safe recipes and includes all of the information about safety. Safety is a huge concern when you preserve foods; we don't want to make our families sick with botulism, right?
Food preservation is more than just canning! Some of these books cover other methods, such as fermenting, salting, dehydrating, and more. I hope one of these books ends up on your bookshelf this year!
Related: 30+ Easy & Delicious Canning Recipes for Beginners
20 Best Books on Canning & Preserving
Ball, the makers of canning products, wrote plenty of books on canning, and Jarden Home Brands put out their newest book not too long ago. I scooped it up as soon as it became available, and this is well worth it.
The New Ball Book of Canning & Preserving offers more than 350 safe and tested recipes. You'll find preserving recipes for jams, jellies, pickles, salsas, and more.
This book covers more than just using a water bath canner and pressure canning. In this book, you'll find pickling, fermenting, smoking, dehydrating, and more. It offers easy-to-follow instructions with photos, perfect for beginners.
Perhaps best of all, you know that all of these preserving recipes are tested for safety and quality. The makers of Ball are the experts in canning, after all, and this is my favorite out of all the Ball canning books.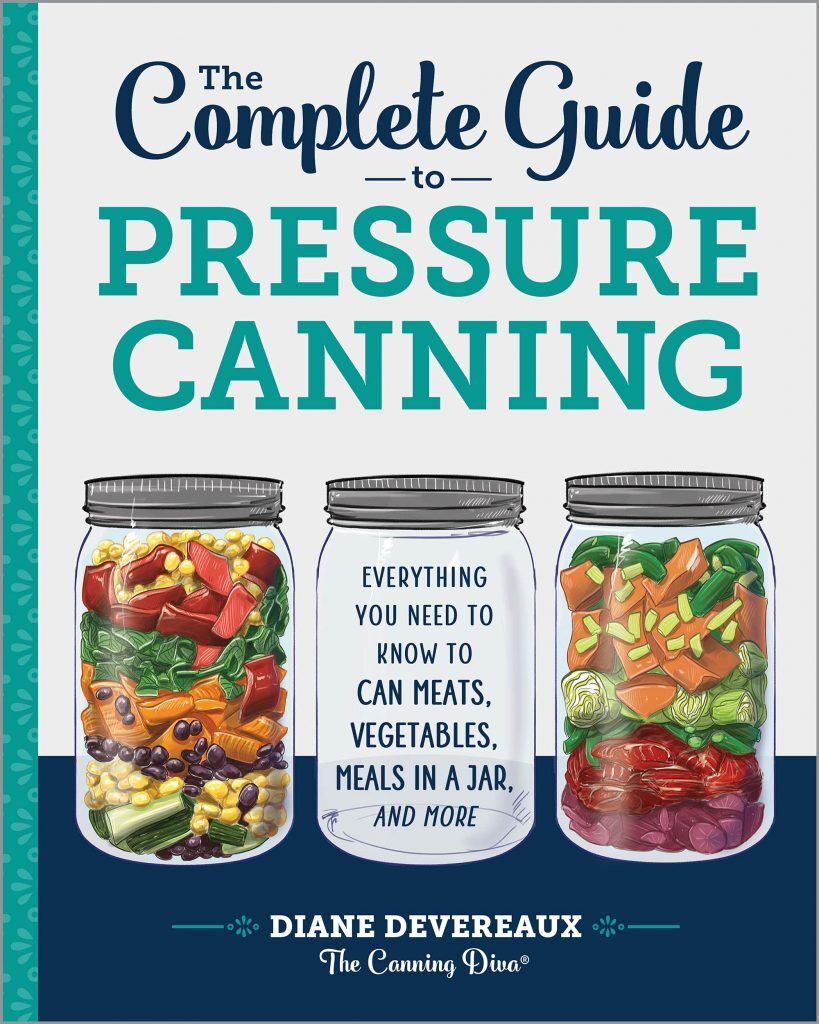 One of my all-time favorite books on canning is The Complete Guide to Pressure Canning; it has fantastic recipes. This book is available via print and Kindle Unlimited – for now when I wrote this – so you have two ways to check out the recipes.
This book is more than just your typical canning book. It contains recipes for soups, stews, meals-in-a-jar, broths, beans, and more. All 80+ pressure canning recipes are safe and tested.
Plus, this book contains an overview of pressure canning basics and explanations for using a pressure canner. You'll find charts and PSI gauge guidance.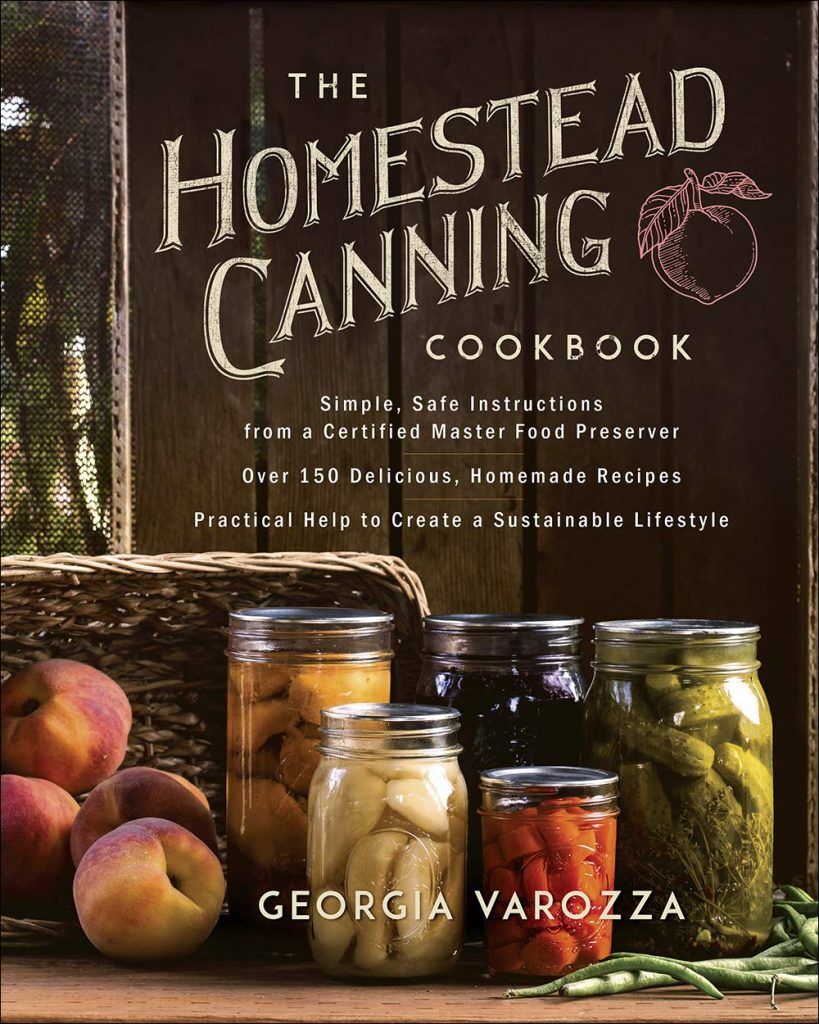 Georgia Varozza, a master food preserver, created this Homestead Canning Cookbook. The book contains over 150 delicious, homemade canning recipes that are practical. As a homesteader, I appreciate when canning books offer me practical recipes that make sense when added to my homestead pantry.
Another thing this book offers is advice. She helps you learn how to fit the canning process into your busy, homesteading life and shows you all the equipment and basics you need to know.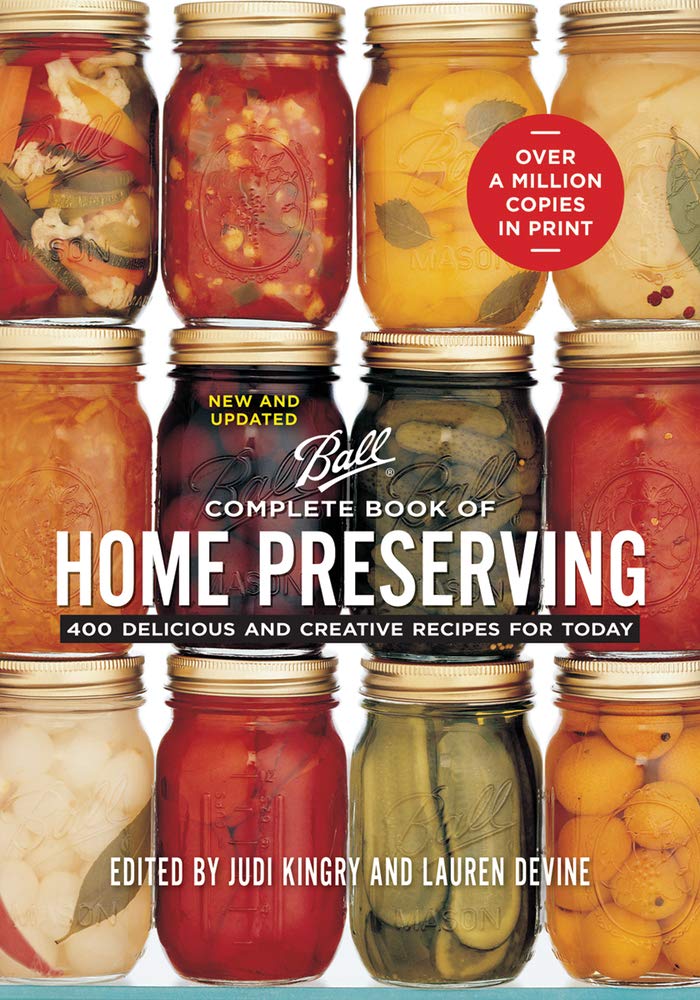 Here is another Ball canning book, one of their best-selling books on canning. This updated version came out in 2020 with new recipes and a larger selection of low-sugar canning.
This book contains over 400 innovative, creative canning recipes. You'll find canning recipes for salsas, sauces, chutneys, relishes, fruit spreads, and more. Plus, it has comprehensive directions to ensure you always can and preserve at home safely.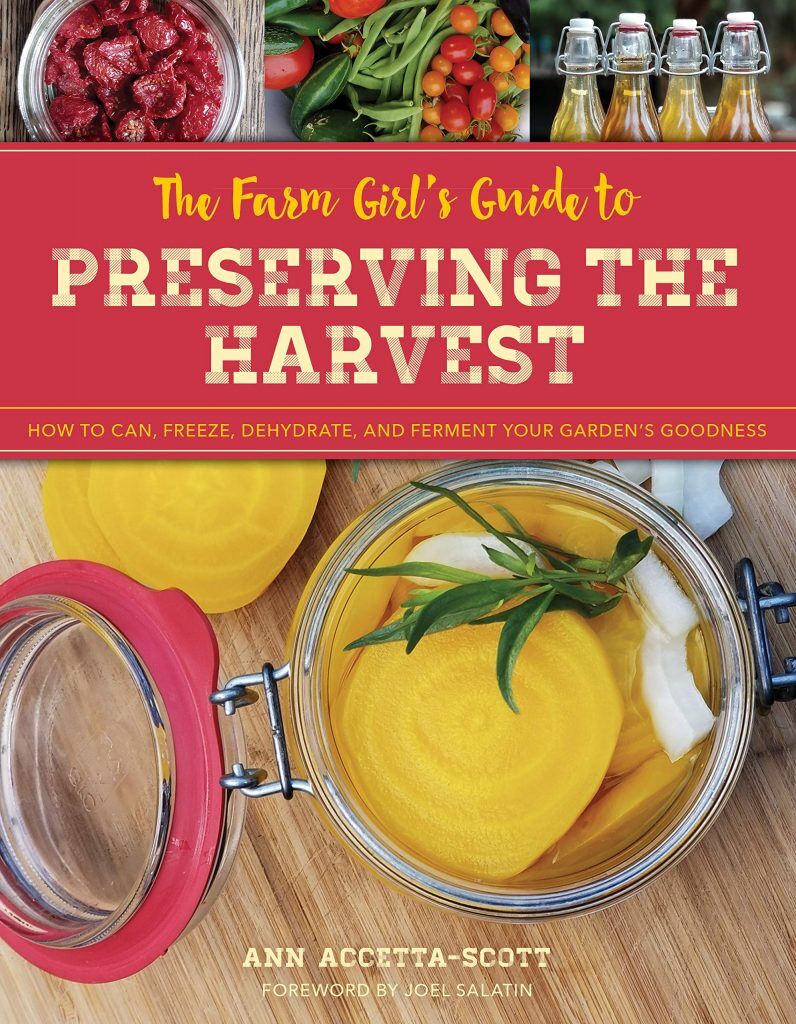 Not enough canning and preserving books are written by homesteaders, but Ann Acetta-Scott is a true-blue homesteader. Her website is inspiring, and her canning book is just as great.
The Farm Girl's Guide covers all the basics on canning, dehydrating, freezing, curing, smoking, and more. You'll find all the right tools to get the job done.
Beginners and advanced canners alike will appreciate this book. It takes you through all stages and offers something for everyone. If you are a beginner, start with the selection of canning jams and jellies. Advanced food preservers may try curing and smoking meat.
The book contains over 30 delicious recipes. It's well worth adding to your bookshelf.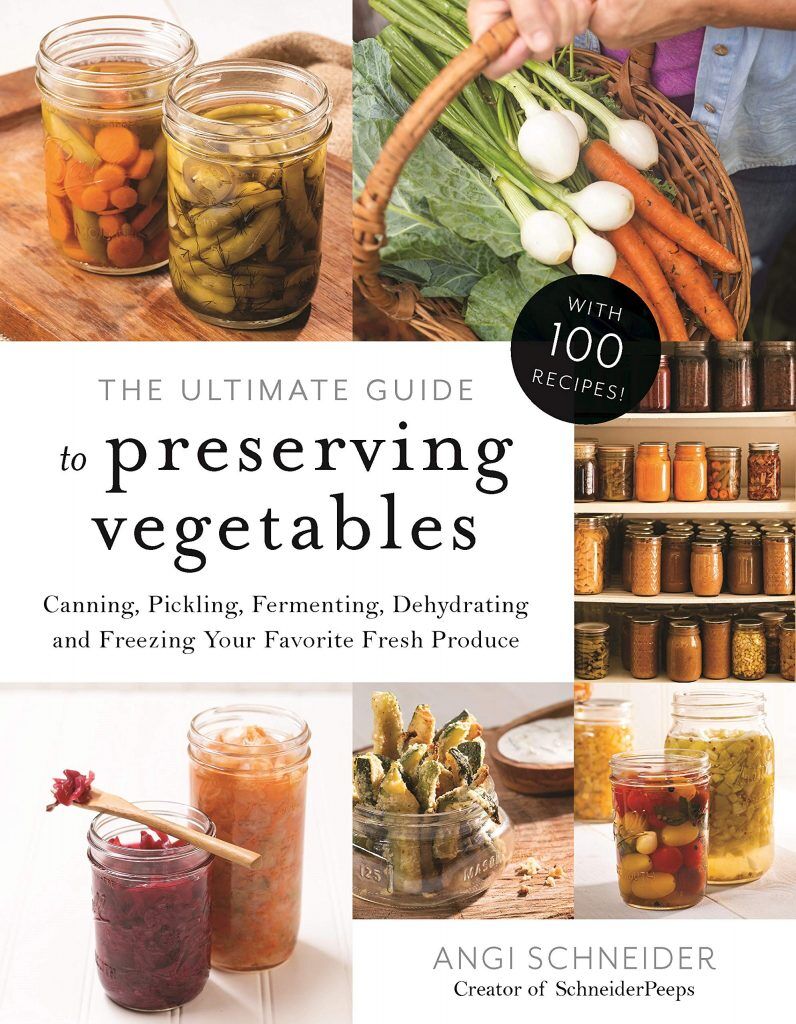 Another one of my favorite books on canning and preserving is The Ultimate Guide to Preserving Vegetables. I use it regularly whether canning coleslaw or corn; Angi Schneider created an awesome book.
This book is more than just canning help; you find dozens of ways to preserve all the garden-fresh vegetables you grow in your garden. It comes with 100 recipes with step-by-step photos. The guide includes pickling, canning, fermenting, dehydrating, and more recipes.
My favorite part of this canning book is that many recipes go beyond simply canning green beans. These are family-approved, delicious recipes you can use in your day-to-day life.
This A to Z guide on preserving garden vegetables belongs on your bookshelf; it's on mine!
Angi Schneider wrote another one of my favorite canning books – Pressure Canning for Beginners and Beyond. It feels like your best friend is giving you canning recipes she uses in her kitchen.
That's exactly what Angi does.
You'll from scratch recipes like baked beans, ready-to-eat stew, and home-canned summer veggies. The book also contains broth and some basic, yet delicious, pressure-canned recipes you'll thoroughly enjoy.
Using her recipes, you can kick take-out to the curb. Her book contains easy dinner recipes like pot roast in a jar and Swedish meatballs. My husband loves her baked beans, pork, and bean recipes; we have over a dozen jars on our shelves!
You'll find nearly 100 recipes with gorgeous pictures. Plus, if you are new to pressure canning, Angi walks you through everything you should know with plenty of safety instructions.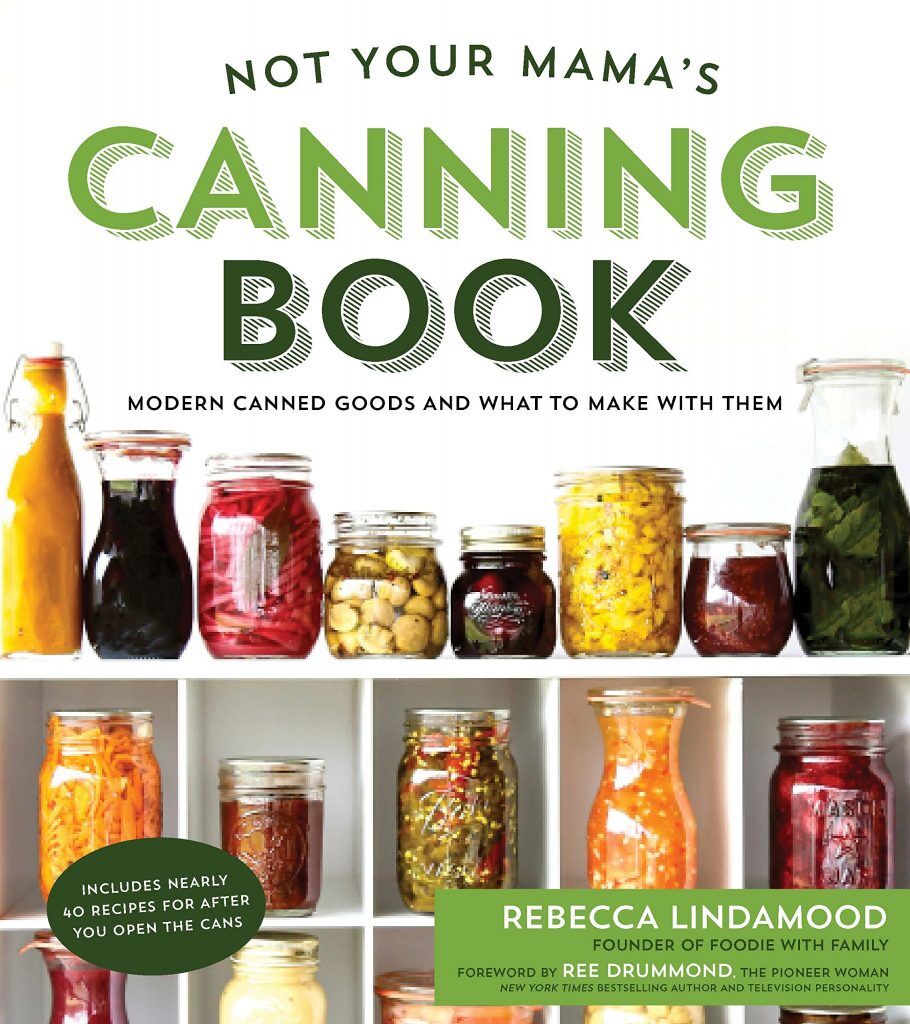 Rebecca Lindamood was tired of the boring canning books on the shelf for a home canner. Canning isn't just for grandma; this modern handbook shows how to make it work for your life.
This book not only shows you some basic canning, but she shows you how to take it up a notch with new food flavors. You'll find beginner and advanced canning methods from jams to jellies, drunken fruit, and more.
Not Your Mama's Canning Book contains both water bath canning and pressure canning recipes. So, it has something for everyone. This book will find unique recipes like ginger beach butter, cranberry whole grain mustard (yum!), and mustard-crusted baked salmon.
The possibilities are endless, unlike your grandmother's canned shelves.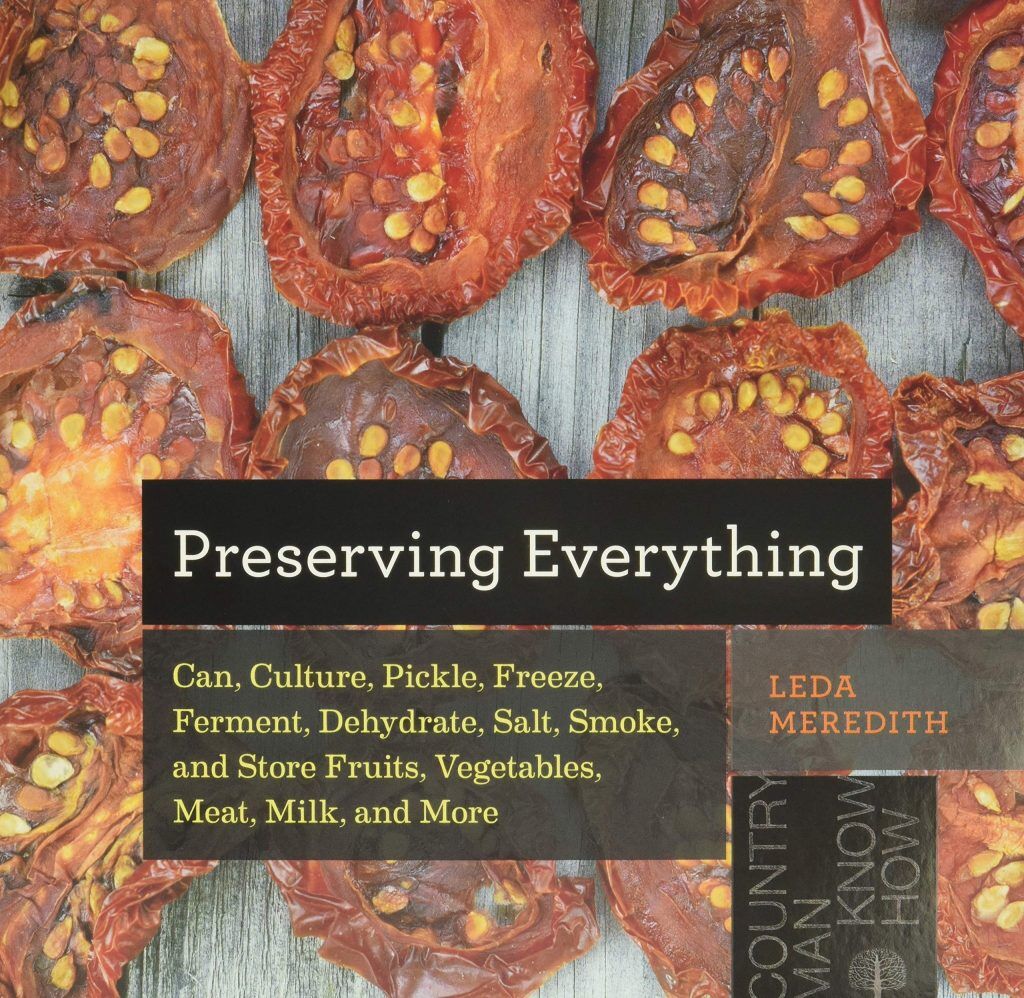 Are you looking for the best canning books that provide more than just canning recipes? Preserving Everything is just that. You'll find instructions for:
Canning
Culturing
Fermenting
Pickling
Freezing
Dehydrating
Salting
Smoking
That is a lot of information in one book! I like that this book also contains dairy and how to preserve it. We often forget that milk can be cultured and fermented, preserving it as cheese or yogurt.
This book shows you there is no end to food preservation. It's really for a new generation of home cooks!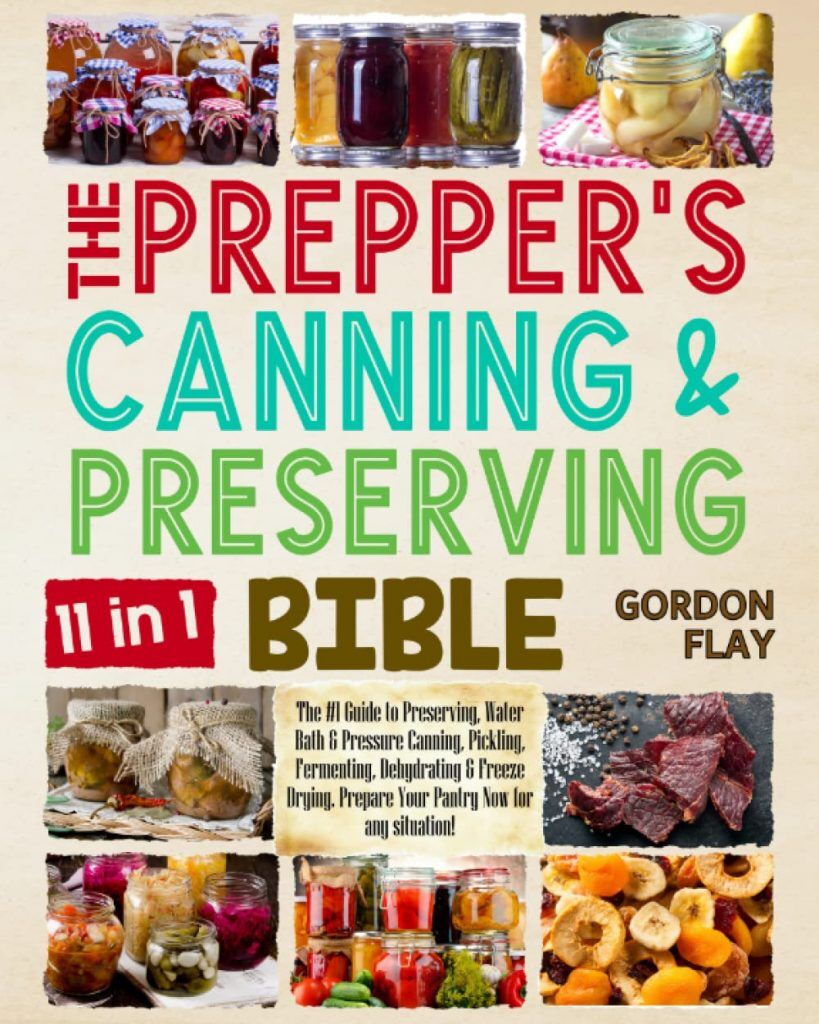 If your goal for home food preservation is prepping and being ready for whatever, this is the book you need on your shelf. Food preparedness helps you during hard times, and The Prepper's Canning Bible helps you create nutrient-dense food and meals for your help.
You'll appreciate this 11-in-1 cookbook. It gives you a great introduction to food preserving and creating safe recipes. You'll find water bath and pressure canning classic recipes. It also contains fermenting, freeze drying, dehydrating, and more.
The recipes are easy to follow and get started with immediately. You have everything you need for home canning in this book!
One of the most popular books on canning and preserving is Preserving Food Without Freezing or Canning. In fact, over 100,000 copies have been sold, and reviewers love this book. It inspires and teaches readers how to put up their food without freezing or canning.
This book celebrates traditional ways to preserve food. You'll find instructions to preserve without nutrient loss, including using oil, vinegar, salt, sugar, and drying as forms of preservation.
One of the most interesting parts of this book is learning French techniques for preserving edibles that maximize flavor.
If you want to learn how to do more than simply freeze or can your food, this is the book for you. Inside, you'll find over 250 easy, enjoyable recipes that everyone will enjoy.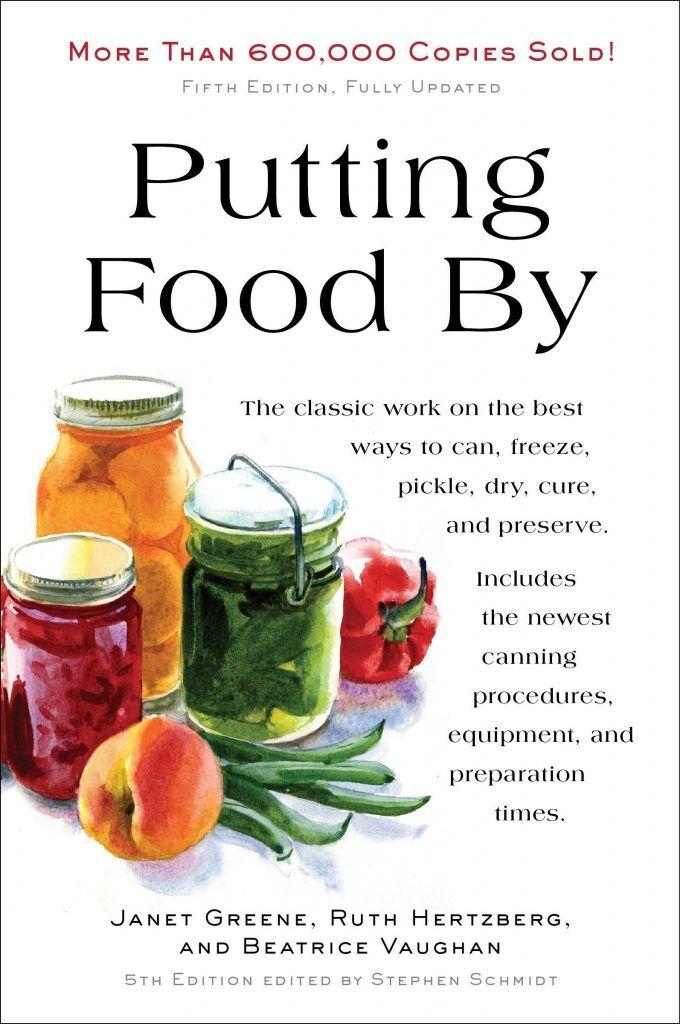 Ruth Hertzberg and Janet Greene wrote Putting Food By, and many consider this the best food for home preservation. It's like a one-stop source for everything today's home cook needs to know about preserving all sorts of foods.
This book includes instructions to preserve fruits, vegetables (including root vegetables), meat, and seafood. You'll find up-to-date information that keeps you safe while preserving season food at its peak.
Putting Food By is on its fifth edition with plenty of updates. You'll find instructions for canning, freezing, drying, using a root cellar, salting, and smoking. There are dozens of creative recipes to try!
The Makers of Ball produced another beloved canning book – Back to Basics: A Foolproof Guide to Canning. This book teaches you all the basics needed to store food with confidence.
Back to Basics focuses on teaching home cooks the key techniques for home food preservation. It begins with in-depth information on canning, explanations on equipment needed, and food safety guidance.
Best of all, this book offers beginner-friendly tutorials with step-by-step instructions, showcasing all the necessary steps. It offers 100 easy and versatile recipes for the modern-day pantry, along with suggestions for different flavors and low-sugar alterations to recipes.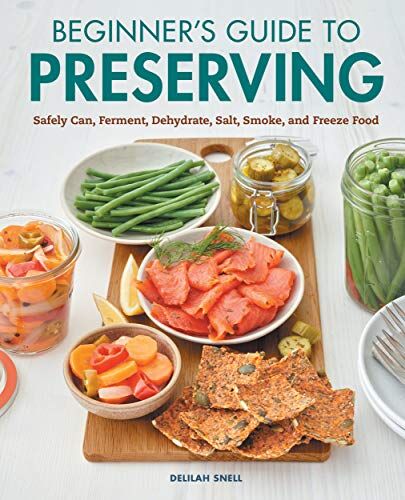 This book is for you if you want a comprehensive guide to food preservation techniques. It makes an excellent addition to your home library whether you are a gardener, hunter, or home cook. It teaches you practical ways to preserve food with various flavors and techniques.
The Beginner's Guide to Preserving is full of information for beginners, including a range of food preservation methods. The book includes 65 delicious recipes and all the essentials for long-term storage.
You'll learn techniques for:
Pressure Canning
Water Bath Canning
Fermenting
Dehydrating
Salting
Smoking
Freezing
Readers also enjoy handy charts, such as food acidity charts and canning times. The handy how-to illustrations also help and include simple directions for beginners to use.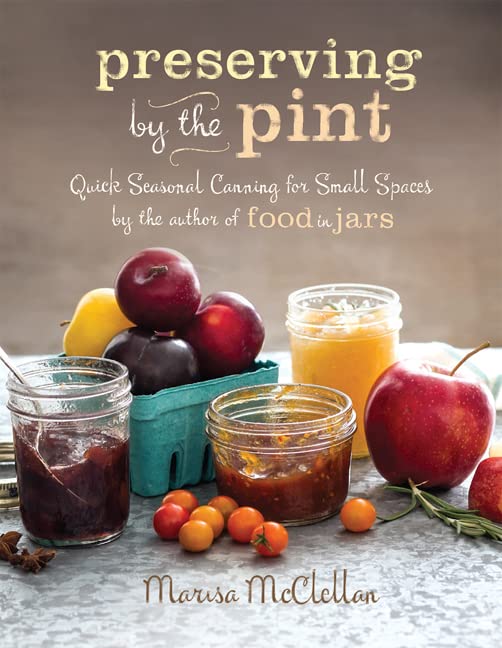 Marisa McClellan wrote this leading canning book, perfect for small-batch canning. If you feel like most canning recipes create too much for your pantry to hold, Preserving by the Pint is an excellent option for you. McClellan realized most canning recipes are for preserving food crops, but you can use small batches in your home kitchen.
Perhaps the best thing about this book on canning is the unique flavors you'll find. The recipes you'll find include things like blueberry maple jam and mustard rhubarb chutney.
Yum!
Preserving by the Pint organizes the recipes by seasons. You'll find canning recipes for pestos, jellies, butters, pickles, chutneys, and more. Many of these only take less than an hour in your kitchen! It's really the complete book of small batch canning.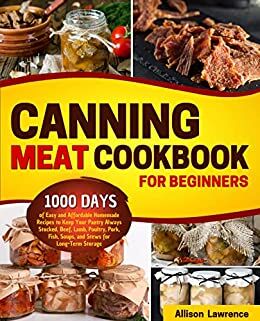 If canning meat seems intimidating, then you need the Canning Meat Cookbook for Beginners. This is a detailed canning guide with all the safety information you need for safely canning and preserving meat.
You'll learn how to avoid beginner mistakes and how to ensure your meat food storage stays safe. It offers 1,000 days of canning meat recipes, including seafood, soups, stews, and more, for you to enjoy year-round.
Even if you have no canning experience at all, you'll get the best results with this book. Before long, you'll be a master at canning before long. Fill your long-term food storage with all sorts of affordable home recipes!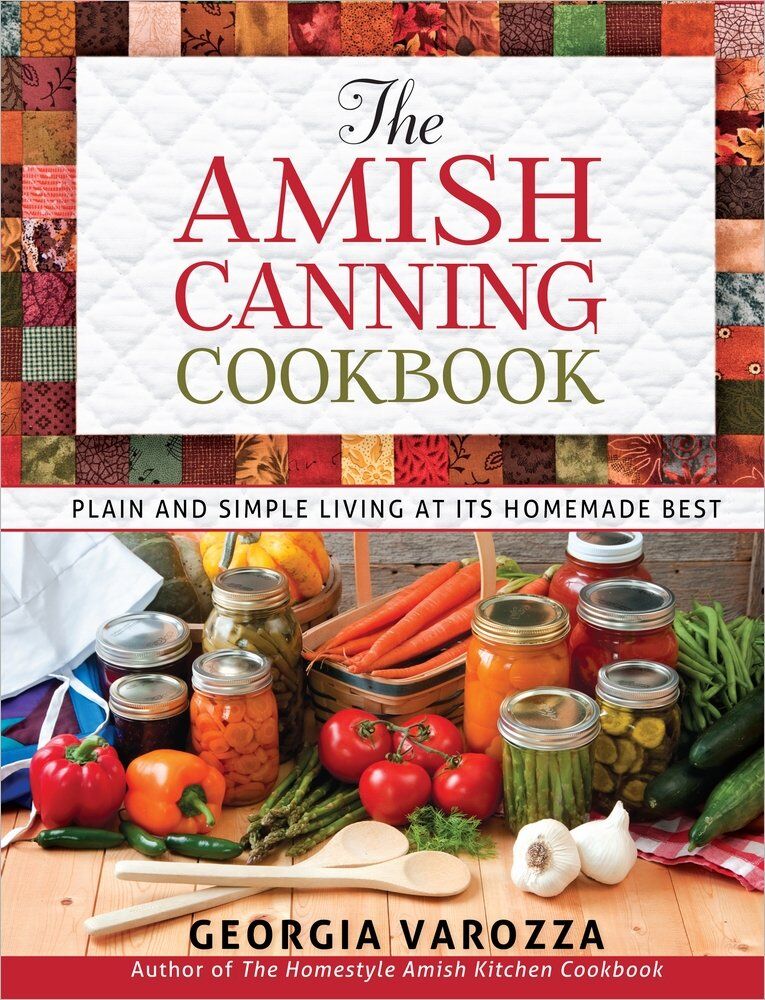 The Amish are knowledgeable about all sorts of food storage, and Georgia Varozza shares simple living in this canning cookbook. This cookbook includes a large recipe of canning recipes, showing readers how to preserve fresh, wholesome foods.
Beginners and advanced canners enjoy using this book. Not only does it include a list of all tools and supplies, but you get basic instructions for safe canning from the National Center for food safety. The recipes include high acid foods like fruits and jams and low-acid foods like vegetables, meats, soups, and more.
The Amish are known for their frugal living and delicious fresh flavors. I live near the Amish country in Ohio, and their food is delicious. It's truly a treat, so you'll love this cookbook in your kitchen.
If you want a canning cookbook to create small-batch jams, jellies, and condiments, Foolproof Preserving is a great book for your bookshelf. This book provides readers with a detailed guide to home preserving, great for experts and novice canners alike.
Foolproof Preserving includes 100 recipes. The recipes vary from jams and jellies to savory jams like tomato-herb jam to condiments, pickles, and more.
The detailed instructions include troubleshooting tips and give you insight into the food science behind canning. That's why this is foolproof; you won't mess this up!
19. Canning for a New Generation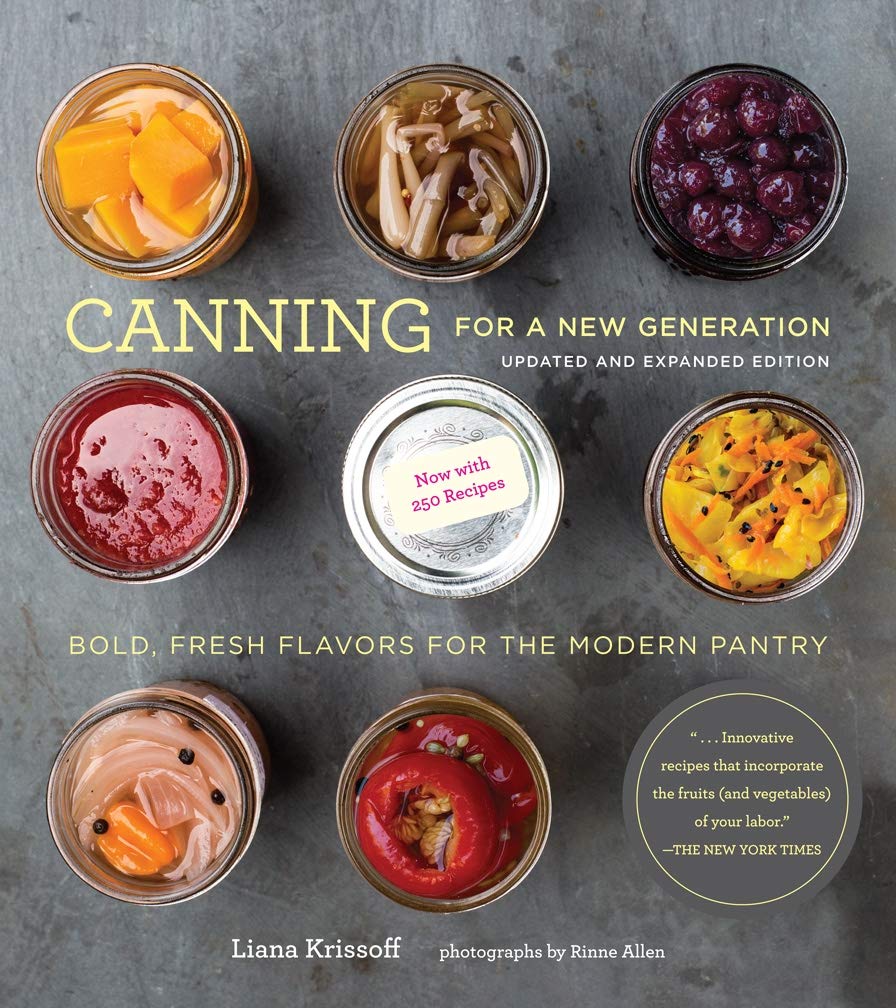 Are you looking for canning recipes with bold, fresh flavors? Canning for a New Generation, written by Liana Krissoff, is for the modern home cook who wants accurate yet delicious canning recipes.
Some of these flavor pairings in the recipes are amazing. You'll find peach salsa, brandied cherries, and more. I like that the recipes are organized by season and include illustrations to help you can everything correctly.
Krissoff includes instructions for special diet concerns like low-sugar and sugar-free preserves. She shows you how to create jams without pectin. Plus, you get some fermenting and freezing recipes for delicious foods! This book contains 250 tried and tested recipes – delicious!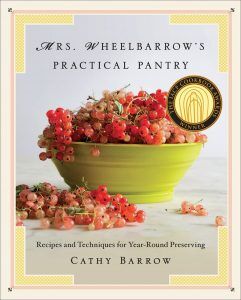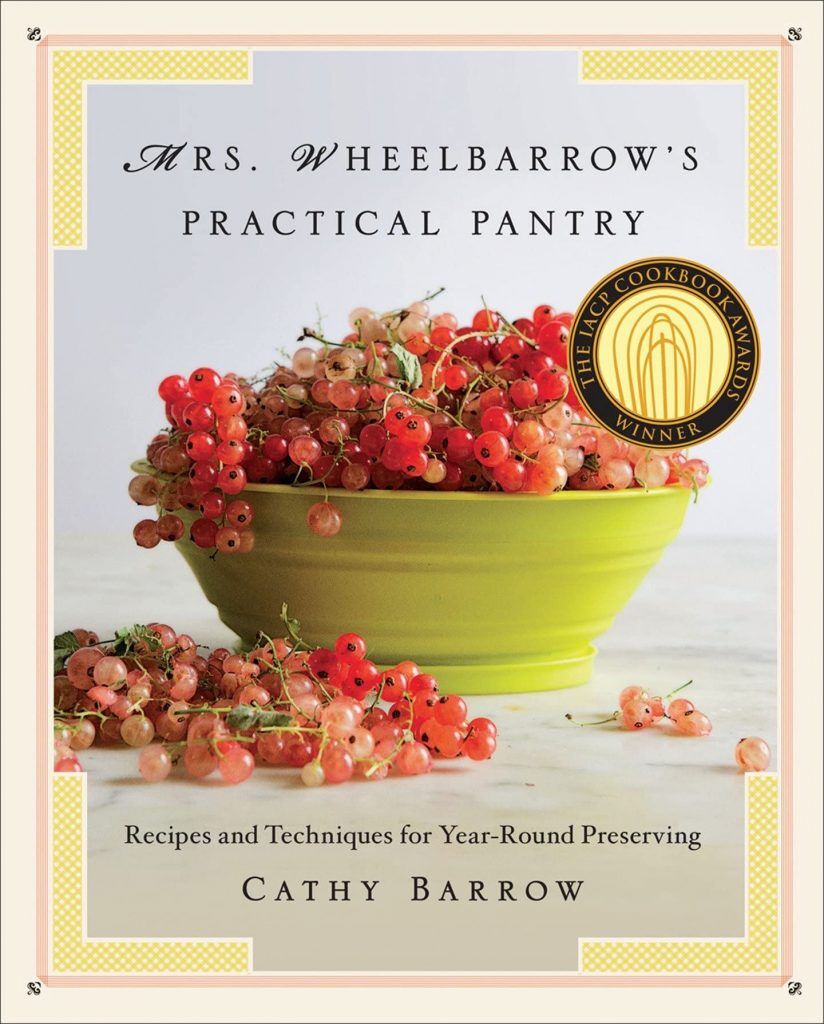 Cathy Barrow, the food-preserving expert behind Mrs. Wheelbarrow's Practical pantry, offers readers a large collection of preserving techniques. Whether you have a large garden or stock up from the farmers' market, this book helps you create a practical pantry, stocked with home-canned foods.
You'll receive recipes for fruits, vegetables, stocks, jams, soups, and more. Not only does the book include canning recipes, but you learn the techniques of salt-curing meats and fish, smoking, and air-curing.
The book contains dozens of canning recipes and 36 bonus recipes to show you how to use what you preserved. Some of the recipes include brined pork chops with garlicky bok choy and rugelach filled with apricot preserves.
Yum!
Be sure to grab this book if you want to put together your own practical pantry.
---
Make sure you get some of these best canning cookbooks. You'll find recipe formulas, beginner and advanced methods for food preservation, and more. Jump into preserving all those foods you grow in your garden!