9 Best States for Homesteading for New Homesteaders
Are you looking to start your homesteading journey and pick a new state for homesteading? Make sure it's a good one!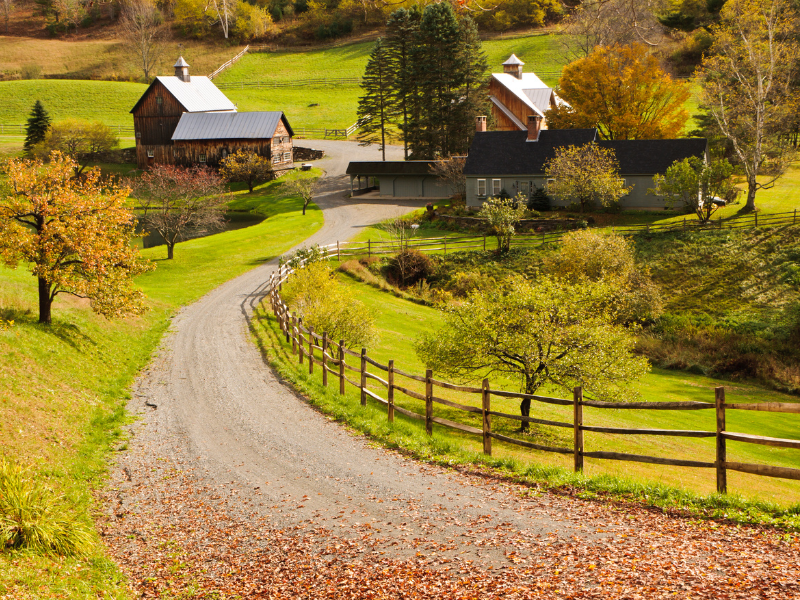 Are you ready to make a huge step and pick one of the best states for homesteading? Moving is a big adventure, and you want to be sure you pick one of the best places in the United States to pursue your new journey.
If you're open to moving anywhere, you want to look at more than simply finding the cheapest land. Think about your goals, like growing your own food, and consider where you can find fertile land with climate you enjoy.
Plus, the cost of living and property taxes have to go into consideration!
I went through the states and picked some of what I consider the best states for homesteading. Not only does the beauty of the state matter to me – beautiful scenery is important if you want to love where you live! – but I also considered climate, cost of living, the abundance of land, and how well you could grow food, raise livestock, and hunt or fish in the area.
Keep reading!
Related: How to Start Homesteading with No Money: 26 Ideas
9 Best States for Homesteading
1. Tennessee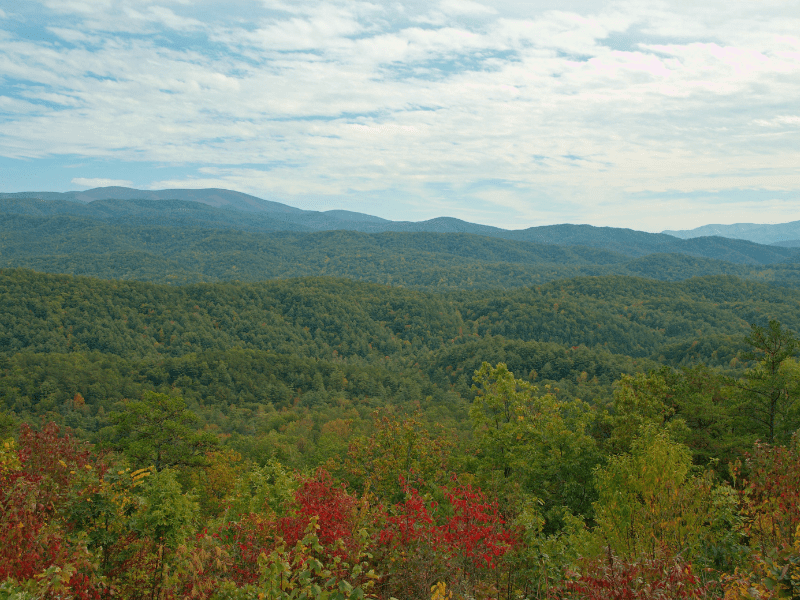 At the top of the list for best states for homesteading is Tennessee, a state that homesteaders are flocking to right now for various reasons.
The growing season is enough seven to nine months long, so you have the chance to grow plenty of food for your family. You'll experience the four seasons here, so if you Leo to see the changes, this state is for you. The property taxes are considerably lower than other areas, especially if you stay away from the bigger, major cities.
Plus, the overall cost of living is lower than other states. Tennessee is roughly 10% lower than the rest of the United States when comparing cost of living.
Another reasons that Tennessee is one of the best states for homesteading is that land is fairly inexpensive. Some plots are as low as $0.37 per square foot. If you spend time on Realtor, you'll find plenty inexpensive lots, but the population is increasing.
Tennessee has lands that favor homesteading, and the land is great for farming The government openly permits rainwater collection, and they offer laws that protect families from dealing with creditors. Plus, Tennessee is one of the only states that offers homestead exemptions of up to $5,000.
Of course, there are downsides.
This state has some natural disasters. In 2022, parts of the state had some intense flooding, and you also deal with tornadoes and overall bad weather.
PROS
Low Cost of Living
Low Property Taxes & Cost of Land
Great for Growing Food
Plenty of Water Access
Minimal Government Oversight and Regulations
CONS
Natural Disaster Prone Region
2. West Virginia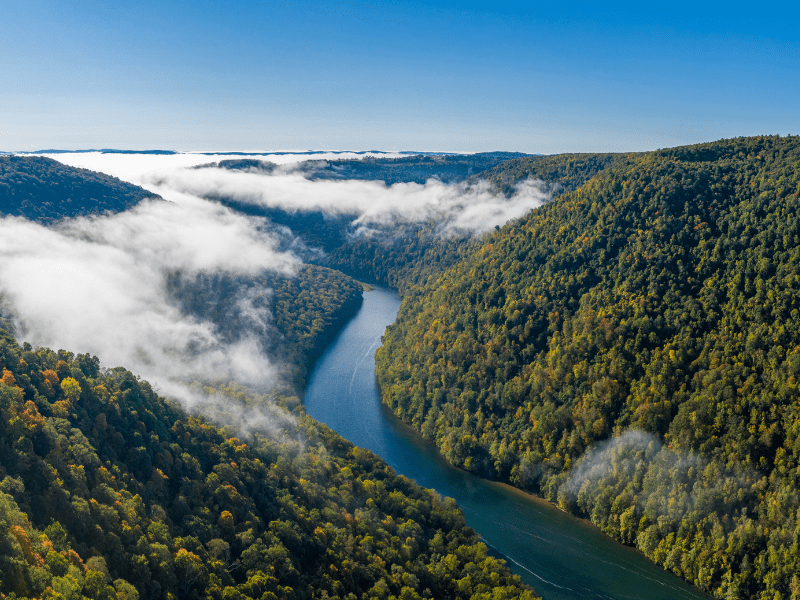 The state right next to me – I see it from my office window – is West Virginia, and I think this state is slept on when considering states for homesteading.
First, West Virginia has some of the most affordable housing and land costs in the United States. I regularly see plots of land available in this state for a bargain compared to what across the river in Ohio costs.
As far as cost of living, West Virginia has some of the lowest property taxes in the US. It ranks 45th in per capita property taxes, and combined with the abundance of low land prices, you see why it's appealing. Plus, the state has a booming oil and gas industry; people make consider income leasing their land for fracking.
The land is a bit hilly and rocky, so while farming is absolutely possible, be mindful of the livestock you may want to raise. Some livestock do better with flat land rather than hills. The rural areas abound though; this state has the small town feel down pat.
West Virginia is part of the Appalachian Mountains, so they have hot summers and cold winters. You'll experience all four seasons with an average rainfall of over 40 inches per year. The state sits on a lot of water; freshwater sources and underground wells abound in this state. Plus, harvesting the rainwater is legal.
PROS
Low Property Taxes
Low Cost of Living
High Annual Rainfall
Fertile Soil for Farming
CONS
Not as Relaxed about Homeschooling
Cold Winters
3. Idaho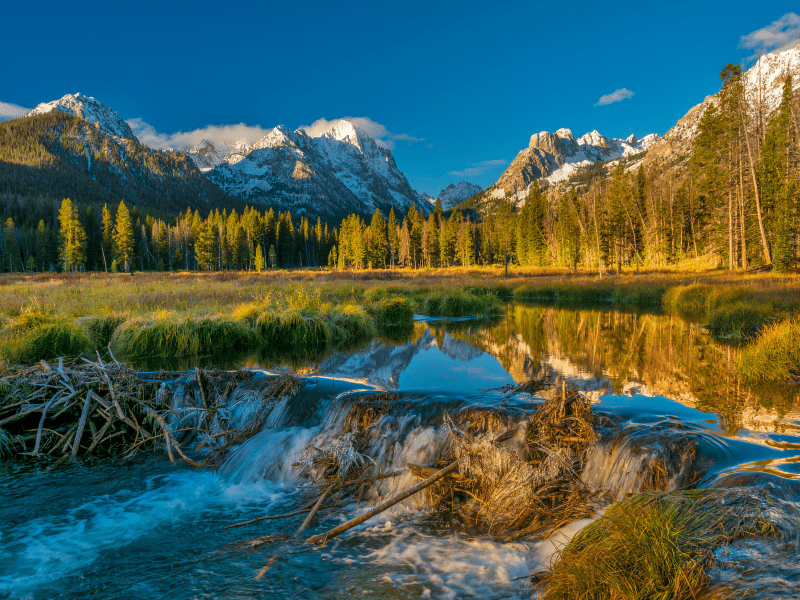 If you've never had the pleasure of visiting Idaho, you are missing out. This state is gorgeous with rolling hills, mountains, and views for days.
Idaho has plenty of homesteaders, and the state offers freedom and flexibility. The state estimates there are over 60,000 homesteads in the state! Tap into the sustainable living community already in Idaho, sticking nearer to cities, or head out for some true isolation.
The laws favor homesteaders with property taxes helping those who own plenty of land. The government even offers protection from creditors if you own land.
This is a great state for growing food. The soil is fantastic; it's rated as one of the top natural soils in the US. Lush, plentiful land is essential for homesteaders!
Plus, this state has lower crime rate with so many outdoor activities for families to enjoy. Idaho offers fishing, hunting, rafting, kayaking, and more, so outdoorsy loving families will find tons of things to enjoy.
Homeschooling families enjoy generally relaxed regulations. The parents pick the curriculum, and there are plenty of active homeschooling groups in the region.
PROS
Tax Incentives for Solar Installation
Low Cost of Living
Highly Fertile Lands
Plenty of Outdoor Activites
Relaxed Homeschool Laws
Low Crime Rates
CONS
Harsh Winters
Higher Taxes
Experiences Earthquakes and Wildfires
4. Oregon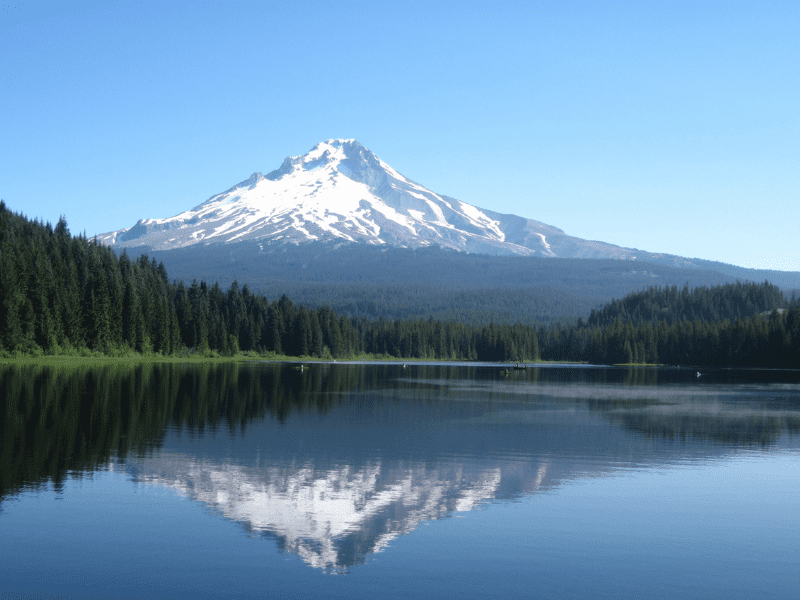 Oregon used to be on the top list for homesteaders; it was an original homesteading state years ago when people began to move westward.
This state has a lot of things homesteaders want to see when picking the best states for homesteading. They have great water rights with abundant water, a large homesteading community so you'll find plenty of resources, farmers' markers, and different climates.
Growing in Oregon is great. It's an excellent place to grow various crops and orchards. That's one of the reasons this area has plenty of huge farmer's markets, which means you have potential income for your homestead.
As far as homesteading laws, Oregon offers exemptions for married and single individuals. Some of their exemptions allow you to protect the proceeds from selling your homestead, and they allow you to coverage up to 160 acres if you live outside of city and town limits.
As a parent, I appreciate all of the things you can do with your family in Oregon. Hiking, surfing, fishing, camping, and more abound in the area, so you'll be able to get out and enjoy Mother Nature with your family.
PROS
No State Sales Taxes
Great Hunting and Fishing Opportunities
High Annual Rainfall
Established Off-Grid Communities
Fairly Low Property Taxes
CONS
High Cost of Land
Limitations on Collecting Rainwater
5. Missouri
Another state with an ample growing season is Missouri. The state has an overall pleasant climate with all four seasons. While the seasons may be extreme, but it's typically mild and average. The final frost typically happens between April and May, giving you several months to grow crops in your area.
Missouri offers plenty of plots of large sized plots in the state. The average sized farm in the state is over 200 acres, so you'll be able to find something that works for your budget.
The state boasts many farmer's markers, so you can sell your crops. U-pick farms are growing in popularity throughout the state as well.
Missouri offers exemptions for homesteaders, up to $15,000, as long as your homestead is your permanent residence.
PROS
Huge Farmers' Market Economy
Plenty of Natural Resources
Tax Rebates for Solar and Wind Power
High Annual Rainfall
Long Growing Seasons
CONS
Plenty of Natural Disasters
Home to Some Nuclear Power Plants
6. Texas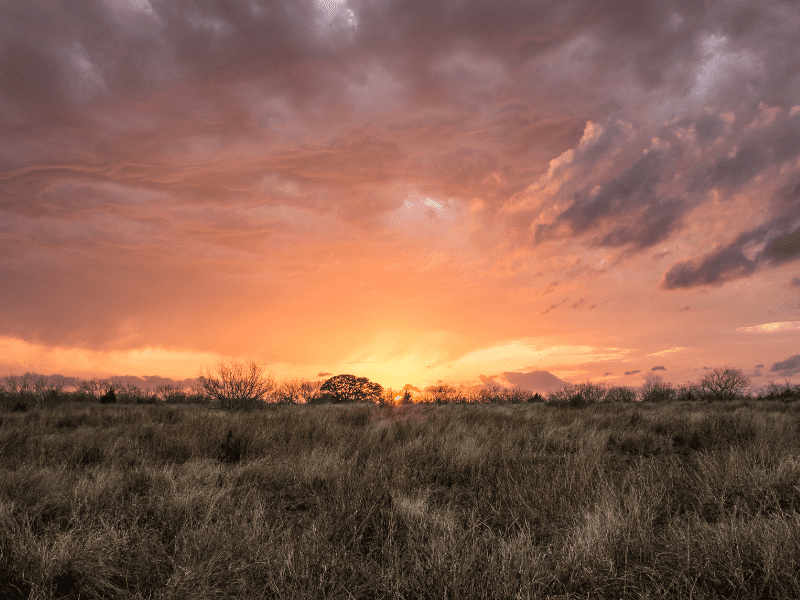 Texas is a land of dreams for new and aspiring homesteaders. Considering it is one of the largest states, land opportunities abound in the area, and many areas offers incentives for farmers to come to the region. Those looking for homesteading in the southern states often look to Texas.
Make sure you consider the climate here. Many of the state is a desert region, which makes growing your food tricky. There are fewer hunting and fishing opportunities in the state, which is a bummer, so if you want to produce all the meat for your family, hunting won't provide enough.
Texas is one of the few states that doesn't have state income tax, so that lowers your overall cost of living in the state. The land is generally affordable, but as Texas continues to bring in more businesses and their population grows, the costs are increasing.
However, Texas has higher property taxes. They may balance out each other, but high property taxes stink.
As far as sustainable energy, Texas is great for solar power and wind power. Everyone pictures Texas as the kingpin for oil and gas, but it is the top state for the top 10-year projected growth for alternative energy! You'll find that things like wind turbines increase the value of land considerably in Texas.
As far as homeschooling in the great state of Texas, homeschoolers are considered a private school, and the state offers no regulations. All you have to do is ensure your kids are prepared well to graduate.
PROS
No State Income Taxes
Long Growing Season
Plenty of Building Materials Available
Growing Job Market
Great for Solar & Wind Power
CONS
High Taxes on Property
Low Annual Rainfall
7. Alaska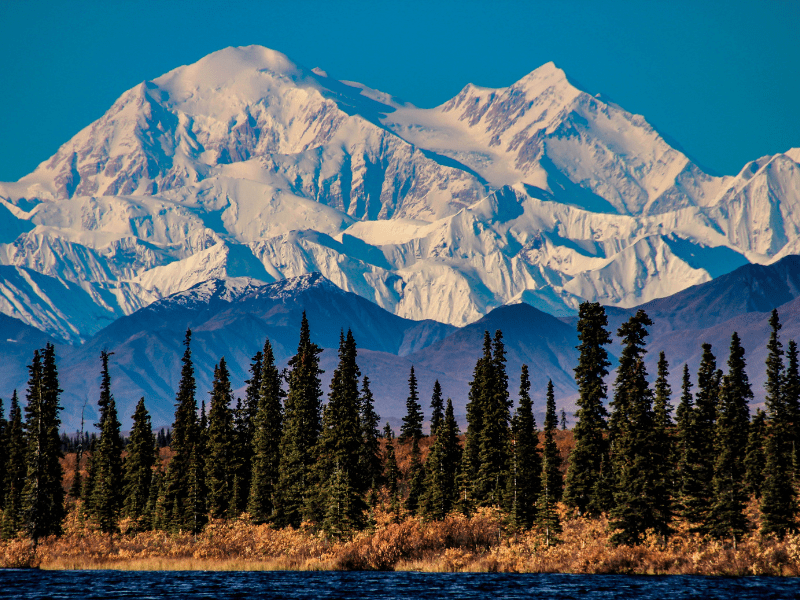 A lot of people shake their idea at the idea of Alaskan homesteading. We all know the weather is cold, and the growing seasons are shorter, but there are still ways to get around those factors.
Alaska is wilderness, and some areas are so remote you will need a small bush plane to access. If isolation is the biggest thing on your list for states for homesteading, you can't beat the final frontier of Alaska.
Finding land has some pros and cons. There is plenty of land for sale in this state, but finding big tracks of land is hard. If you want to stay on the road system and not go totally remote, finding land will be harder. A lot of people venture off and opt for remote locations only accessible via plane, but if that isn't something you feel comfortable with, you will need to be patient with your land search.
I spent a lot of time looking at Alaska and land, and the pricing is great. The hardest part is going to be finding the amount of land you want connected to the road system. Tricky!
However, winters are long. They have several growing zones in Alaska with Barrow, AK being a zone 1 – growing there is nearly impossible. Skilled gardening is essential in this area and learning how to adapt your crops to meet the short season. A greenhouse is another must in this area to grow enough food to feed your family.
I suggest watching Simple Living Alaska for a look at homesteading in this lovely state.
However, one of the biggest problems with Alaska is the higher cost of living. Since the state has to import most products, going to the store will hurt your pocketbook.
PROS
Low Property Taxes
Average Cost of Land
Easy Government Laws
Relaxed Homeschooling Laws
Plenty of Annual Rainfall
Hunting & Fishing Opportunities Abound
CONS
High Cost of Living
Harsh, Cold Winters
Short Growing Season
8. Wyoming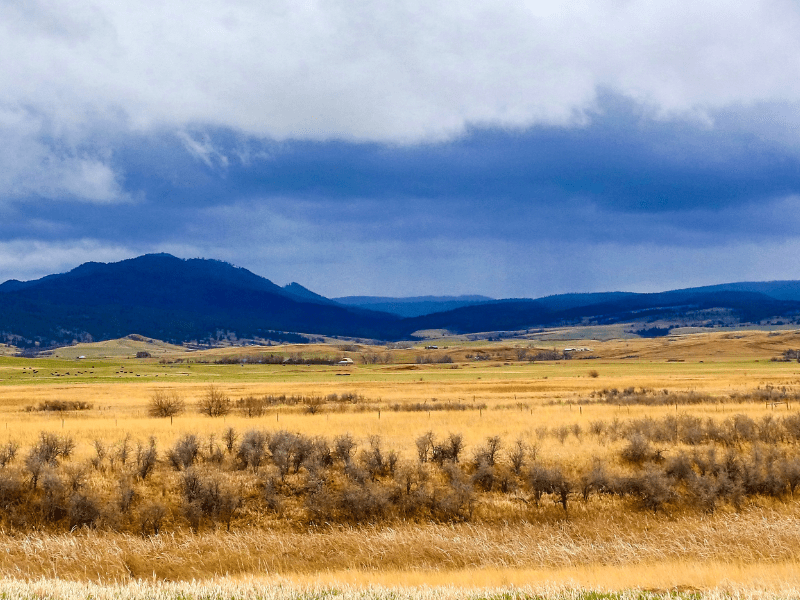 If you want to know what homesteading in Wyoming looks like, take a look at The Prairie Homestead. Jill Winger and her family live on the plains of Wyoming and share their experiences with the dramatic weather there.
Wyoming gives you the true, old-school experience being a homesteader with open landscapes, small communities, and a low population density They have plenty of natural resources abundant, but there is one serious problem.
The weather.
You might not have Wyoming on your radar for an area with seriously adverse weather, but it is. Wyoming is known for having seriously harsh winters, and it also has a shorter growing season than other areas due to their harsh winters. I suggest a greenhouse to lengthen your growing season, and make sure it can withstand the insane wind speeds that move through the valleys there.
Another problem you have to consider is the little rainfall. They might get snow, but the rainfall is less than you would want to see. The state made rainwater collecting illegal, so be sure to consider that when you pick your state for homesteading.
PROS
No State Income Tax
Low Population
Lower-than-Average Farmland Costs
Few Construction Laws
Plenty of Hunting Opportunities
Relaxed Homeschooling Laws
CONS
Harsh Winters
Wildfire Risk
Low Rainfall Amount with Rainwater Collection Laws
Shorter Growing Season
9. Montana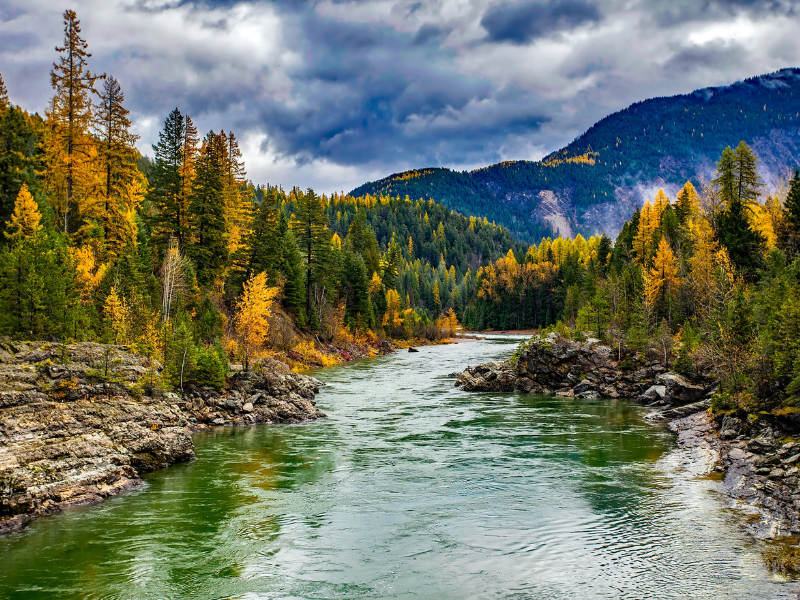 No, unfortunately, you won't be able to live out your dream of Yellowstone – the TV show – but Montana offers sweeping landscapes, gorgeous summers, and plenty of natural resources.
There are some downsides to Montana.
First, the winters are tough. Expect a lot of snow and cold temperatures for long periods; you better not be a cold weather hater in this state.
Also, despite having snow, their overall rainfall amounts are lower than you might expect.
Last, you'll deal with a range of predators here. Wolves still live in this area, and you have to be sure you have the right protection for your animals, especially in the winter when predators are on the prowl for more food.
PROS
Gorgeous Views & Landscapes
Diverse Hunting Available
Relaxed Homeschooling Laws
Good for Wind Power Opportunities
Relaxed Building Codes & Regulations
CONS
Little Rainfall
Harsh Winters
Cannot Sell or Consume Raw Milk
How to Pick Your Dream State for Homesteading
Affordability and Cost of Living
The most important factors when picking your dream state for homesteading is the overall cost. You want to find cheap land, especially if you want to plenty a lot of land. Ideally, look for states below the national average for cost of land.
I suggest you spend time looking at currently for sale plots of land, and consider how many acres of land you want to own.
The cost of living matters as well. You have to go to the grocery store, so ideally, you want a state that is affordable for groceries, clothes, and other goods that you purchase. States without sales tax are a big pro for this!
Property Taxes
When you investigate the best states for homesteading, don't simply look at the cost of the land. That's easily misleading. Some states have low property costs, but their insane property taxes change the game.
Property taxes vary widely based on the state you live, and they also change based on the area in the state. Some areas may have more or less property taxes, so be sure to do your investigating thoroughly. Taxes will dramatically change the overall cost of your property.
Relaxed State Laws
Ideally, you want a state that has fewer laws than more laws – right? More government oversight in some areas may be a good thing, but you want to be able to do things on your homestead and your property that matters to you.
So, fewer state and local laws are a good thing. For example, I live outside of my city limits, so I have no regulations as far as building codes. We can build whatever we want on our property.
Water Availability
Not all states have access to water. I live next to the Ohio River – literally, I see the river from my house. So, not having access to water is a baffling concept to me, but it's true!
Livestock and gardens all require plenty of water, so you want an area that won't cost you an arm and a leg to simply water them. Start by researching the annual rainfall parts, and look for natural bodies of water in the area you want to homestead.
I can't stress enough how important having a water source is on a homestead!
Last, make sure you check rain catchment laws in the state. Some states make collecting rainfall illegal.
Weather & Climate for Growing Season
What is the weather and climate like in the states for homesteading?
Take a look at the areas' USDA hardiness zones and how long the growing seasons are. This determines how long you'll have each year to grow fruits and vegetables. If your goal is to produce a year's worth of food, then this matters.
Some prefer a temperate climate, while others are okay with a harsh winter for hibernating. However, remember, livestock still tended even when the temperatures dip into the negatives!
Rates for Renewable Energy
A lot of homesteaders prefer to opt for different energy options, like solar power or wind power, because they want to be off grid entirely. Getting off the electrical grid is a goal for many, but ideally, it will also save you some money.
Some states offer different rebates or incentives to use renewable energy options.
Like-Minded Community
Having homesteading communities helps the journey. It's nice to have local people to discuss homesteading, and they'll have valuable insight about predators, microclimates, average weather, and more in the area.
Local information is better than anything you'll read on the internet.
Homeschooling Regulations
If you are a homeschooling family, be sure to check out the homeschooling regulations. Some states have more oversight and require documents submitted each year, while others are totally hands-off in terms of regulation.
One of the most frustrating states for regulations is Pennsylvania, but that's not one of the top states for homesteading. Many states, like Montana, have no regulations at all.
Safety
Of course, safety is always a factor when deciding where to live. Take into account the threat of natural disasters, such as earthquakes, tornadoes, or hurricanes. Natural disasters will dramatically increase your homeowner's insurance.
You should also look at the crime in the areas that appeal to you. Sometimes, crime statistics are misleading; it's often best to understand the area and what those crime statistics reflect. However, you always want to move your family into a safe area.
---
This is a huge decision; moving takes a lot of money, and you want to be sure you pick the right location. These are some of the best states for homesteading, but make sure you do your research to find out if the state is really for you and your homestead!