23 Old Fashioned Christmas Ideas to Try This Year
Sometimes, you have to step back from our consumerism and fast paced society to embrace a truly old fashioned Christmas.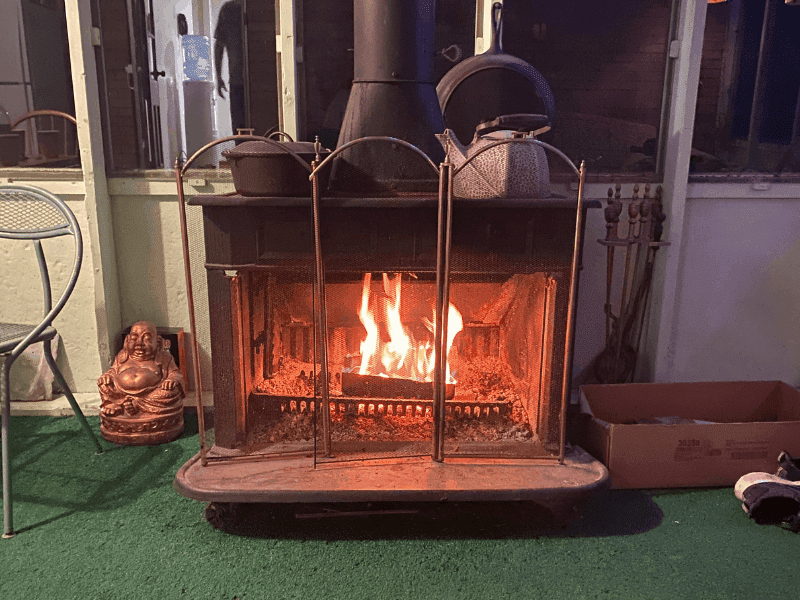 Christmas is the most magical time of the year, and I think it's even more magical when we step back from the consumerism and focus on having an old fashioned Christmas.
A few years ago, I decided that making memories was my top goal for each Christmas. Sure, I like to give my kids plenty of presents, but I wanted memories. I want to wake up and have fun with my kids through the season.
Advent should be a time of celebration and joyous family time together. It should be full of cuddles and talking about our year, reflecting on the good and the bad that happened, while looking forward to a new year together.
I'm sick of the rat race, spending more money on decorations and gifts than anyone should ever admit. I want to slow it down and make this time last.
So, slip on those cozy socks and sweaters, and let's take a look at a few ways to have an old fashioned Christmas that your family will love and cherish for years to come.
Related: Have a Simple Christmas: 12 Tips to Remember
What is an Old Fashioned Christmas?
An old fashioned Christmas is whatever you think it is. When I imagine an old-fashioned Christmas, I think about how our ancestors spent this time with their families and valued family and memories over presents.
My family was poor; that's no secret. I talked about how my great-great-grandma rationed sugar each week during the Great Depression to bake a cake on Sundays.
Related: Building a Great Depression Pantry
My grandmother told me many times that they never received too much for Christmas, but what she does remember is delicious food after farming all summer and one or two meaningful gifts.
When you have an old fashion Christmas, you don't worry about what the latest trends are or what Pinterest says you should do with your kids. You think about making memories and spending time with those you love.
23 Ways to Have an Old Fashioned Christmas
When I'm picking out old fashioned Christmas activities, I think about what will bring my family closer together and doing things that everyone loves. Here are some of our favorite ways to embrace the simplicity.
1. Cut Down Your Own Christmas Tree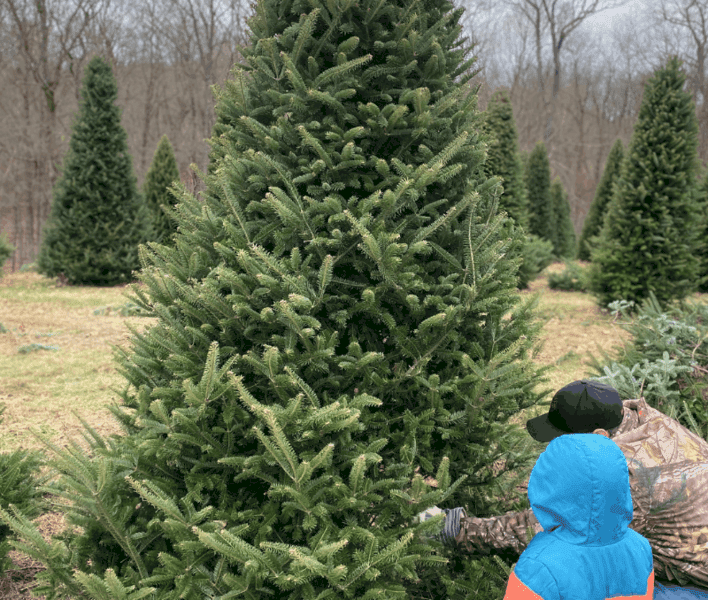 One of my favorite Christmas traditions is cutting down our Christmas tree together as family. I grew up with these memories, and we still laugh about them together.
Like how my dad found every ice patch possible and fell nearly every year getting our Christmas tree.
These memories last a lifetime, and they're ones I will cherish forever. I want those memories for my kids, so we go together as a family to cut down our tree. Often times, we go with my parents, my sister, and her family as well.
Those are truly special years for us.
We cut down our tree a little earlier than other families. I prefer to get my tree as quickly after Thanksgiving as possible. I'm all about the holidays over here, and I want to extend the joy of the season for as long as possible.
2. Put a Toy Train Around Your Christmas Tree
My husband grew up with a train around his Christmas tree, and it was one of his favorite memories.
This year, we are surprising our kids with a train under the tree that they can watch and enjoy. I hope to set up a village under our tree and make it something the kids love to watch and play with throughout the holiday season.
3. Decorate with Natural Decor
So, I already mentioned getting a real tree rather than a fake one – our ancestors didn't have fake trees after all!
However, all natural decor is beautiful. We live in a world full of plastic and fake things with bright colors that we often forget just how pretty natural things are.
Last year, I skipped the fake garland and grabbed rolls of live garland from Costco. It was affordable – $30 – and I hung it between my kitchen and dining room. I'm going to get even more this year.
Dried orange slices is a tradition that you can start with your kids. Hang them on twine with some cinnamon sticks. Make simmering pots on the stove to fill your house with yummy scents.
Related: 16 Christmas Herbs for the Perfect Seasonal Scent
Here's a few more ideas for old-fashioned Christmas natural decor.
Dried berries
Popcorn
Branches
4. Make Handmade Decorations
My great-grandparents didn't have money for fancy decorations. You don't have to blow your entire budget on Christmas decorations; trust me, I know you could because they charge a fortune for some things.
One of our favorite Christmas traditions is stringing cranberries and popcorn; it makes a lovely garland for the tree. We also make cinnamon salt dough ornaments each year.
You can find so many handmade Christmas decoration; there is no need to give your hard-earned money to stores.
If you know how to crochet, try making your Christmas tree skirts!
Related: 6 Simple Crochet Christmas Tree Skirt Patterns for Your Homestead
5. Make Homemade Stockings
I love making my kids' stockings. It's something I enjoy doing every few years, but now that they are getting older, I want to make them some heirloom stockings that they will have for years to come.
These aren't stockings you'll find at the stores, and I hope my kids remember that their mom always created stockings for them.
6. Light Candles Around Your House
Having candles around your house gives your home a comfy, cozy feel that everyone loves. You don't have to skip electricity, but lighting a fire or placing candles throughout your home is a sure-fire way to make everyone feel happy during the holidays.
7. Make Paper Snowflakes to Decorate
Let it snow in your house! My kids love to make paper snowflakes and decorate our home. Our favorite place to hang them is in the window. All you need to do is string a few snowflakes on twine or yarn, and it makes a pretty yet simple garland.
8. Bake Treats for Your Family
I used to never enjoy baking with kids; it felt like such a hard process with tons of clean-up that drove me nuts.
However, my kids truly love to bake yummy treats, and over the years, I grew to love doing this with my kids. I imagine my kids telling their children that grandma always was in the kitchen, baking goodies during the holiday season, and that they learned how to bake our family's favorite cookies beside me.
I'm a sucker for these things!
9. Drink Homemade Hot Chocolate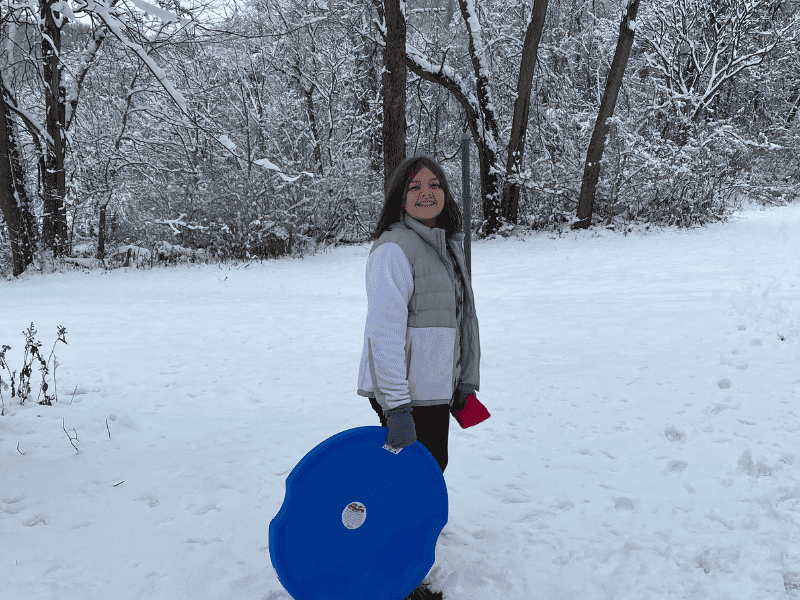 My kids LOVE hot chocolate; who can blame them?
Last year, I set up a hot chocolate station with Christmas mugs, marshmallows, candy canes, and whipped cream in the fridge. I also put out packets of hot chocolate because sometimes I don't have time to make it homemade.
10. Make Homemade Eggnog
My husband LOVES eggnog; he starts drinking it in October and continues all through the holidays.
While I often grab containers at the store, homemade eggnog is really the way to go, and my kids love it as much as he does. It's a treat for everyone, perfect for watching movies or working on one of our many Christmas crafts.
11. Send Out Handmade Christmas Cards
I stopped sending Christmas cards years ago; I felt like they were just a formality and no one appreciated them as they should. Christmas cards used to be a way for relatives and friends to keep up with each other and stay updated.
Nowadays, with social media, everyone stays connected without the need for cards, but this year, I have a new plan.
We are all going to make handmade Christmas cards together. Grab some blank envelopes, blank cards, and Christmas stencils for the kids to use. This is a great afternoon project as the snow falls, and you can write in it about your family's happenings for the year.
12. Put Oranges in Your Children's Stockings
Decades ago, oranges were a standard stocking stuffer because it dated back to the legend of St. Nicholas, but some say that it connects to the Great Depression when citrus was too expensive for most families to afford regularly.
An orange was quite a treat for a child.
Even though this is less common nowadays than years before, I think it's an old-fashioned Christmas tradition worth reviving. It helps your child appreciate what they might take for granted.
13. Use Handmade Wrapping Paper
Wrapping paper never was as fancy or expensive as it is now. You used what you had on hand like newspaper or brown paper packaging. Then, you wrapped a bow around the present and called it good.
After all, you toss out wrapping paper in the end. Using handmade or even cheap, plain brown wrapping paper might save you money and give you an old fashion look to your Christmas.
14. Make Homemade Gifts for Your Friends and Family
I think one of the most important old fashion Christmas traditions is making gifts for those you love instead of buying gifts.
Time is more precious than money; you can always make more money, but you cannot create more time. When people give their time by creating homemade gifts, it shows how loved you really are.
I try to make all of my loved ones at least one homemade gift each year. I finish shopping by the middle of November, giving me plenty of time to craft and make homemade gifts.
You don't even have to be a crafty person to make homemade gifts! Everyone loves homemade treats, jars of dry ingredients to bake brownies, or whatever else you want to put together.
It's truly the thought that count.
15. Keep a Basket of Blankets Nearby
Our family loves to snuggle and cuddle with warm, cozy blankets. I have a blanket ladder beside my loveseat with thick, minky blankets, and I also have a large basket full of warm, cozy blankets.
Not to mention the blankets I toss over the sides of my couch.
To say we love blankets is an understatement, but with a family of six people, we all want blankets when we're relaxing on the couch together.
16. Focus on Time with Your Family
Family is the focus on this time; I want to be with my family, spending time together and making memories. We love to be together, and I feel like this can be a challenge in our modern lives.
Our society is so busy.
We fill our schedules with all sorts of things that "need" to get done. So, I make sure to block out time each week when my family will spend time together.
After Thanksgiving, we make a Christmas bucket list. Each family member picks two things that we would like to do during the holiday season, and we write them down. Then, we find time to put them on our calendar.
Related: 20 Budget-Friendly Christmas Traditions
17. Sing Christmas Carols Together
I have to be honest; getting my husband to sing Christmas carols is pretty much impossible. However, I love Christmas carols, and I turn on the radio as often as possible.
All season long, we listen to carols in the car, and if I'm cleaning or cooking, you can bet that I have Christmas songs playing on my Bluetooth speaker.
On Christmas Eve, we visit my aunt's home, and she always has us sing carols on the front porch. It started off as a silly idea that turned into a yearly event that we all love and want to do.
18. Check Out Local Holiday Light Displays
One of our favorite traditions is to drive around and look at local holiday light displays. We are lucky because we have several large, professional light displays within an easy drive that we can check out throughout the season.
Grab some hot chocolate (or fast food, I don't judge!) and check out all the hard work your local neighbors put into their holiday light displays.
19. Make Gingerbread Houses Together
Every year, we make gingerbread houses together as one of our Christmas traditions. I'm excited to continue this as our kids get older and don't need our help so we can create our own.
I would say this is one of our more "expensive" traditions because the kits aren't cheap. I might consider making homemade gingerbread houses one day!
20. Watch Your Favorite Christmas Movies Together
I don't think anything is more amazing than settling in with my husband and children to watch Christmas movies as we snuggle on the couch. I adore Christmas movies, especially Hallmark movies when my kids go to bed. We watch all the classics and any new Christmas movie that might come out.
21. Put Our Pictures
This is a great time to put out more family photographs throughout your house. Hang photos from previous Christmas years with your kids and things that you did throughout the year.
22. Use an Advent Calendar
One of the most recent additions to our old fashioned Christmas is an advent calendar. We used our calendars to build up the excitement for Christmas, and the kids get little treats. We also use the time to surprise the kids with some activities that day.
For example, when we go look at lights, I put a little paper slip in the day and the kids get to find that out. We also put when we are baking cookies, making gingerbread houses, and other fun activities.
23. Play Games Together
Playing together is a great way to spend time together as a family, and for many families, playing games is a Christmas tradition. Turn off the electronics, disconnect, and take time with your family is a fun and purposeful way.
---
What it comes down to is that I think an old fashioned Christmas focuses on family. This time should be simple and slow not chaotic and nuts with too many things that need to be finished before Christmas Day. Take it slow and you'll find even more beauty in the season.