26 Free Seed Catalogs for 2023
Make sure you grab some free seed catalogs before they run out for the gardening season!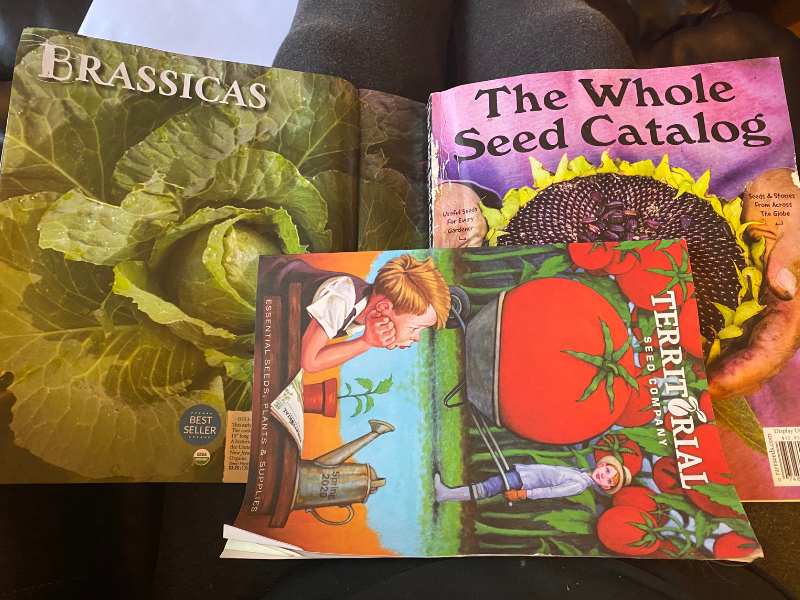 In the winter, when gardening isn't an option, it's my favorite time to dream about the upcoming gardening season. I sort through my favorite free seed catalogs and imagine all the plants I want to grow that year.
I love winter, but the lack of gardening bothers me, so being able to chase away some of those blues helps.
The best time to sign up for free seed catalogs is ASAP. Most companies begin to send them out in December and January, so you'll get some exciting gardening mail before long. Typically, the companies have a set amount of catalogs, so it's best to sign up as early as possible so you don't miss out!
Here are some of the options you have for free seed catalogs!
Related: 4 Surprising Reasons Heirloom Seeds Are The Best Choice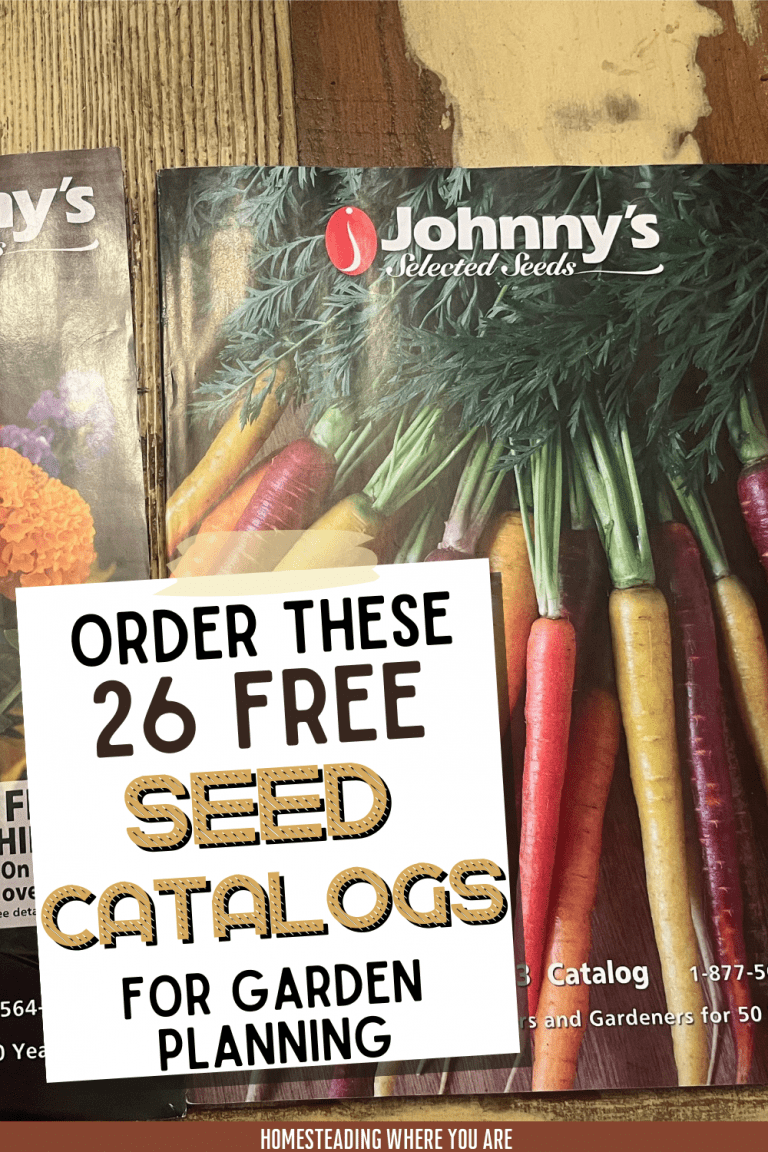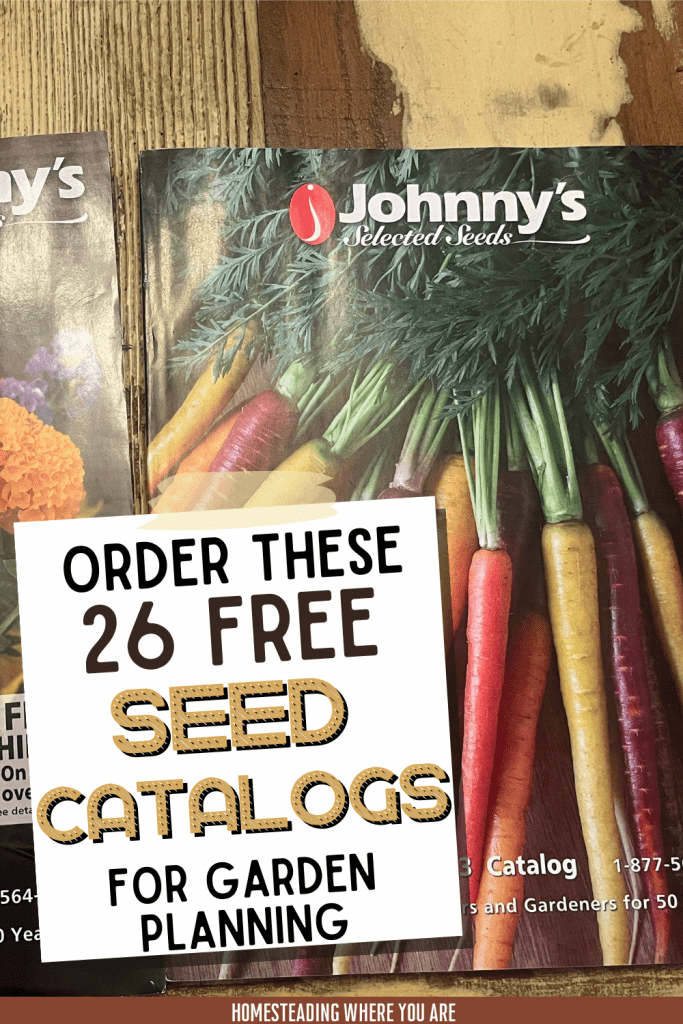 23 Free Seed Catalogs
I order all sorts of free seed catalogs, but the one that makes me the happiest is always Baker Creek Heirloom Seeds. Their catalogs are more like gorgeous magazines with the best photographs. I spend hours searching and reading over all the plant descriptions, hoping to find the perfect plant for my garden.
Baker Creek offers physical and digital seed catalogs – both are free. It is a full-color catalog that averages 90 to 100 pages, full of information about the planting varieties and other gardening knowledge.
These catalogs ship between December to March; make sure you get your name on the list because they are perhaps the most expensive.
2. High Mowing Organic Seeds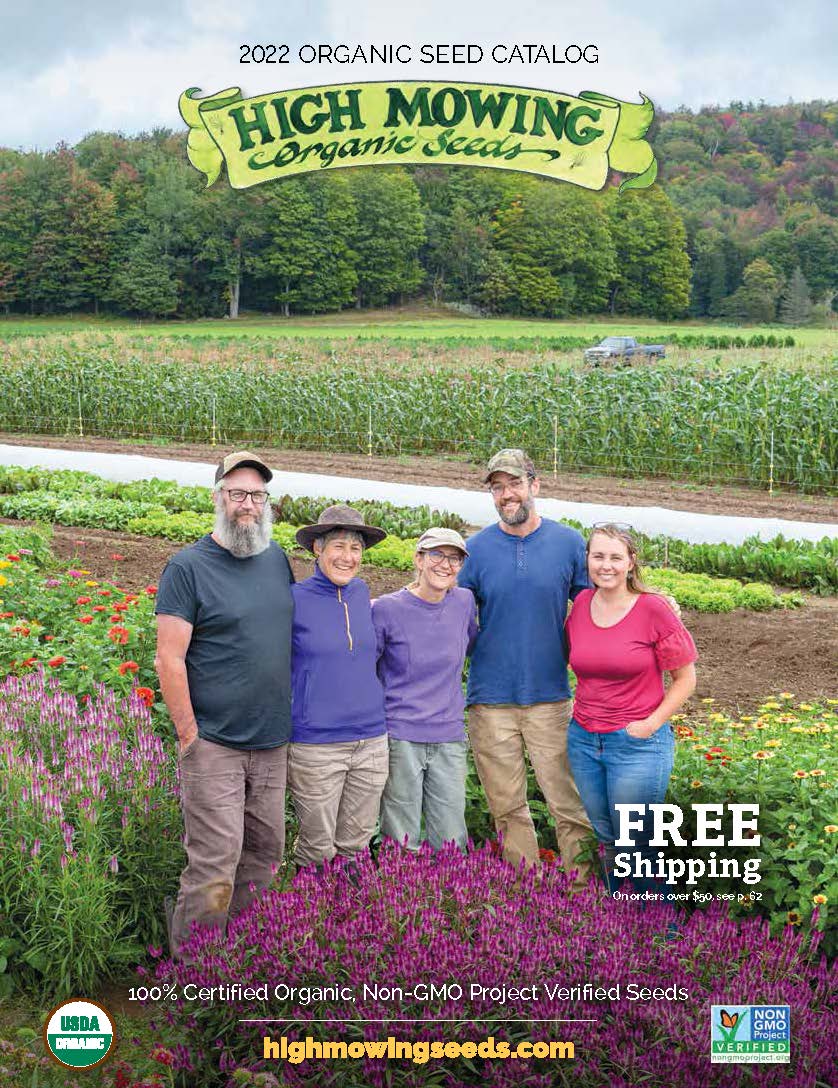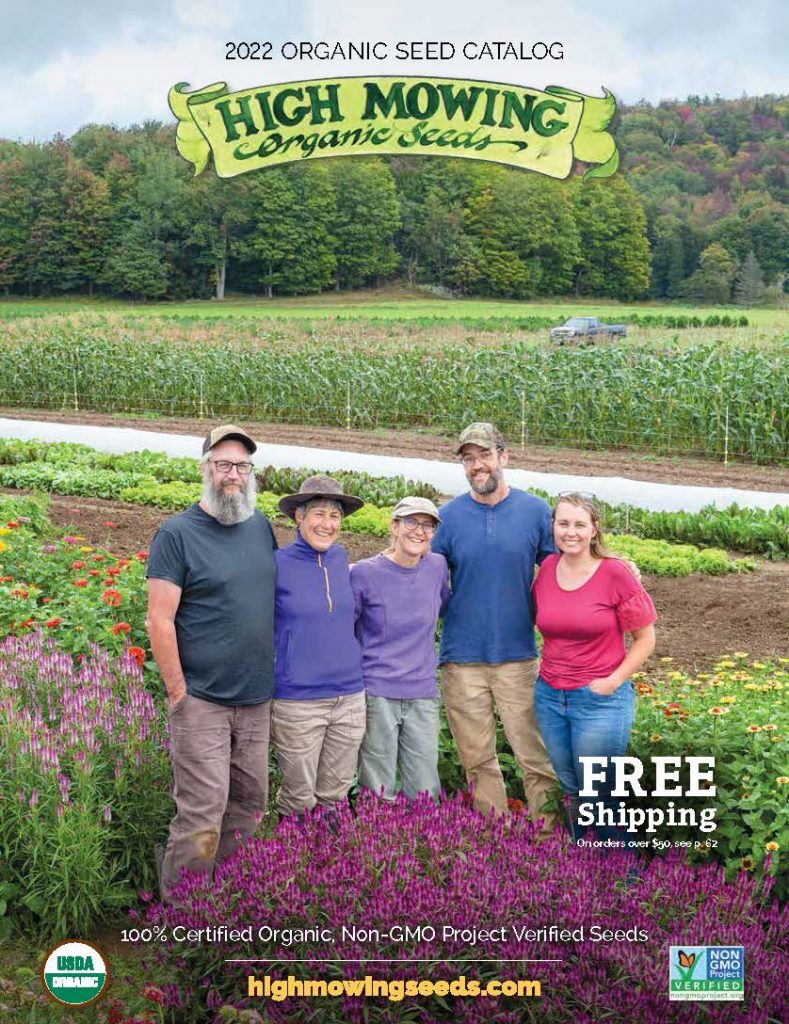 I'm a huge fan of High Mowing Organic Seeds. Their company features over 700 varieties of ORGANIC vegetable, flower, herb, and fruit seeds.
Considering they are all organic, that is a huge amount of seeds. I love all of the variety they offer. Everyone tends to focus on Baker Creek for unique varieties, but I have honestly found more variety elsewhere, including High Mowing.
If you don't believe me, take a look at some of their onion, garlic, or greens varieties – it's a lot!
Their printed catalog has colored tab at the edge to help you navigate, and I appreciate that. You can skip to the area you want to read the most.
In my opinion, the reason High Mowing stands out so much is their focus on selling 100% organically grown seeds. They have only sold organic seeds since 1996, so they are definitely experts in their field. If growing organic is a priority to you, grab one of their free seed catalogs and start shopping!
Head here if you want to check out their digital copy first. They have over 53 new varieties for 2023!
I also typically order Johnny's catalogs as well. They offer several of their previous catalogs as digital copies, and their current 2023 catalog is available in digital and physical copies.
One thing I like about the Johnny's Seeds catalog is how much detail is provided about each plant. I feel like Johnny's gives you more details, which is great when you have to pick which seed varieties you want to grow.
Something else to consider is that Johnny's tests all of their seeds at their farm in Maine, so you know their seeds perform well in the northeast and colder regions. For cold region gardeners, this matters a lot.
I also appreciate all of their information packed into the catalogs for home and market growers. The last catalog I received was well over 200 pages with a lot of information. If you're a brand new gardener, that may feel intimidating, but it is always great to learn new things
You can order their paper catalog, but if you prefer a PDF version, go here. They have over 75 new products in 2023 you don't want to miss!
If you've never heard of Seed Savers Exchange, you're missing out. They bring seeds to you that are open-pollinated and non-GMO. They also run a non-profit mission that you support with every purchase of seeds.Their heirloom seed movement began in the 190s with the goal to preserve the biodiversity of our food by sharing heirloom and open-pollinated seeds.
Who doesn't love supporting while purchasing things you already need?
Seed Savers oversees the U.S.'s largest non-governmental seed back with thousand of varieties catalogued and preserved. Some of the seeds are available through their catalog. You'll find vegetable, flowers, herbs, and tree seeds; many of their varieties are only available there.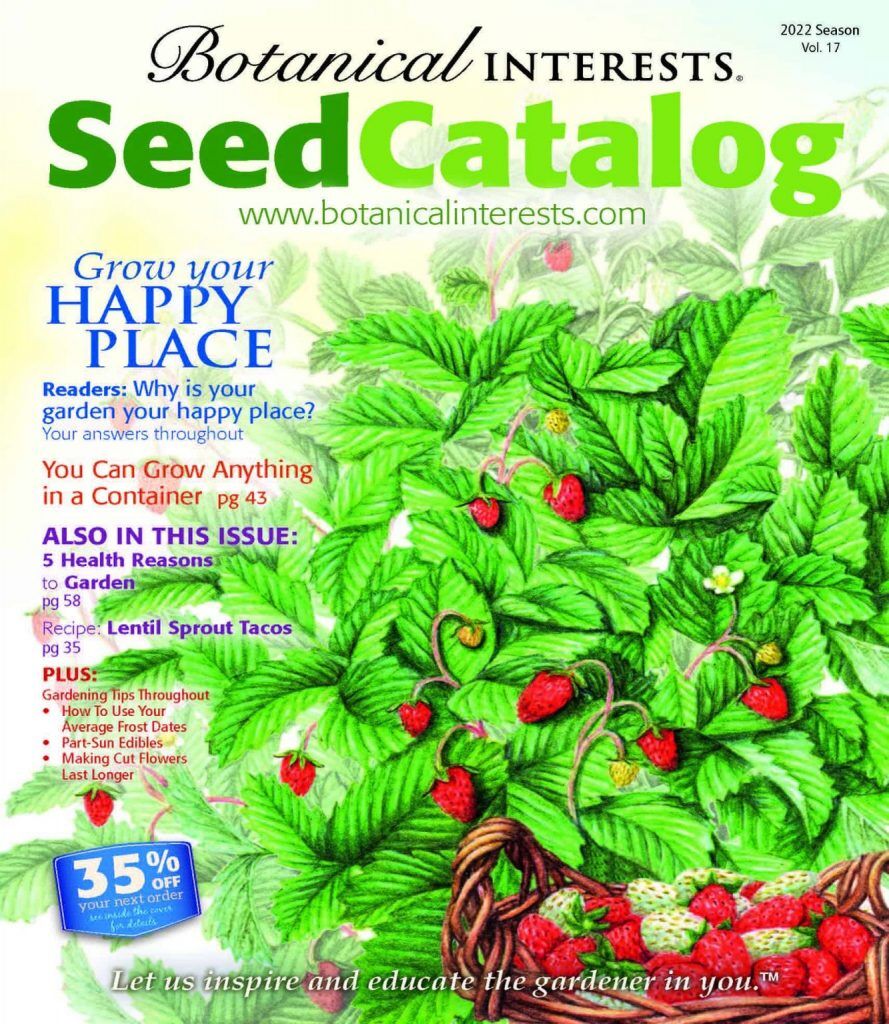 This year was the first year I tried seed from Botanical Interests, and I was pleasantly pleased. I typically stick to one or two seed companies, but I decided it was time to branch out.
Botanical Interests are based on Colorado and run an awesome detailed-oriented seed company. What I like most is their works of art in their catalog, which they sell separately if you want to frame them.
Their catalog comes in a print and digital version, and they all feature the same illustration and growing tips. Here are some reasons to buy from Botanical Interests.
They sell heirloom and open-pollinated seeds for home gardeners, along with a few hybrid plants.
Their seed packets are beautifully illustrated; they look like a mix of sketched and watercolored.
When you purchase from Botanical Interests, you earn points towards free seeds. Not many other companies offer a point system to earn free seeds, so I appreciate the giving-back aspect to their loyal customers.
Annie's is an heirloom seed company that focuses on sell heirloom seeds that are at least 50 years old, open-pollinated, hardy, and delicious. They have an immense variety of plants, focusing on creating a diverse collection with well-tested seeds. They have plants that grow in every growing region.
All of their seeds are 100% non-GMO and never treated with chemicals. I love that!
As you flip through their catalog, they indicate with a little carrot their best performing and most reliable plants. New gardeners should consider growing these ones!
I also like their collections of seeds if you aren't sure what you want to grow. Their medicinal herb garden kit looks intriguing!
As always, their catalog is available in the printed version, but you can check it out in a PDF form before ordering.
One of the first free seed catalogs I ordered was Gurney's, and I still love their products. I grew only Gurney's potatoes this year, and my harvest ROCKED. So, I can assure you that their quality of their plants is top-notch.
Gurney's began in 1866, so it's one of the longest seed companies in the United States with 150 years of experience. I also like that the website shows you the plants that are best for your gardening zone.
Check out their PDF catalog as well!
If you spend time in the gardening world, you will hear the name Burpee; it's a big gardening brand.
One thing to note is that Burpee sells hybrids, not heirloom, seeds, but if that doesn't bother you, you'll find quite a selection. Their new Vivacious Hybrid Tomato looks amazing!
Their catalog is full color and provides plenty of information about each plant variety. These are the same plants you can buy at Walmart or other garden stores, but they might not have all of their varieties.
They also have their pretty seed catalog available in the PDF form as well!
Other Printed Free Seed Catalogs
It's hard to go into detail about every single company that offers a printed free seed catalogs. Here are a few other companies to consider.
3 Digital-Only Free Seed Catalogs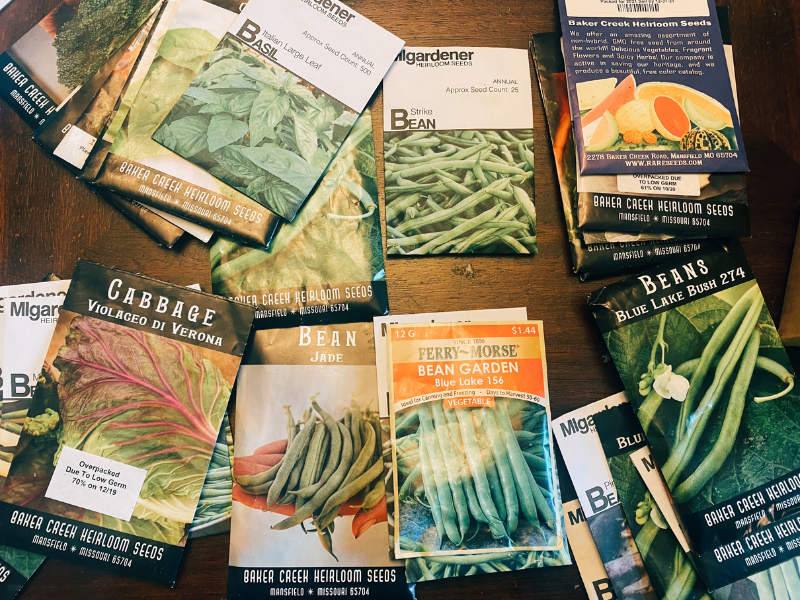 Due to prices, many companies no longer offer free printed catalogs. I imagine that it reduces their profit margins, especially since everything in the world seems to cost more than it did before.
I still suggest you take time to download or simply flip through these digital free seed catalogs. You may find some new seed varieties you can't wait to grow in your garden.
MIGardener
One of my favorite places to get seeds is MIGardener. I've grown garlic, beans, tomatoes, zucchini, and more from their selection, and I've had fantastic results. Their prices are hard to beat as well.
They don't offer a shipped catalog, probably as a way to keep down their prices. Trust me, their prices are impressive, and Luke Marion has a full YouTube channel with all sorts of gardening knowledge shared. It's a wealth of info for new and advanced gardeners alike.
Head over to the website and click on the menu to find the digital catalog.
Native Seeds Search
I personally love any sort of non-profit organization in the seed business. I may have a select love affair with garden seeds.
Native Seeds Search is a unique company because they focus on promoting traditional seeds that row in arid and semi-arid climates. Gardeners in the southwest or other hot, dry environments will love their seed varieties.
They specialize in selling native and heirloom seeds, and many of their varieties are hard to find. Make sure you read all of their great descriptions.
Unfortunately, their catalog is only PDF, but it shows you all they have to offer your hot, arid garden!
Renee's Garden is a garden-to-table seed company ran by gardeners. This company began in 1998 by the founder Renee Shepherd, and her company sells carefully selected and tested seed varieties.
There are several reasons to take time to order some of her seeds.
She has an amazing selection that focuses on flower and performance. There is no reason our veggies shouldn't taste as good as possible!
I love their seed packets; they feature watercolor illustration and plenty of information about growing that particular plant.
Renee's Garden performs test runs of all their seeds in different climate zones. This ensures they know where the plants grow the best!
---
Getting free seed catalogs in the mail is one of my favorite things. I get so excited for gardening mail, and it chases away any winter blues I might have!
Do you have any seed companies I forgot to include that offer printed catalogs? Drop them in the comments!