16 Christmas Herbs for the Perfect Seasonal Scent
Christmas is my favorite holiday, so I love when my house is filled with the scent of Christmas herbs.
Not all herbs smell like Christmas. Some scents remind you of the holidays, and as the temperatures dip lower outside, you want your house to feel cozy with these Christmas herbs.
But which herbs?
You want to fill your house with all the festive scents. Since Christmas is during the shorter months – for the Northern Hemisphere at least – growing herbs outside may not be possible, but you can bring many herbs indoors. Many herbs grow well indoors, or it's a time to make sure all of your dried herbs are stored well for the winter.
Here are some of my favorite ones I always use up during this season. Some are great for cooking while others work best for decor and scents.
Related: Delicious Christmas Jam: Canning Cranberry Jam Recipe
16 Christmas Herbs for the Perfect Seasonal Scent
1. Mistletoe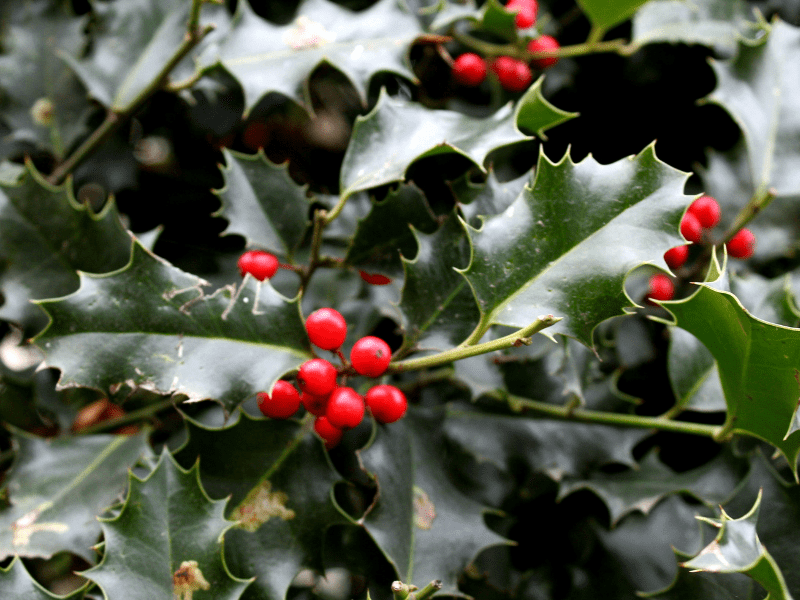 Let's start with one of the most well-known Christmas plants: mistletoe. It's easy to recognize this Christmas plant, and it has many legends associated with it.
Most cultures have legends associated with mistletoe, such as the Scandinavians and Celts. As Christianity spread throughout Europe, mistletoe found its way into acceptance as a kissing ball. Young women standing under mistletoe couldn't refuse a kiss; if she did, she would remain unmarried for the following year.
Most people have no idea that mistletoe is really an herb! Dried mistletoe works for teas and tinctures to treat various conditions like headaches, menopausal symptoms, and arthritis.
2. Rosemary
One of the classic Christmas herbs is rosemary. It has a fragrant pine scent with needle-like leaves, making it an excellent option for the holiday. Rosemary is great for holiday decor, cooking, or potpourri.
Adding rosemary to your seasonal celebrations represents love and remembrance; it's the perfect sentiment during the holidays. Rosemary is a perennial plant in many areas, and it grows well indoors in the winter.
3. Thyme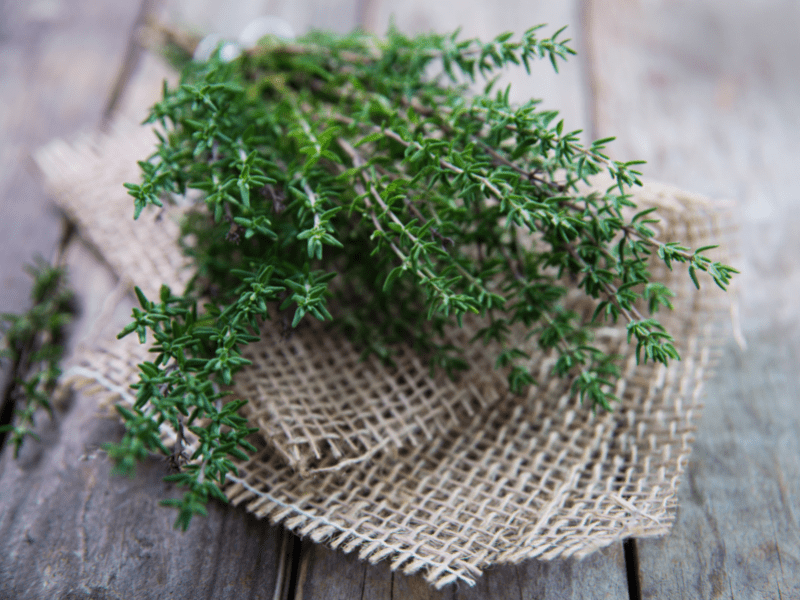 Another fresh herb used commonly in the kitchen during Christmas is thyme. Not only is it great for gravy or side dishes, but it is also great fro decorating the kitchen. Use it to make treats too since thyme pairs well with savory and sweet dishes.
Thyme is one of the few herbs that you can grow indoors by a bright, sunny window during the winter. Pick a south or west-facing window for best results. They also grow well under a grow light.
4. Pine
Pine and other evergreens are commonly associated with Christmas, and while it is not truly an herb, the scent brings the image of holidays to mind. Cultures and traditions cherished evergreens because it was a natural symbol of life amid the winter when darkness prevails.
5. Peppermint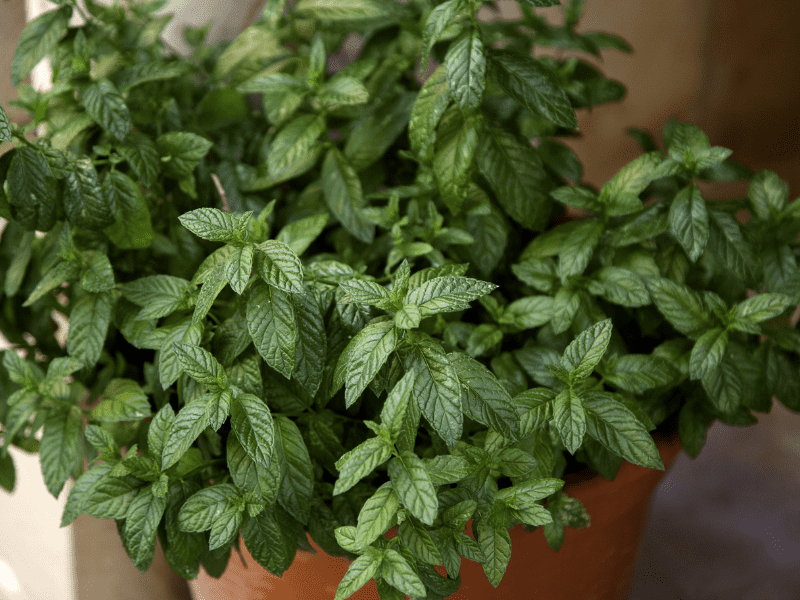 It's hard to imagine the holidays without peppermint. I bet you enjoy peppermint candy canes, cookies, and candles; it's one of the scents that bring the holiday cheer. It's one of my favorite essential oils for diffusers.
Peppermint really livens up your home!
The nice thing about peppermint is it's more than just a cooking herb. It's a scent that you can infuse in candles, lotions, and whatever else you want during the holiday season.
6. Sage
Sage is one of the popular Christmas herbs because it's commonly used to season turkeys for Thanksgiving and Christmas dinners. It has a meaty fragrant that pairs the best with poultry, making it great for your Christmas dinner.
7. Cinnamon
A tried and true Christmas herb is cinnamon. Many crafts and decorations include cinnamon sticks, and it's easy to toss the sticks into stovetop potpourri.
Plus, is it even Christmas without cinnamon rolls in the morning?
Cinnamon smells great when infused with other spices. It works great in candles and diffusers to give your house the real holiday scent. We make cinnamon star ornaments as one of our favorite Christmas traditions.
Related: 20 Budget-Friendly Christmas Traditions
8. Nutmeg
Nutmeg goes well with cinnamon; it's a season spice that pairs well with eggnog or other dishes. Plus, it's a scent that goes well into soaps, candles, and potpourri.
Most stores sell nutmeg powdered, but it is possible to purchase whole nutmeg nuts to toss into the pots.
9. Parsley
If you're looking for versatile Christmas herbs, parsley is an excellent option that gives you the greenery you need during the winter season. Most people assume parsley is only a garnish for meals, but you can add it to butter to make a spiced butter spread.
Parsley also tends to be one of the more cold hardy herbs. I was shocked this spring to see my large parsley plant overwintered in the garden and came back, even in our cold Ohio weather!
10. Cloves
Citrus is classic and goes hand in hand with Christmas, and cloves work great with oranges. It's a lovely pairing of Christmas herbs and scents.
Toss cloves into your potpourri pots or diffuse the essential oils.
11. Star Anise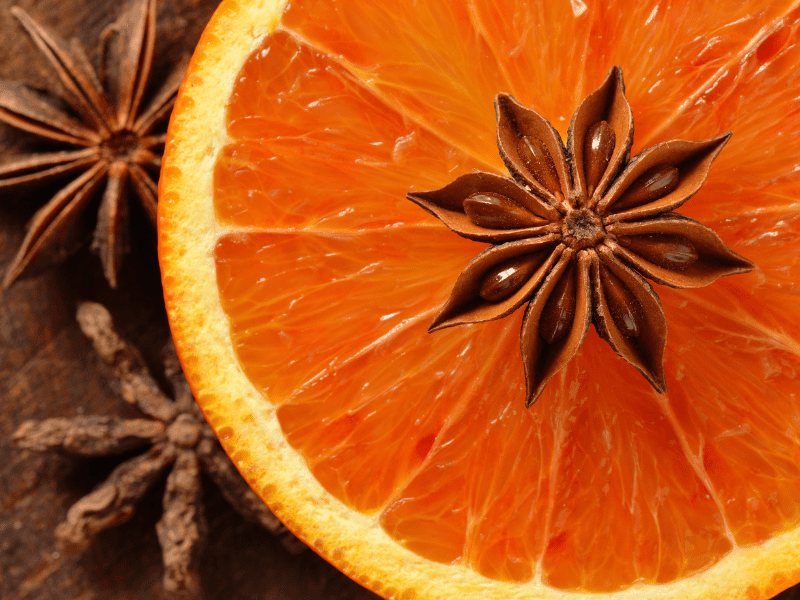 Many people use star anise for holiday crafts or add it your turkey gravy. Star anise are star-like pods that look great as garnishes, or you can use it as part of your Christmas dinner table decor.
12. Frankincense
Frankincense was one of the three gifts of the magi given to Jesus. It is an aromatic resin that comes from Boswellia trees.
Frankincense is an aromatic herb; it's commonly used as an essential oil. Try diffusing frankincense essential oil for a special holiday scent.
13. Myrrh
Another one of the three gifts given to Jesus is myrrh. It's an aromatic resin that comes from Commiphora trees, and it's fragrance is associated with the three wise men.
Buying pure myrrh essential oils is typically an expensive purchase, even though it is great for healing bruises and small injuries. However, it's a lovely aromatic indulgence if you love the scent.
14. Lavender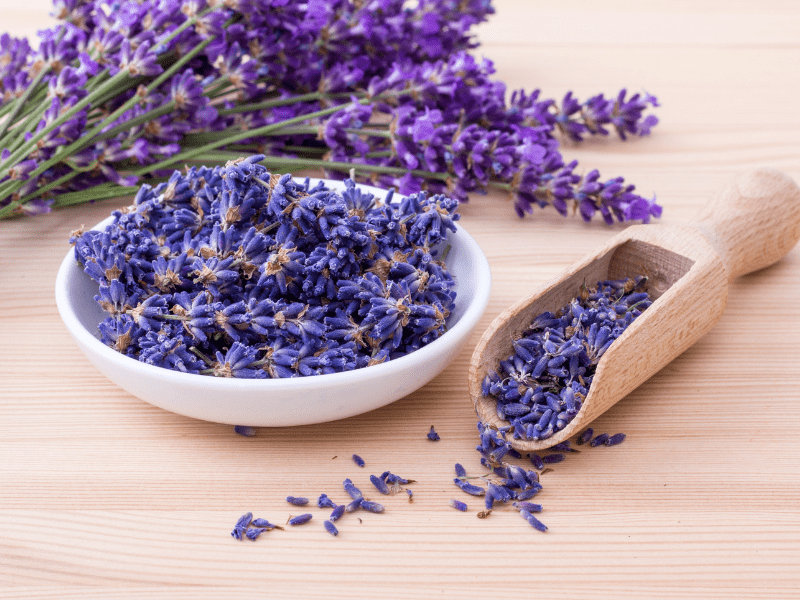 Most people know the scent of lavender; it's a small, woody shrub with scented flowers. Lavender plants have the shape of a small Christmas tree, and the flowers work great in potpourris and holiday crafts.
Bunches of lavender work great in wreaths or centerpieces; the sprigs work great for decoration. We know lavender has a long history as a Christmas herb. It is a fragrant herb that grows throughout Palestine and Syria, used as a washing and cleansing herb.
15. Ginger
If you're looking for a warming spice in the winter months, ginger is an excellent choice. That's why gingerbread houses and gingerbread men are popular choices during the holiday season.
Ginger tastes great in cups of hot tea, and it pairs well with other Christmas herbs, whether you want to toss it into potpourri or diffuser.
16. Lady's Bedstraw
Lady's Bedstraw isn't a common herb, but it's a flowering plant native to the Holy Land. It's most often used dried; it works great as an air freshener. Years ago, it was used as bedding material, but while it may not be as popular as other Christmas herbs, it has meaning to it.
Tradition tells us that lady's bedstraw was laid in the manger before the before of Jesus. It created a soft, sweet bed with white flowers.
---
These Christmas herbs will help you get into the holiday spirit. Try making some simmering potpourri pots to enjoy or toss these herbs into your holiday dishes. Your house will smell delicious!