12 Best Inspirational Homesteading Podcasts for Your Playlist
Listening to homesteading podcasts is one of the best ways to learn more while you're busy!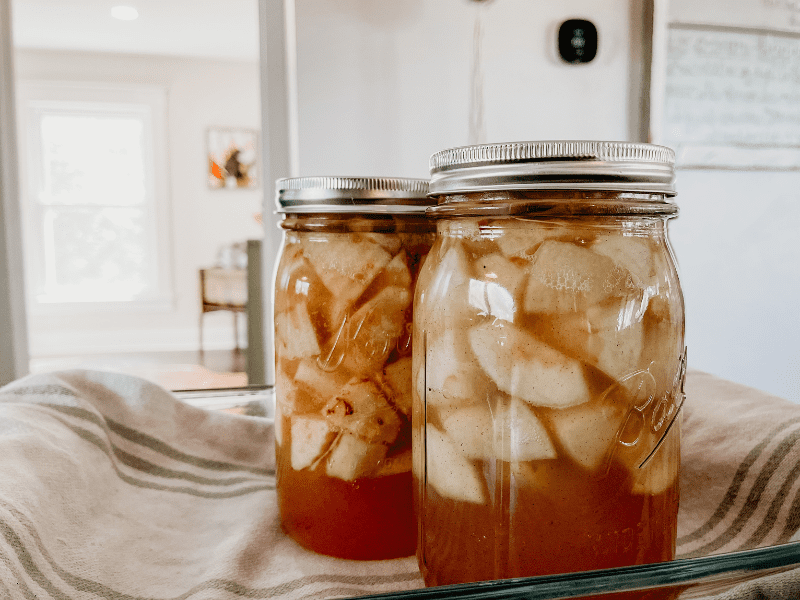 I love podcasts, and I don't hide that love. Nearly every day, you'll catch me listening to one or two, ranging in topics from gardening and crime to homeschooling and news. I also have plenty of homesteading podcasts on my playlist.
Podcasts are my jam.
The reality is, as a busy homesteading, homeschooling, and working from home mama, I don't have as much time as I want to read. I still read regularly, but podcasts give me a way to soak in new information while I take care of the chickens, clean my kitchen, and garden.
I learn so much simply by listening when I'm completing tasks that need to be finished anyway. It helps me feel even more productive with my time!
If you want to take in some more homesteading information, I suggest listening to some of these homesteading podcasts each week. The knowledge you'll gain will be tremendous!
Related: 20 Homesteading Books You Need on Your Bookshelf
12 Best Homesteading Podcasts
The very first homesteading podcast I listened to was Pioneering Today, and it still holds a weekly spot on my playlist. I listen to all of Melissa's new episodes and learn so much from her.
The Pioneering Today Podcast gives you all sorts of knowledge about gardening, food preservation, old-fashioned living, homesteading, and traditional skills. She is a 5th generation homesteader, and I love listening to her stories about her dad.
Melissa started her podcast in 2013, and her library holds over 300 episodes. The podcast features interviews with other homesteaders and solo talks. She has great perspective and advice to share with new and experienced homesteaders.
Most people interested in the homesteading life have heard of The Prairie Homestead – a leading homesteading blog. A few years ago, Jill Winger started a podcast to go with her blog and YouTube channel, and it's one of my favorite homesteading podcasts.
She talks about so many great topics and generally has a theme for each season on her podcast. In her season 9, she covers topics like homesteading with little kids, homesteading in your older years, and even homesteading in the arctic – how cool. You'll find content about building a homesteading business, using what land you have to get started, and so much more.
Jill Winger has a mentoring and coaching business as well, and I see how that plays out in her podcast. When you listen to her podcasts, you find inspiration and the drive to get things done.
3. Pantry Chat with Homesteading Family
I found the Homesteading Family on YouTube, but I don't always have time to watch videos. They put their YouTube videos into a podcast format, so their audience never has to miss something. I appreciate that!
Their podcast contains all sorts of knowledge. They talk about homesteading with kids – they have many kids! – raising a year's worth of meat, gardening, preserving, and more.
I also like that this is quite a chat, and while they discuss their main topic, they take questions from their audience and answer them. Each episode contains bits of information for you to enjoy!
I appreciate Nicole Sauce's candid talks about the challenging aspects of being a homesteader. She talks about the struggles and realities, which too many people gloss over.
She covers a lot of topics on her podcast like philosophical questions or the nitty gritty details of her daily life. Some of the shows are interviews with other homesteaders, talking about topics like easy gardening or freeze drying. My favorites are her homestead updates because I like to hear what is happening on other homesteads; it often gives me ideas!
Amy has a way with her podcasts, and she shares openly and candidly about life on her 5 acre farm. She isn't one to sugarcoat or make homesteading seem more glamorous.
A Farmish Kind of Life is full of honest and real tips and information about what life on a small farm looks like.
6. Homesteady with Austin & Kendra Martin
Austin and Kendra began their journey back to the land after the birth of their first child. They now have a 10 acre homestead, raise and hunt their meat, and teach others how to do the same.
Their podcast talks about all sorts of topics related to homesteading, but I enjoy the cautions they tell new homesteaders like let's not get all the animals. You'll find information on cheesemaking for beginners, easy meat animals to raise, comparisons of different livestock, and more. With over 100 episodes, you'll learn a lot from them!
Small Farm Nation is a podcast that primarily focuses on managing a small farm and all the business aspects that go along with it. Tim Young is a source of great knowledge for serious homesteaders who want to make a profit from it.
You'll find tips for marketing, leasing your land, product pricing, and so much more. However, if you aren't interested in having a small farm business, this may not be one of the homesteading podcasts for you.
Those with small homesteads will appreciate Brian Wells' podcast The Homestead Journey. He has a small two acre homestead in New York State, and his podcast encourages others to dive into a lifestyle of self-reliance and sustainability.
While Brian took a short break, he's back at it with regular podcasts. His archives contain over 150 episodes, all full of how-to information, homesteading stories, and good advice for you to get started.
I appreciate how Dr. Hillary Lampers and her husband including hunting with their homesteading journey. Too many homesteaders discount hunting as a viable way to meet their family's dietary needs.
Their podcast topics include health issues, hunting practices, gardening, and far more. You'll even hear about Ryan's hunting journeys and practices!
Mandi from Wild Oaks Farm and Angela from Axe & Root Homestead created a podcast for homesteaders by homesteaders. It's the perfect podcast to listen to with a cup of tea in hand.
They talk about vegetable garden, permaculture, animal husbandry, and more. While there aren't tons of episodes, I hope they continue to make more, and the ones available are gold!
Chicken Thistle Farm CoopCast is a refreshing homestead podcast, but I'm not entirely sure if they're still producing new episodes. However, their playlist contains some farming topics, their success and failure stories, gardening, and more.
They mentioned producing again in 2020, but that never came through. It's still worth listening to their episodes to learn something new or simply have a good laugh.
Unfortunately, Living Homegrown is no longer producing new content, but since her library consists of over 170 episodes, this is totally one of the best binge-worth homesteading podcasts.
This podcast is like catching coffee with a friend; it has a chatty format. The topics are relevant, especially in today's world, and cover topics like canning, preserving the harvest, fermenting, sourdough, small-space gardening, and more.
---
Listening to podcasts about homesteading is a great way to get inspired, learn something new, and get the courage to try something different. Try listening to a few different podcasts to see which ones you like the best.