8 Best Chicken Waterers for Your Flock
Picking the right chicken waterer helps save you time while tending to your flock and also reduces waste – saving you money!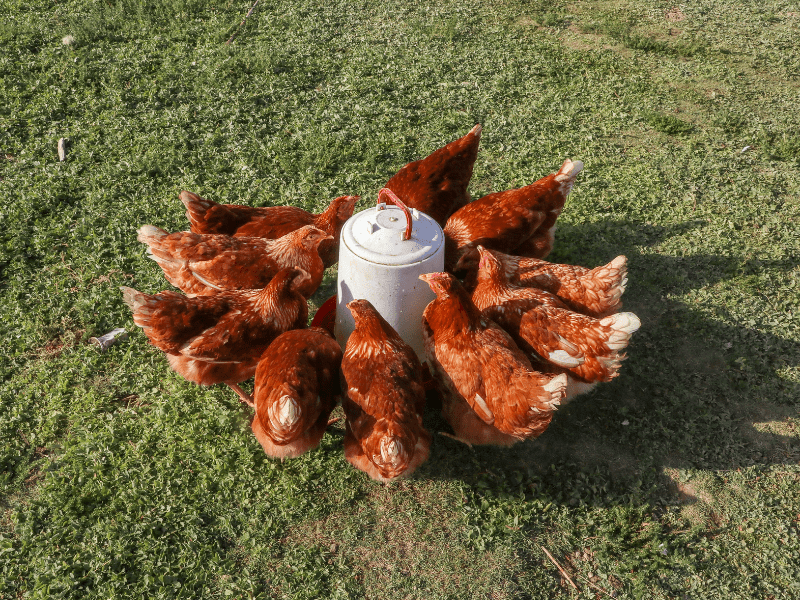 As you gather items you need to raise chickens, you'll want to get one of the best chicken waterers to provide your flock fresh water daily. It's essential to their overall health along with their egg production – water is a must.
While I have an open container of water as well, poultry waterers are ideal because they prevent a lot of dirt and debris from getting into the water. The truth is poultry are dirty, so to keep them healthy, they need access to water that isn't full of dust, chicken bedding, and droppings.
Yuck.
I've tried a bunch of options over my years of raising chickens, and I have a few models to suggest that will keep your flock's water needs met with ease.
Related: How Much Space Do Chickens Need? What You Must Know
What is a Chicken Waterer?
A chicken waterer is a large tank with a trough, nipples, or cups that gives your flock a place to drink clean water every day. These drinkers hold various amounts of water, but they help prevent you from having to carry water up and down from the coop daily.
That's a pain in the butt.
Most waterers have a simple design that allows a small amount of water to come out at a time. That reduces evaporation, eliminates waste, and keeps the water clean for your flock.
Waterers for chickens are considered a must-have item when you start raising chickens.
Do I Need Heated Chicken Waterers?
The truth is you don't NEED a heated chicken waterer – you can stop the water from freezing with other tricks. If you don't have electricity in your coop, running cords to your barn or location may be too difficult.
However, if the barn or chicken coop has electricity, heated waterers are the easiest way to prevent your chicken water from freezing. Expect these to be a little more expensive, but they will last for years. Consider them an investment into your flock.
Related: How to Keep Chicken Water from Freezing: 14 Tricks to Try
The Types of Chicken Waterers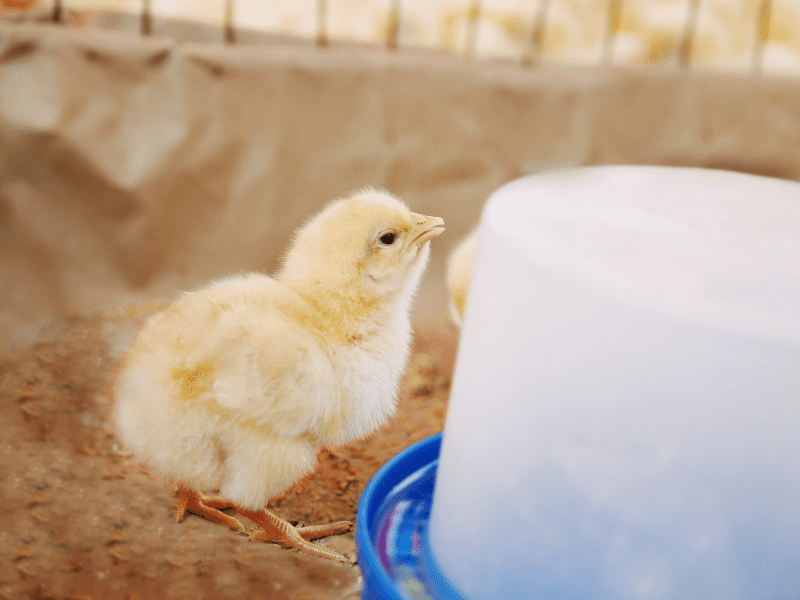 When you head to the local farm store, you'll find several different types of chicken waterers. Each kind has pros and cons to consider; you have to pick something that will work for your chicken co9op set up.
Hanging Waterers
Some chicken waterers stay on the ground, but many chicken owners prefer hanging waterers that keep it off the ground and prevent the chickens from kicking debris into the water. It's also impossible to kick these over, which is awesome because your flock will often knock them over.
Hanging waterers may have nipples, cups, or troughs for your chickens to drink, typically made of plastic, but some are made from metal.
Gravity Fed Waterer
Gravity-fed chicken waterers are the standard style you find in most stores. It has a water holding tank on the top with a dish or trough on the bottom. gravity pulls the water down as the trough empties. A float the bottom measures the water to ensure it won't overflow.
These waterers are versatile; you can find them in both plastic and metal. You can hang them, leave them on the ground, or place them on a stand.
Automatic Chicken Waterer
If you're a bit tired of dealing with filling poultry waterers all the time, an automatic chicken waterer may be your favorite option. These connect to a water source, typically a hose, and refill as it runs out. You never have to worry about refilling the entire thing again.
Most come in kits with all the supplies needed, and you can fit them with a trough, nipples, or cups.
Nipple Waterers
Many traditional poultry waterers use troughs; the birds dip their beak into the water to drink. The problem with these is that, eventually, a chicken with a dirty beak will dip theirs into the water, causing a mess.
Nipple-style attachments go onto different drinkers, and chickens have to push the toggle with their beaks. It's a sanitary option that prevent combination, but it's a big learning curve. I've found some flocks never fully adjust, even if you hope they will.
8 Best Chicken Waterers
✅ Water Capacity: 5 Quarts
✅ Material: BPA-Free Plastic
Let's start with the classic chicken waterer you'll find in nearly every farm and fleet store. This poultry drinker features a plastic dome top that twists onto the bottom, where the water collects in a basin around the waterer.
I would venture to say most chicken keepers start with this style of waterer. It has a metal hanger at the top, making it easy to carry, or you can use this to hang it off the floor.
A five quart drinker is enough water for ten chickens for one day or five chickens for two days. However, it's important to note that this is not a waterer that is really going to help save you time. You'll need to fill it up regularly.
At the same time, this model is affordable, and we all know that's important. So, if you don't mind filling it up regularly, grab this Harris Farms Poultry Drinker!
PROS
✅ Affordable
✅ Easy to Set Up & Refill
✅ Durable
✅ Great for New Chicken Keepers
CONS
❌ Need to Fill Often
❌ Bases May Crack Easily
❌ Not Ideal for Large Flocks
✅ Water Capacity: 2 Gallons
✅ Material: BPA-Free Plastic
If you're tired of your flock's water freezing, the Farm innovators 2 Gallon Drinker is an excellent option. It gives your chickens access to clean water year-round with side mounted nipples, giving up to 15 chickens plenty of water each day.
Farm Innovators allows you to hang this drinker or place it on the ground. It uses a 60 watt heater that is thermostatically controlled to keep the water unfrozen. When it's time to add more water, simply remove the top for easy filling from above.
I love the no-roost design; it keeps the drinker clean, which is always a problem. The only problem with it is that two gallons really doesn't last too long unless you have a small flock. That would only get me one day of water.
PROS
✅ Easy to Fill
✅ Safe Wattage
✅ Two Gallons
✅ No Roost Design
✅ Heated Waterer
CONS
❌ Not Large – Will Need to Refill Regularly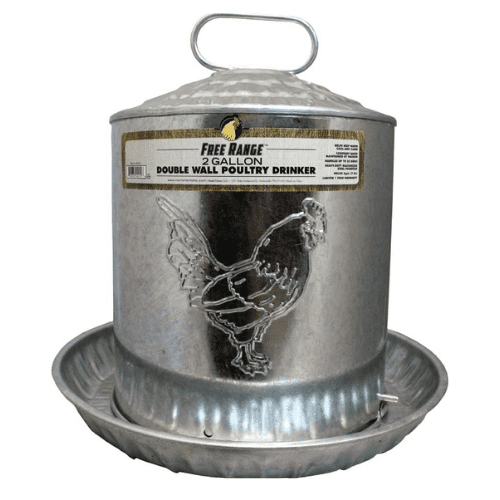 ✅ Water Capacity: 2 Gallons
✅ Material: Galvanized Steel
If you want a metal poultry drinker, the Harris Farms Double Wall Waterer is the perfect option. It is sturdy and holds two gallons of water at a time. It's meant to sit on the floor of your chicken coop, but it has a metal handle you may use for carrying or hanging.
Harris Farms uses a gravity-fed water design to ensure your poultry has access to clean water all day long. Something I like that is that this waterer comes in two and five gallon capacities, so you can pick what works best for your flock.
You can pair this drinker with the Harris Farms Chicken Waterer Heated Base to prevent water from freezing in temperatures as low as 10F.
PROS
✅ Made with Galvanized Steel
✅ Holds 2 Gallons of Water
✅ Works with a Heated Base
✅ Durable
CONS
❌ Not Rust Resistant
❌ Expensive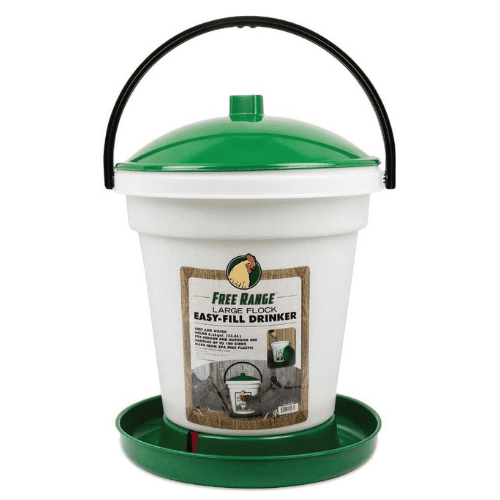 ✅ Water Capacity: 6.25 Gallons
✅ Material: BPA-Free Plastic
Here is another great option by Harris Farms – one of my favorite brands for all things chicken related.
This is a gravity-fed water that holds up to 6.25 gallons of water at a time. The manufacturer says this is enough for 100 chickens, but I would never give just one waterer for 100 birds!
Instead, this waterer will last for a solid week in most flocks, taking a chore off your task most of the week. The float at base base ensures your flock always has fresh water, and I love the removable lid at the top that makes refilling the waterer so easy.
You never have to flip over a waterer again.
Harris Farms added a sturdy carrying handle and a doomed lid to prevent chickens from roosting on top of the waterer.
PROS
✅ Holds 6.25 Gallons of Water
✅ Anti-Roosting Top Cover
✅ Durable Handle
✅ Heavy to Prevent Tipping
✅ Great for Large Flocks
CONS
❌ Expensive for a Plastic Waterer
❌ Can't Use the Handle to Hang It
❌ Takes Time to Figure Out the Floater
✅ Water Capacity: 3 Gallons
✅ Material: BPA-Free Plastic
I don't know about you, but dealing with frozen water in a chicken coop drives me crazy. When the weather is cold, as it has been for me for the last few weeks, no one wants to try to deal with frozen water.
Farm Innovators has a solution I love – an All Season Heated Poultry Fountain. This is a heated chicken waterer that is thermostatically controlled and prevents water from freezing down to 0F.
You never have to worry about refilling frozen chicken waters or lugging out multiple gallons at one time. This fountain holds three gallons of water, which lasts 12 chickens two days or a flock of eight chickens up to three days.
Not too bad!
PROS
✅ Prevents Water from Freezing
✅ Thermostatically Controlled
✅ 3 Gallon Capacity
CONS
❌ Harder to Refill
❌ Cord is Short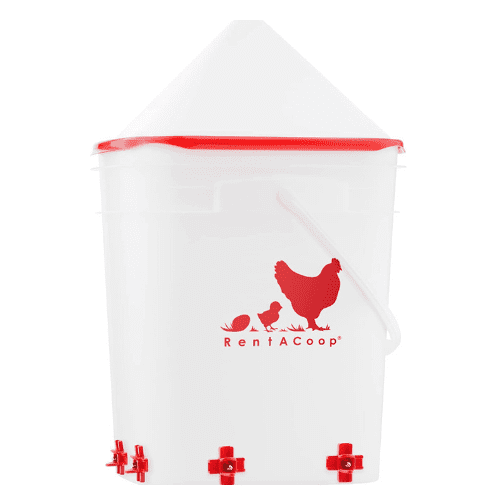 ✅ Water Capacity: 5 Gallons
✅ Material: BPA-Free Plastic
You don't have to get fancy with your chicken waterers! The Rent-A-Coop 5 Gallon Chicken Waterer. It holds 5 gallons of water, which is enough water to last 12 chickens three to four days at a time.
If you have a smaller flock, around six hens, this waterer will last for a week before needing to fill it up again. The sealed design keeps the water fresh and stops dirt or debris from getting inside of it.
This waterer has four dispensers, allowing multiple chickens to have access to the water at the same time. That decreases frustration for the flock.
One thing I like about the Rent-A-Coop Waterer is that it's so easy to set up. All you have to do is fill it up and clean it from time to time. It comes with a no roost cone that prevents chickens from sitting on top of the waterer and pooping.
You know they would!
The waterer is made with food-grade, BPA-free plastic, so it's safe, but it's not UV-protected plastic. More than likely, that would decrease the overall lifespan of this waterer slightly.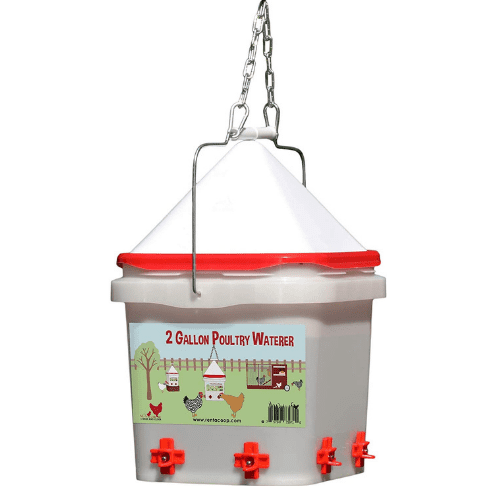 You also can find this same waterer in a smaller version – perfect for smaller sized flocks. The Rent-A-Coop 2 Gallon Waterer is a great choice for a few chickens at a time!
PROS
✅ Holds 5 Gallons of Water
✅ 4 Water Dispensers
✅ Easy to Use and Set Up
✅ No Roost Cone Included
CONS
❌ Not Made with UV-Resistant Plastic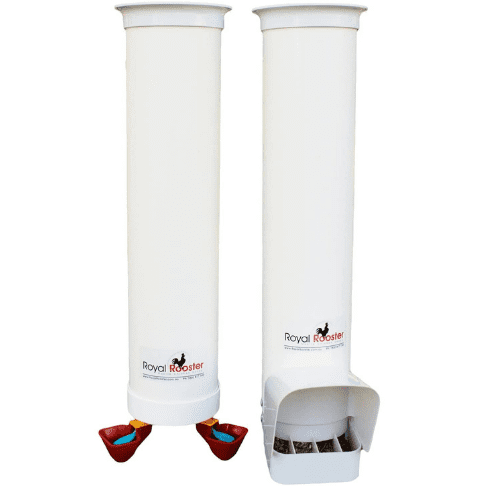 ✅ Water Capacity: 1 Gallon
✅ Material: UV-Protected & BPA-Free Plastic
I love the look of these Royal Rooster Drinker & Feeder Set! They look like the DIY PVC pipe feeders without the extra work of having to create them.
Both the feeder & waterer holds up to one gallon, and the design leads to little to no waste. The waterer comes with two dispensers, so it allows for more than one chicken to feed at the same time. One gallon is one day of water for eight chickens.
These waterers and feeders are made with UV-resistant and BPA-free plastic. The materials are safe and effective – plus durable – to use with your chickens.
The only downside to this product is that it's quite pricey. They won't hold as much, so it won't save you much time. However, if you like the PVC pipe-style feeders and waterers but lack the time to put it together, this is the next best option.
PROS
✅ Feeder & Waterer Both
✅ Great for Small Flocks
✅ Safe, Durable Materials
✅ Reduces Waste
✅ Looks Great in Your Coop!
CONS
❌ Expensive
❌ Only Holds 1 Gallon Each
❌ Not Ideal for Large Flocks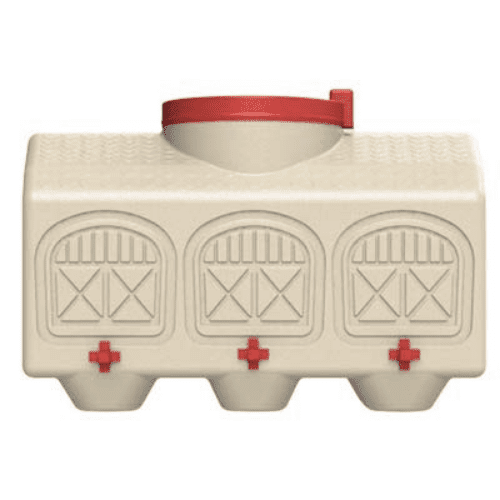 ✅ Water Capacity: 12 Gallons
✅ Material: BPA-Free Plastic
If you're looking for an automatic chicken waterer, the OverEZ is a top pick for backyard chickens. This waterer holds up to 12 gallons per water, which will last 12 chickens around eight days.
That's less refilling for you!
OverEZ used UV-protected and BPA-free plastic to create this automatic waterer for chickens. That means it's a safe and durable choice since you should keep water outside, but the sun will often degrade plastic too fast.
This chicken waterer has three spouts, allowing three chickens to drink at one time. That's convenient.
This waterer features a non-drip design and a no-fill design, so you never have to worry that the chickens will spill water – which happens! I hate wasting water, especially since we have to haul it up and down.
PROS
✅ Holds 12 Gallons of Water
✅ 3 Chickens Drink at Once
✅ Limits Water Waste
✅ Durable for Outside Use
How to Pick the Best Chicken Waterers
Don't assume that all chicken waterers are the same or perform the same. The truth is they all function differently, and while I think all work for someone, there isn't one style that is going to work well for all chicken keepers.
Let's take a look at how you can pick the right waterer for your flock.
Size of Your Flock
The first thing you have to consider is your flock size. That helps you decide the optimal water capacity.
Remember, you can decide how many waterers you want. You may want one that holds enough for all of your chickens or several.
Water Capacity
The next thing you need to consider is the water capacity of each waterer; this goes hand in hand with your flock size. Tanks hold anywhere from one to 12 gallons of water at a time.
Keep in mind that an average chicken needs to drink 16 ounces – one pint – per day. So, a one gallon waterer will give enough water for eight chickens daily.
Think about how often you want to fill up the waterer. I know I prefer to fill it every few days, so you'll want to find a waterer – or a set up of drinkers – to give your flock enough water for several days at a time.
Typically, the recommendation is one flock per every eight to 10 chickens. Keep that in mind; it helps to prevent hens hoarding the water or fighting over this resource. Multiple waterers are truly ideal unless you have only a few chickens.
Plastic vs. Metal
Waterers come in two material types: plastic & metal. Each have pros and cons to consider.
Plastic Waterers: The most common material used for flock waterers is plastic because plastic is lightweight and affordable. The downside is plastic degrades and wears down over time. All it takes is a single crack to render a plastic waterer useless.

Metal Waterers: The most durable – yet most expensive – material for waterers is metal. Galvanized metal is preferred because you don't have to worry about rust developing or corrosion due to long-term exposure to moisture. However, these will cost more, and you cannot add apple cider vinegar into metal waterers.
Ease of Filling
No one wants to struggle when filling up their chicken's water dish. Sometimes, it's a question of construction quality, but sturdy handles and a wide opening to pour water into the holding tank are also essential.
FAQs about Chicken Waterers
How Many Chicken Waterers Will Your Flock Need?
The best general rule of thumb is to add one waterer for every eight to ten chickens in your flock. So, think about the fact that each chicken needs 16 ounces of water per day.
Multiply that by how many chickens you have. Each gallon is equal to eight pints – you have to do some math to figure it out. I also suggest giving some wiggle room for yourself in case you don't want to go out that day or have errands to run.
Where Should You Put Waterers for Chickens?
It's best to place your waterers outside of the coop – in their run, for example – in a low-traffic area that's not directly in the sunlight.
How Do I Clean Chicken Waterers?
Cleaning a waterer is easy, but it will depend on the type you have. Troughs and cups need to be cleaned with hot, soapy water once per week. Water reservoirs need to be cleaned every two to three months with hot soapy water.
It doesn't take much work, I promise!
---
Do you have a waterer for your chicken flock that you love? Make sure you let us know in the comment what works well for you!