12 Fast Growing Seeds for Your Vegetable Garden
Feeling impatient? Try growing some of these fast growing seeds in your vegetable garden this year!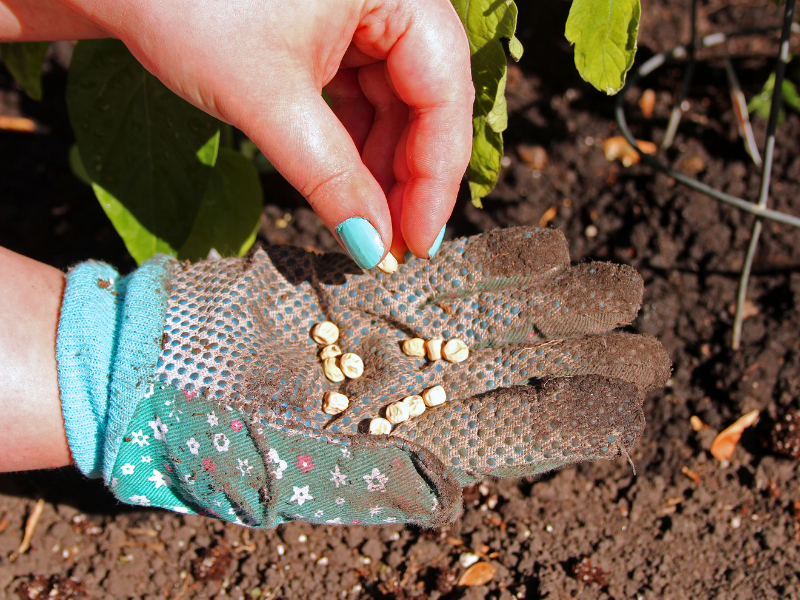 Waiting for a harvest is one of the hardest parts of gardening. You spend so much time preparing your seedlings, pampering them, pulling weeds, and so much more. It feels like a harvest is forever away, unless you grow some of these fast growing seeds in your vegetable garden.
Not all plants take the same amount of time to grow.
Some vegetables are ready to harvest within 30 to 45 days, but others take upward of 150 days (or longer). You don't want to only have plants that take forever to harvest; you'll lose your steam without any reward.
The first harvest is one of the best feelings in the springtime.
I like to have a mixture in my garden, so make sure you include some of these plants in your list this year.
Related:How to Germinate Seeds Quickly: 4 Tricks You Need to Try
12 Fast Growing Seeds for Your Vegetable Garden
1. Arugula
I tried arugula in my garden two years ago, and ever since then, I realized how much I love them! These quick growing greens have a peppery flavor that tastes great when tossed into your salad.
Especially with ranch – YUM!
Arugula is ready to harvest within four to five weeks, and it makes a great addition to your spring garden. Try this Organic Greens Arugula from Seeds for Generations – you'll love it!
2. Chard
Chard is another leafy green that isn't always green. You can find chard in a multitude of colors like bright red, orange, yellow, or pink. I love the pops of color in my spring garden. I always grow the Ruby Red Chard in my garden; it grows most consistently for me.
It takes time for chard to grow large, but you can harvest the baby leaves within four to six weeks after sowing. The platt will continue to grow if you clip the baby leaves throughout the coming months.
3. Chives
Chives are fast-growing herbs that overwinter as perennials in many areas. I love fresh chives sprinkled over my baked potato – yummy.
If you've never tried growing chives, I suggest it. They take about two to three months to reach full height, but you can harvest them whenever you want. The flavor is the same, and the plants just continue to grow after you harvest them.
I typically grow the common organic chives in my garden, and if you let them grow, they produce adorable purple flowers at the top! So, they work as ornamental plants as well.
4. Cress
Cress is one of the fastest growing seeds, so many schools use this plant for school projects and experiments. The shoots look like little hairs when they sprout.
Typically, cress only needs a day or two to germinate, and in the right conditions, you only have to wait a week or two to fully harvest and enjoy some fresh cress. Gardeners don't grow cress for its calorie county – it's low in calories – but it's high in vitamins.
My favorite reason to grow cress is its peppery bite. I toss handfuls into my salads or on top of sandwiches rather than traditional lettuce. Try growing the Wrinkled, Crinkled Cress – it adds a pop of texture to your beds.
5. Cucumbers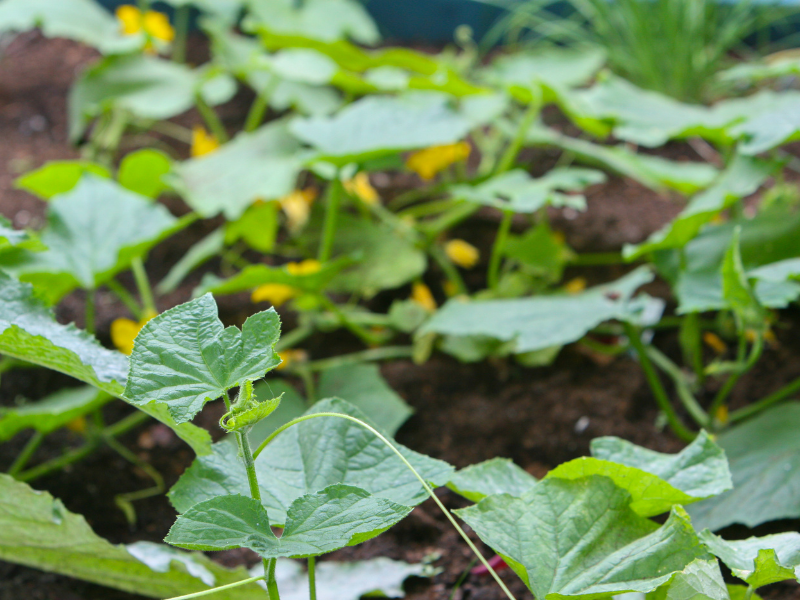 Cucumbers are a quintessential summer vegetable that everyone wants to grow, and it's one of the fast growing seeds as well. Some varieties of cucumbers reach maturity and start to produce harvest 55 to 65 days after planting!
Cucumber seeds typically germinate within 3 to 7 days and keep growing rapidly from there. Remember not to plant until the danger of frost passes!
You can find all sorts of cucumber varieties, and you don't have to pick just one. Pickling cucumbers are great for making all sorts of pickled recipes, or grab some snacking cucumbers like Cucumber Munchers.
Related: 10 Seeds to Start Directly in Your Garden
6. Green Beans
One of my all-time favorite plants to grow is green beans; I can't get enough green beans. I also love how fast growing these seeds are. In Ohio – zone 6 – I typically have time for two planting and harvesting of these plants.
That's fast!
Most bean seeds take between 50 to 60 days to reach maturity if you plant bush beans. The harvest sets within a two to three weeks period. Then, take out the plants and re-plant for another harvest!
If you want to speed up the sprouting of green beans, try soaking the seeds – it really helps! When it comes to varieties, try a bunch! I grow several types, and I have yet to find one I don't like. Two of my favorites are Blue Lake Bush Beans (highly reliable) and Bush Goldilocks.
Related: Growing Green Beans: Your Ultimate Guide
7. Lettuce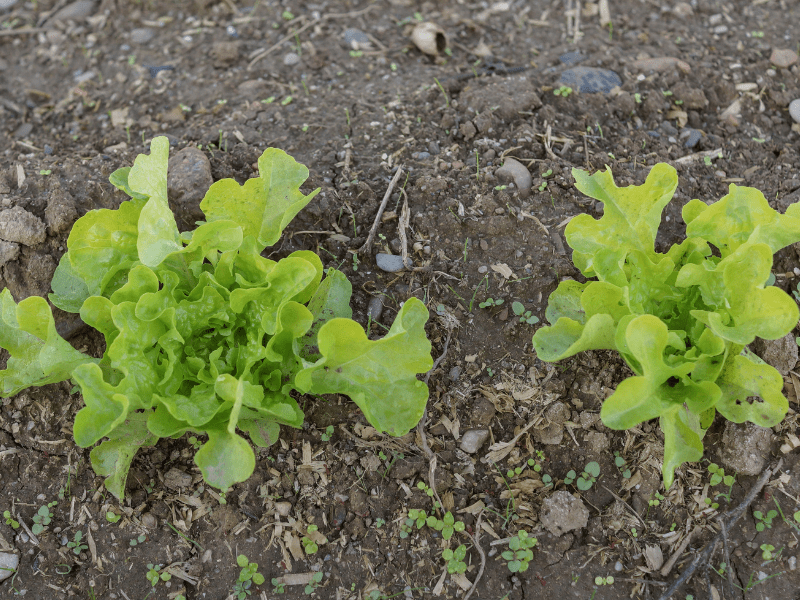 Everyone is familiar with lettuce, but you might not realize there are more times of lettuce than romaine. Some lettuce types take longer to grow than others, so the fast growing lettuce seeds you want to grow are the loose leaf varieties.
Most refer to these as cut and come again varieties. Try this Freckles variety!
You harvest the leaves when you want a fresh salad, and the leaves grow back again. This allows you to harvest the same plant for a long period.
Lettuce seeds typically germinate within four to seven days, and depending on the variety, you'll have fresh salad greens on your plant within 35 to 50 days!
8. Mustard Greens
Despite being a "green," mustard greens belong to the Brassica family, along with broccoli, cauliflower, and cabbage. All brassica seeds germinate quickly, but not all grow and produce a harvest quickly.
Mustard greens are the exception to that.
You have a wide variety of mustard greens to pick. For example, some are green, but others are red or purple, like the Giant Red Mustard. Most have a peppery or stronger flavor than traditional greens, so it makes them an excellent addition to dishes and salads.
9. Peas
One of our favorite fast growing seeds to plant each year is peas. We love fresh garden peas!
Not only do they germinate quickly, but they are one of the first harvests in the spring. You might not realized this, but pea shoots are edible themselves as well. They're a quick crop that you could harvest within two to three weeks.
Pea shoots taste great in salads or as a simple side dish. If you want to wait for your peas to come to harvest, you won't be waiting too long! Some peas are ready to harvest in 55 to 65 days.
Peas come in different varieties: Garden Peas, Sugar Peas, Sugar Snap Peas. You can find yummy varieties in each one; I suggest Sugar Ann if you want some really sweet peas!
Related: Growing Peas: Everything You Need to Know
10. Radishes
Radishes are fast growing seeds that reach maturity between 25 and 35 days after planting.
Seriously!
I grew one variety that was ready in 23 days – that's impressive. French Breakfast matures in 25 days!
Too many people discount radishes because they're not commonly used, but you can find all sorts of delicious recipes – not just salads – using radishes. Another reason I love to grow them is that they germinate ridiculously fast, typically after 2 to 3 days after planting. I sow rows of radishes between rows of carrots, which take longer to germinate, to help me know where I placed them during succession planting.
11. Spinach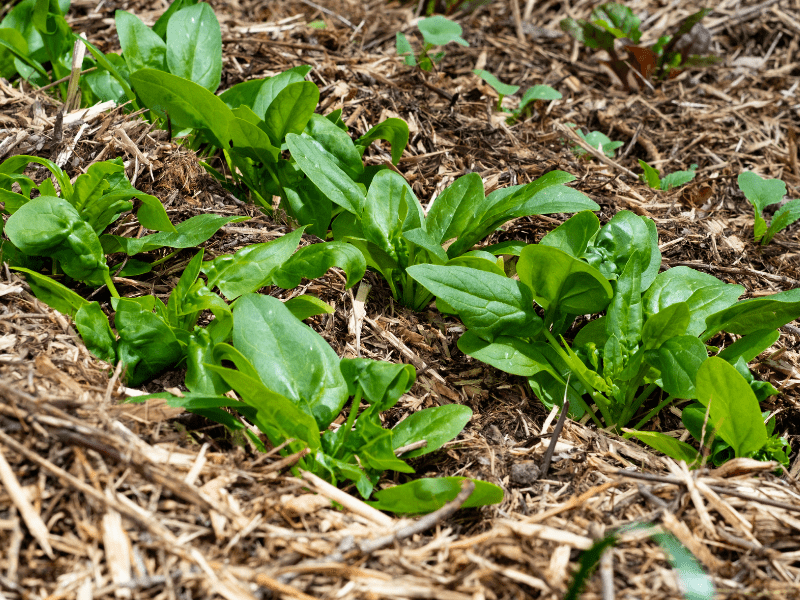 Spinach does grow slower than the other greens on the list, but the baby spinach leaves are ready to harvest in as little as four to five weeks. It takes around 50 days for the leaves to reach full mature size, and Bloomsdale only takes around 40 days!
Everyone should grow spinach in their garden! It's one of the most nutritious veggies with a pleasant, yummy flavor that you can use in a variety of dishes.
One thing to note is that spinach doesn't germinate well in hot weather. If you try growing it when it's too hot outside, don't expect the seeds to germinate quickly at all!
12. Turnips
Turnips are another plant I feel doesn't get the hype it desires anymore, but they're in the list of fast growing seeds. These root veggies reach maturity between six and nine weeks after planting, depending on the variety you grow.
Gardeners grow turnips in the spring, but since these have a long storage life in a root cellar, growing them in your fall garden is an excellent idea as well!
Make sure you look at the variety when picking a fast growing cultivar. For example, White Egg reaches maturity between 45 and 65 days, but other ones take upward of 80 days!
Related: 20 Cool-Weather Vegetables for Your Fall Garden
---
Not all seeds are fast growing seeds, but having a variety of seeds and plants in your garden allows you to maximize your harvest and enjoy the fruits of your work even sooner.
Get to gardening friends!