17 Cheap Christmas Activities Your Family Will Love
Christmas often feels financially overwhelming, but these cheap Christmas activities bring all the holiday spirit on a budget.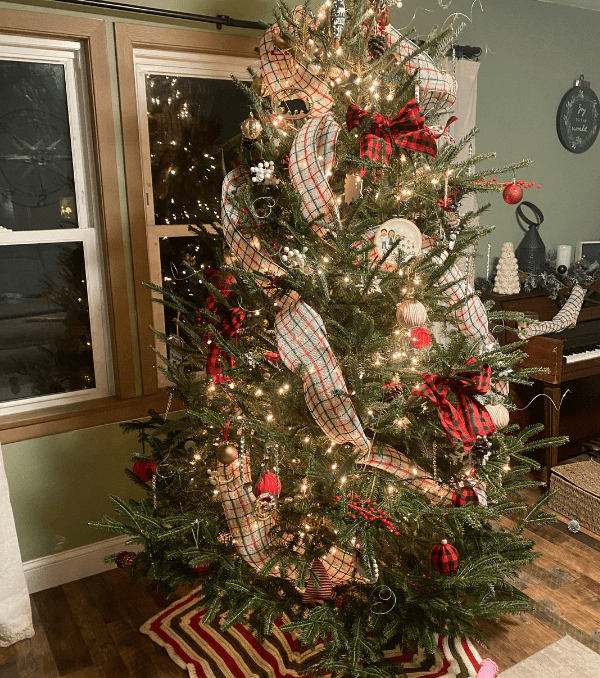 We lived on a tight budget for years, but I never wanted my kids to feel like we couldn't do things during the holiday season. I wanted the memories of this season to be treasured all their life, so we found some cheap Christmas activities our entire family loves.
Christmas isn't about how much money you may or may not have.
The reality is the gifts are only one part of the season, and if you cultivate an attitude of gratitude and appreciation in your home, a few gifts go a long way. We love to make memories together and enjoy Christmas activities all season long.
If you are looking for some affordable, cheap Christmas activities, here are the ones that my family love the most.
Related: 12 Simple Tricks for a Frugal Christmas
17 Cheap Christmas Activities
1. Go Sledding
You can't control Mother Nature, but if she hands you snow, make sure you go sledding and have a snowball fight with your kids this Christmas season. Behind the barn on our homestead, we have an awesome hill, and my in-laws have a huge hill right in front of their house.
I encourage you to get out there with your kids; don't let them have all the fun. Families have fun together!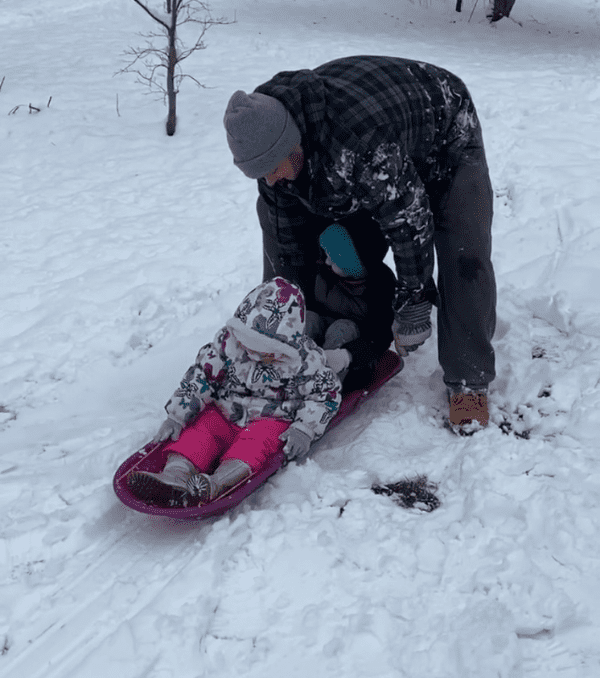 We've tried a bunch of sleds over the years, and most suck – honestly. Snow tubes really are awesome though, especially if you grease the bottom of them with a bit of Pam Cooking Spray. My other favorite option is snow sledding saucers; they zip down the hills!
2. Make Homemade Ornaments
It's so fun to make homemade ornaments with your kids, and there are so many different options to consider making. From simple pine cone ornaments to painted salt dough ornaments, you have tons of options, and most of them use items you more than likely have at home already.
3. Craft Your Own Christmas Cards
The price of Christmas cards seems to go up every single year. I finally got sick of paying for them and stopped sending them out to my friends and family, but then a few years ago, I came up with a different ideas.
Let's make our own Christmas cards.
There are so many different ways to do this. You can use nice cardstock, fold it, and create DIY cards, or you can buy blank cards and envelopes. I went for the blank cards and envelopes – 100 cards and envelopes only costs $25. I don't send that many out each year, so this lasts for several years. It's quite a budget-friendly option!
Then, I grabbed a set of Christmas stencils, and we have plenty of colored pencils at home. Keep everything in a container so you can use them again next year.
Not only is this one of my favorite cheap Christmas activities, but it's a great activity for older kids. I find that many Christmas activities are geared towards little kids, but my preteen thinks that making NICE Christmas cards is really fun and enjoyable.
4. Make Gingerbread Houses
Our kids love to make gingerbread houses together; it's one of our beloved cheap Christmas activities. Last year, we tried making one of those Christmas cookie ornament sets from Walmart, but it wasn't nearly as fun as I hoped.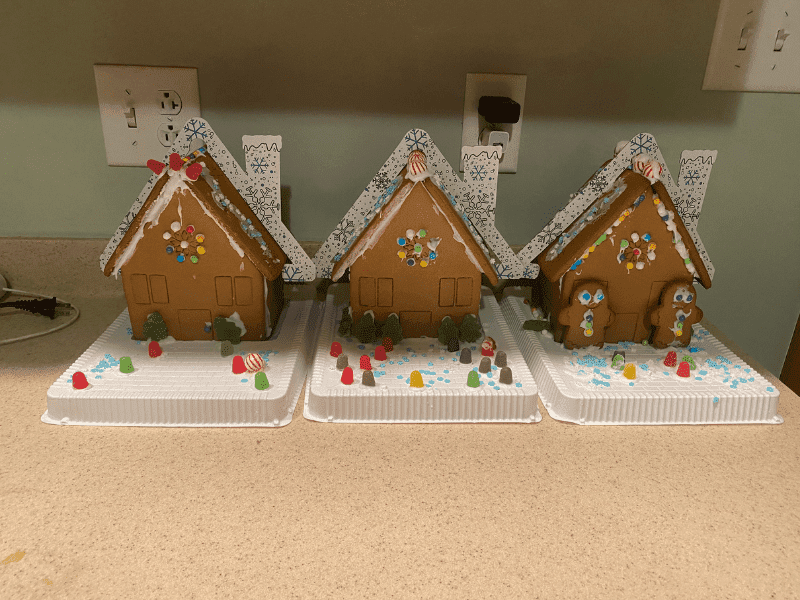 To be completely honest, while the gingerbread house kits you buy at the store are much easier to use, they aren't super cheap. Making your own gingerbread houses are the easiest and cheapest choice.
We typically buy the kits, but if we are particularly tight that holiday season, then I make them. It just takes extra time, but they are a lot more yummier!
5. Create Your Own Christmas Wreaths
I love Christmas wreaths, but it's no secret that they cost a lot of money. Local crafters totally deserve that for all the work they put into their beautiful wreaths, but if you're on a budget, it's not such a good idea for you to buy them.
Instead, grab some blank Christmas wreaths and send your kids outside to collect pinecones. I like to use snow flock powder on the pinecones my kids gather. We also might make some bows or simply hang the wreaths with only the pinecones.
6. Popcorn and Cranberry Garland!
Every year, we make popcorn and cranberry garland; it's one of our favorite homemade decor for Christmas. It's a little more complicated to do this with little kids because of the needle, but you can help them.
Or leave it to the big kids!
7. Cut Out Paper Snowflakes
All you need is some white printer paper to make a ton of paper snowflakes, and you can also use fishing line and hang them around your house for DIY Christmas decor that your kids will love.
Here is an easy tutorial for making paper snowflakes with kids, or you can try making coffee filter snowflakes instead. These are just as easy, if not easier, for little kids.
8. Go Caroling
Our homeschool group typically goes caroling at least one time throughout the holiday season. Caroling is most fun in a group; hanging with their friends and singing encourages my kids to let loose and sing more.
9. Check Out Local Lights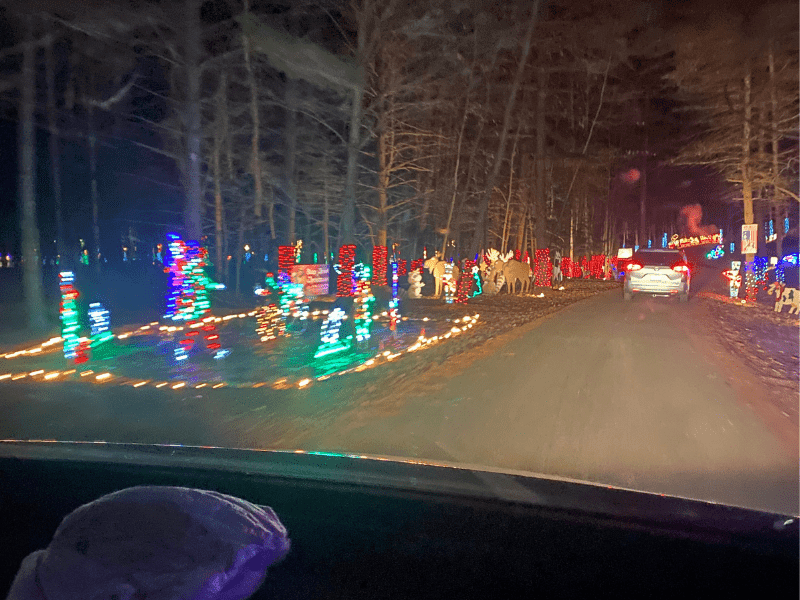 Another one of the best cheap Christmas activities is checking out local lights and what neighborhoods look like. Over the years, we've discovered some neighborhoods that have more displays than others.
We make up some hot chocolate and head out to drive around. The kids stay in their jammies – their favorite – but we still get out and have a bit of fun. We love talking about who we think did the best job.
10. Look for Drive Thru Light Displays
In our area, we have several professional light displays to check out. Living within a close proximity to Pittsburgh and another large city has its advantages!
We try to check out one or two per year. Typically, we go out to dinner ahead of time before driving through the lights. These displays are almost always budget friendly – one is $10 per car and another is $20 per car. With the $20 per car, you can go through as many times as you like in the entire season.
Our kids look forward to this each year, and it works well with my husband's schedule. Many events are on the weekends, but he typically works weekends. These light displays are open every day.
11. See a Live Nativity
Check to see if any local churches near you put on live nativities. These productions are either free for the community or by donations, making them an affordable Christmas activity.
This is a great way to remind your kids about the true reason for the season!
12. Go to All Local Parades
We love parades! Our area has so many different parades; it's easy to find one nearly every weekend to attend with our kids. Not only do we enjoy getting all the candy from the floats, but our kids also get to ride in the fire truck as part of a local parade for our volunteer fire department!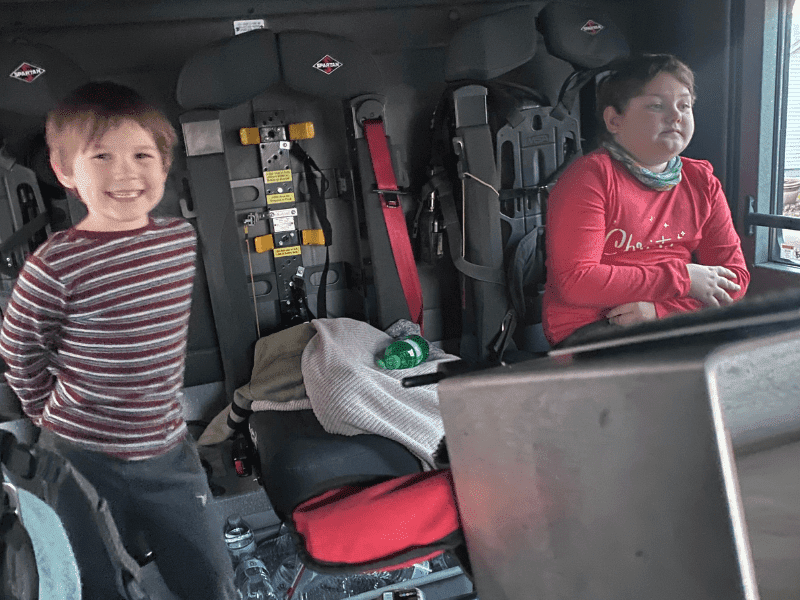 Parades are always free to attend – just remember to bring a bag for candy!
13. Go to Local Christmas Festivals
Look for local Christmas events and festivals. We have so many in our area, even more if we wanted to drive out of our area.
Some Christmas festivals have free crafts and cookie decorating for kids, and Santa visits many of them. We aim to visit at least one per year – if I add more than one, our calendar gets too full.
14. Go to Local Holiday Productions
Our local high schools typically put on holiday productions, such as plays, musicals, and band productions. The tickets for these events range from $5 to 10 a ticket, making them an affordable event to attend.
Plus, you're supporting local schools and the kids in your area!
We love checking out local plays and musicals. Our kids get a lot of enjoyment from watching productions, and a ballet studio near us puts on The Nutcracker every year as well.
15. Plan a Christmas Movie Night
Plan a Christmas movie night with your kids! If you have Netflix, they have tons of holiday movies to enjoy – all streaming services do!
Pick two or three movies, make homemade pizza, pop some popcorn, and enjoy all the snacks with some classic movie times. This is one of my favorite cheap Christmas activities – we do this several times in the Christmas season.
16. Candy Cane Scavenger Hunt!
Here's a simple activity your kids are bound to enjoy – a candy cane scavenger hunt.
It's so easy to prepare, and you can have a hunt inside or outside. All you have to do is hide candy canes, and tell your kids how many they have to find each.
If it's nice outside, it's a great activity to enjoy outdoors, but if it's snowy or frigid, hide the candy canes around the house.
Candy canes are cheap – usually $1-2 per box. The kids will love this and want to do it all the time.
17. Read Christmas Books
We love to read all the Christmas books possible. It is a bit of an investment to buy Christmas books, but they last for years. You also can rent them from the library or ask your friends if they have any that their kids no longer enjoy or outgrew.
Here are a few of our favorite Christmas books for kids and families.
---
Finding cheap Christmas activities is easier than you imagine, and a small budget doesn't mean your holiday season has to be boring.
Just the opposite!
Try some of these budget-friendly Christmas activities with your family this year!