35 Ways to Make Money on a Homestead
Even if you don't have a lot of land, there are plenty of ways to make money on a homestead.
Are you dreaming of being a homesteader full-time, but don't know how to kick your out-of-home job? The truth is, making a full-time income from your homestead is HARD; most people don't do it unless they have multiple streams of income. You have to find multiple ways to make money a homestead for it to happen.
Don't let that discourage you.
I think having multiple streams of income is truly the most intelligent things for people to do, homesteaders or not. In the world we live in today, nothing feels guaranteed like jobs were years ago, so having different ways to bring home money gives you peace of mind.
Being a full-time homesteader with an income is possible, and the fact is, you can find examples of people on one acre making almost six figures.
How do they do it?
They have multiple streams of income, and they have a solid plan. These people understood their market and what sells well in their areas, and they found ways to make that profitable.
So, whether you want to have a side hustle or a full-time income, here are some of the best ways to make money on a homestead.
35 Ways to Make Money on a Homestead
1. Sell Chicken or Duck Eggs
Chances are you will have extra eggs if you have chickens. Remember to always feed your family first. People love to purchase farm eggs. You can easily sell them for $2.50 to $4.50 per dozen, depending on what they eat and your location.
Selling extra eggs that your family doesn't eat won't be a huge money maker unless you have hundreds of chickens and a lot of clients. Otherwise, it's typically best to be viewed as a way to recoup feed costs.
However, if you have a large flock and charge appropriately for your eggs, then it's one of the most obvious ways to make money on a homestead.
2. Sell Chicks or Fertilized Eggs
If you have a flock of chicken, you can sell your own day-old chicks. If you have space, you could also wait a few weeks and sell them for more money.
Chicks sell for between $2 and $5, depending on breed. You could sell a started pullet for $7 to $10.
If you decide that you want to sell chicks, you need to invest in a good incubator, preferably one that rotates all those eggs for you.
If you have the market for it, some farmers prefer to purchase fertilized eggs. People work to create lines of chickens that lay different colored eggs. You can create a flock that lays a variety of colors and sell "rainbow fertile eggs" for $30 a dozen – the same eggs that you sell for $4 to eat!
3. Raise Quail & Sell The Eggs
Quail is a specialty poultry that produces small, speckled eggs that are adorable. Specialty eggs sell for more per dozen than your average chicken eggs.
Raising quail is great for those who have a small homestead. You could raise triple the amount of quail in a standard chicken run. One thing to know is that quail and chickens are different; these aren't birds you can free range. They prefer enclosures like a rabbit hutch. That makes them perfect for small homesteads!
4. Sell Ducklings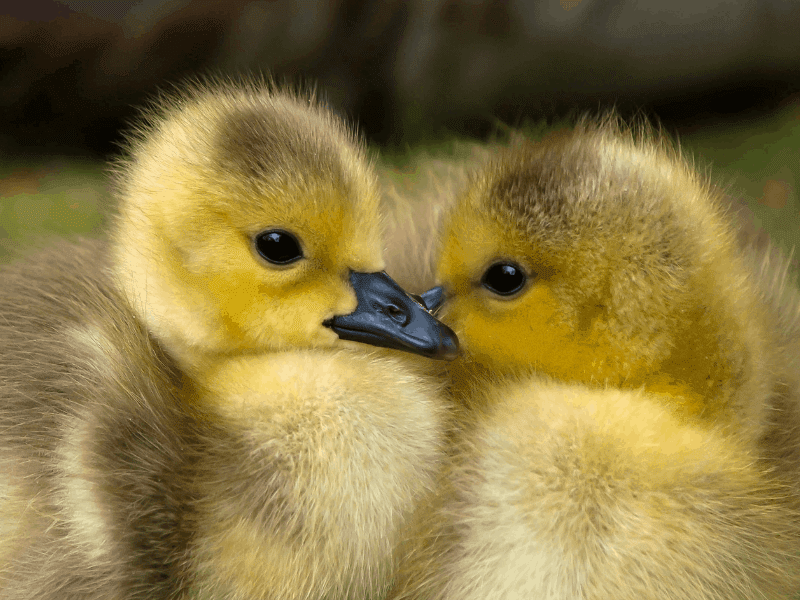 I personally love keeping ducks and chickens; ducks are such a joy! If you have a drake, then chances are your duck eggs are fertile, and you can hatch your duck eggs in an incubator.
One of the benefits of selling ducklings over chickens is that ducklings sell for more money. You might notice that if you buy ducklings from a farm store or a hatchery; they range from $6-11 each.
However, the market for ducks is smaller than chicks, so you might struggle to sell tons of them.
5. Sell Other Heritage Poultry
Ducks and chickens aren't the only poultry you can sell on your homestead! Quail, geese, turkeys, and guinea fowl are four other options to consider selling. These all have smaller markets than chickens, but that's okay. If you specialize in specific heritage breeds, people come from all over to get the poultry they want for their homesteads too.
It's not uncommon for people to travel several hours, so if you develop a great breeding program, it's a great way to make money on a homestead.
6. Offer Goat – or Cow – Milk Shares
I encourage you to approach this making money hustle with caution, but if you have goats or cows, then you could offer milk or farm shares.
Unfortunately, the government has control over many things, and raw milk is one of those. Some states totally ban the sale of raw milk; others are more relaxed. Some states, like Ohio, allow the sale but only through farm shares. That's when customers pay a price in total per year or per month to "own" a share of your livestock.
I participated in a farm share for years, and it's a fantastic way to get quality dairy (and maybe meat) from local farmers. You need to do your due-diligence and understand all the legalities to avoid any legal backlash, but if it's an option for you, then go for it!
7. Sell Dairy Products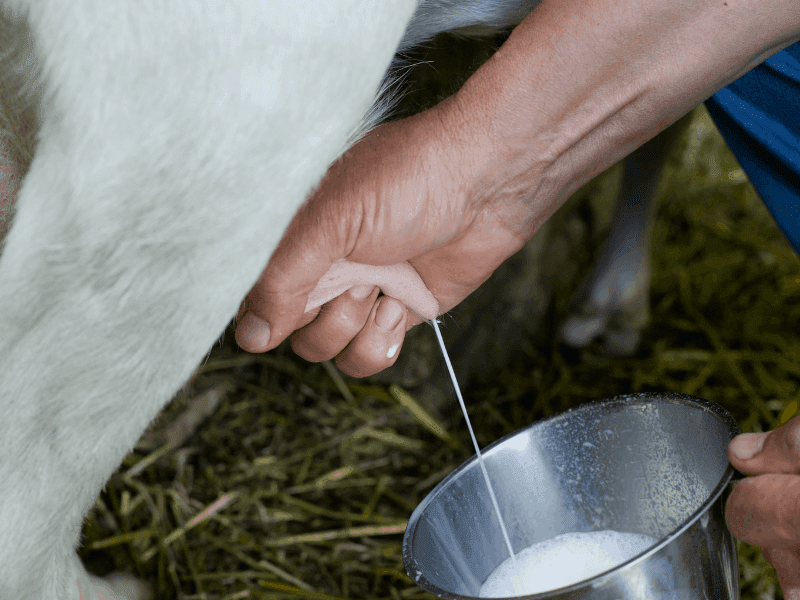 You might be in a state that doesn't care if people sell dairy products from their homesteads, and if so, you're in serious luck. A small goat herd doesn't require too much room, especially if you have small goats like Nigerian Dwarfs, and people will pay to buy goat milk, goat cheese, and more.
The same goes for cows!
People love to buy locally raised and made dairy products. You'll be able to easily find a market and sell for a premium if your animals are grass fed.
8. Sell Your Surplus of Veggies & Fruit
Got a green thumb?
If so, you're in luck; this is one of the easiest ways to make money on a homestead! Once your veggie garden is growing and you have enough for your family, sell your extras.
There are several ways to go about this.
Setting up a table and selling at a farmer's market.
Set up a produce stand at the end of your driveway.
Having an email list or selling from your Facebook page.
Creating a CSA weekly program throughout the growing season.
The problem with selling veggies is that you have competition from other farmers in the area; you have to find a way to stand out. You might try sell recipes with cards and the ingredients together for quick meals, or you could put together salad kits.
Find what makes you stand out if you want to use this way to make money on a homestead.
9. Bag & Sell Compost
Compost is expensive in the stores, priced between $6 to $10 per bag. If you create too much compost for your garden, try bagging and selling the compost. Make sure you do it correctly. No one wants to end up with tons of weeds because you created the compost wrong.
If you have animals, try selling composted manure, but you have to make sure you compost it long enough that it won't burn plants. The last thing you want to do is sell the compost and burn all of your customers' plants.
I went to a farmer's market in Pittsburgh and saw someone selling local compost for $10 a bag – the same sized bags that you can get at Lowe's or Walmart. They sold them in burlap sacks.
This could be a great way to make money, or you can sell in bulk to customers if they come and haul it from your homestead.
10. Sell Cut Flowers
Believe it or not, cut flowers sell just as well at farmer's markets as veggies and fruit. People love beautiful bouquets of flowers, and you might love growing flowers just as much as vegetables.
If your passion is flowers, don't fret. You can easily sell create a flower garden instead. There is a fantastic book about this, called The Flower Farmer. You'll find great information there.
11. Sell Fresh & Dried Herbs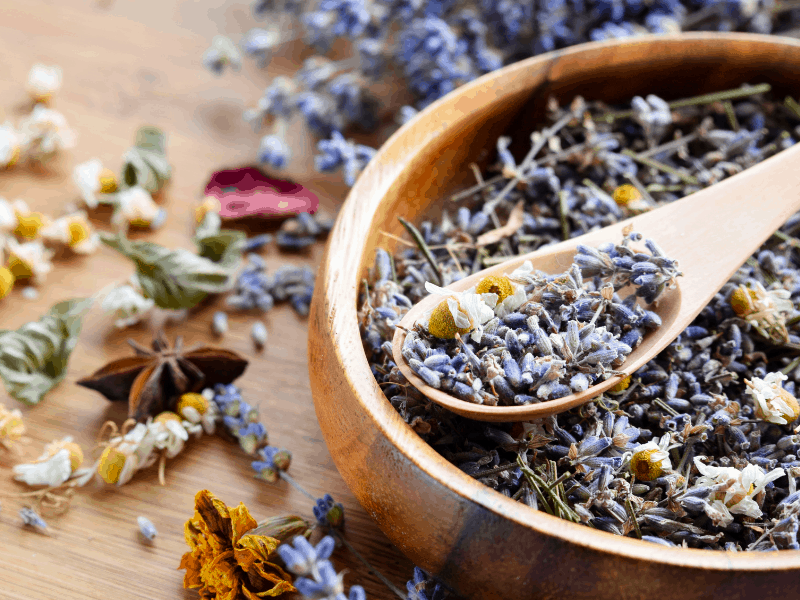 If you are at the market selling vegetables, try selling bundles of fresh herbs. Basil, parsley, oregano, sage and more do wonderful at farmer's markets. You could also try drying and selling your dried herbs. Medicinal herbs sell great as well, so don't forget the lavender and chamomile!
One way to upsell your dried herbs is to make something with them. Make herbal teas, bath satchets with herbs, or whatever you think will sell well in your area!
8. Sell Started Seedlings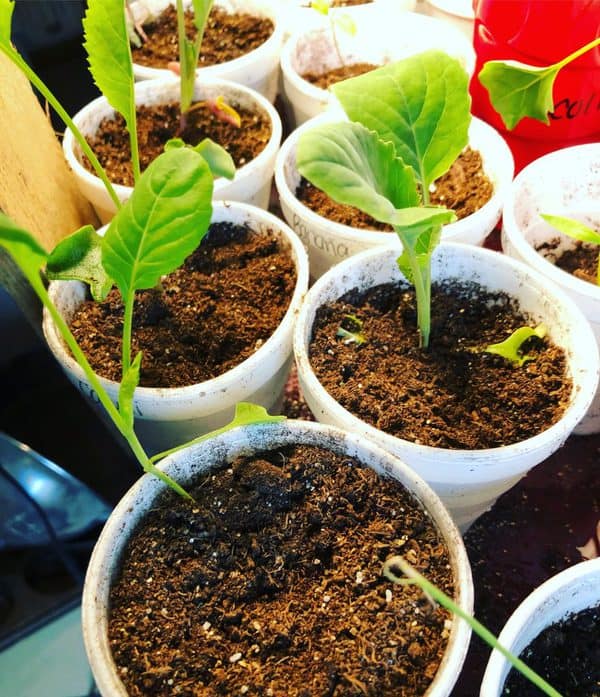 The average gardener goes to a store like Lowe's or a local nursery to purchase their started seedlings. Instead, try selling your seedlings.
I don't know about you, but I always tend to start more than I need. Take advantage of this. If your plants are organic and heirloom, you can price each seedling between $2 and $4, a great price if you are selling over 100 seedlings each year!
9. Save & Sell Seeds
Once you have the whole gardening thing down, it is time to start saving those seeds. You will want to make sure you use heirloom seeds for this.
Not only does saving seeds help save you money while gardening, it's also a great way to make money on a homestead! Each seed package sells between $2-$3.
This is a good way for you to also teach others about gardening and why heirloom seeds are great for gardeners. It's possible to sell seeds at your local farmer's market, but social media will help you in this adventure as well.
10. Grow Specialty Crops
Some gardeners like to focus on specialty crops. That means you sell varieties of vegetables that often aren't found in the store.
You might want to sell special bulbs of garlic or super-hot peppers. My husband visits a lady at our local farmer's market who sells unique versions of hot peppers. He's an absolute hot pepper fanatic.
Grow and sell these specialty crops that aren't found too often. People will flock to you for these veggies.
11. Start a U-Pick Berry Patches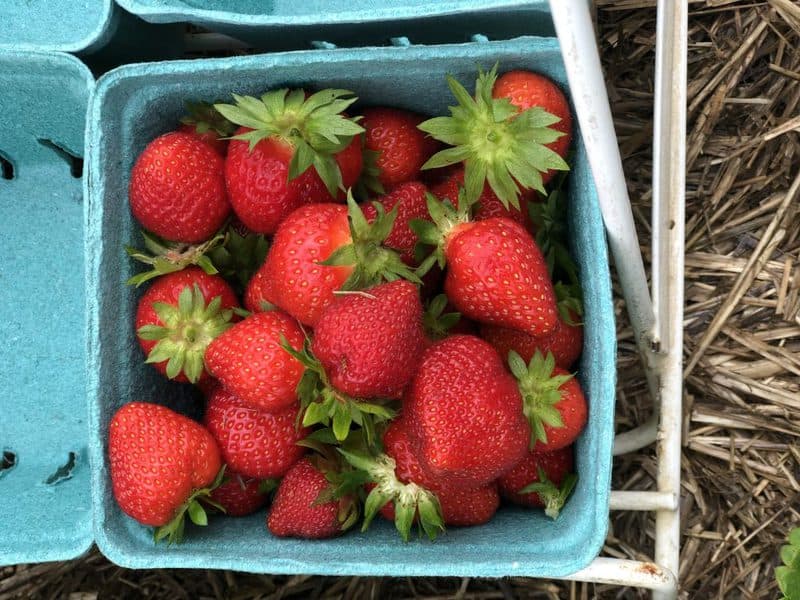 People love u-pick berry patches, and it's an excellent way to make money on a homestead! It's a great spring and summer activity with your family.
If you have space, consider planting a few dozen berry bushes. Raspberries, blueberries, gooseberries, elderberries, blackberries – you have so many choices.
Then, you charge individuals by the pint, quart, or pound! People flock to u-pick patches during the summer because they are sources of healthy fruits and great for kids.
12. Grow a Small Fruit Orchard
If you have space on your property, consider planting a small fruit orchard. Apple orchards are a popular pick for families to visit in the fall.
Our family seeks out apple orchards each fall. We love to go pick apples to make applesauce and more since we don't have space for them.
You don't have to do apples. Try peaches, cherries, pears, or whatever else you love. Then, you sell the fruit on the trees by the bushels or half-bushel. Whatever you want!
Related: The 9 Best Fruit Trees for a Homestead Orchard
13. Fall Seasonal Activities
Another huge hit with families is fall activities. Do you have space to grow a small pumpkin patch? Perhaps you have space to make a corn maze. You can be creative, but families love fall activities before the weather starts to get cold!
A local small farm to me has a small pumpkin patch that they open each weekend. They also offer fresh donuts, small pumpkins for crafts, a tiny corn maze for kids and big bails of hay for kids to play on!
14. Teach a Class
Learning new skills can be hard if you don't have a mentor. Once you feel confident with your skills, offer classes. People will pay to learn with a hands-on instructor to properly can their foods or how to start seedlings at home. Make sure they have something to take home with them as well!
15. Offer Classes for Homeschool Families
One of my friends had a small homestead, and she offered classes for homeschool families. She had a family cow, so she offered classes about cows – milking, cheese making, and interesting facts for little kids. All of the kids could milk the cow.
She also offered horseback riding on her property, mushroom growing, birdhouse creating, and more. She priced them affordably for families with several kids. This is a fun and unique idea!
16. Make and Sell Herbal Teas
For those of us who use herbal remedies, try to sell your own homemade herbal teas! There are a few steps involved, such as growing the herbs and drying them. However, people love herbal teas and you might be surprised how much you truly sell, especially at farmer's markets!
You can make herbal teas blends for different ailments and situations, like:
Sleepy Time Tea
Sore Throats
Fevers
Headaches
Upset Stomach
Make sure you do your research and understand medicinal herbs well before selling herbal tea blends! I suggest grabbing a few medicinal herb books.
17. Sell Homemade Jams & Jellies
Customers LOVE homemade jellies and jams; it's one of my favorite ways to make money on a homestead. I sell a huge range of variety, from simple recipes like strawberry jam to more creative kinds like dandelion jelly. Remember to check your state's cottage laws before selling jellies and jams.
People love to buy homemade jams and jellies, so it's a great way to make money on a homestead. Homesteaders make varieties that no one can find in the store; foodies appreciate the different unique flavors and will pay for someone else to make them.
Here are a few of my jam and jelly recipes.
18. Make Homemade Soaps
You don't need a goat to make soap, even though goat's milk soap sells wonderfully. Using melted soy, you can make your own soap. Best of all, you can find ways to use items from your homestead in the soaps, such as herbs (lavender) or cucumber.
If you want to learn how to make soaps, I love the Nerdy Farm Wife's Soapmaking Ebook. It's all about making natural soap with infused teas and oils, perfect for beginners – I swear!
19. Sell Freshly Baked Bread & Rolls
Another item you can sell at a farmer's market is bread or rolls. You can also make fruit bread, like banana bread, or cookies. Customers will buy homemade bread. You can price between $2 to $4 per loaf, depending on your location and ingredients used.
If you're considering this way to make money on a small homestead, check your state's cottage laws to be sure it's legal!
20. Try Growing and Selling Mushrooms
If you are looking for crops that sell for higher prices, mushrooms will be on the list.
Most farmer's don't grow their own mushrooms. Because you can grow specialty varieties, you can make a large profit on mushrooms. Not too many people think of growing mushrooms when thinking about how to make money on a small homestead.
21. Sell Crochet or Knitted Items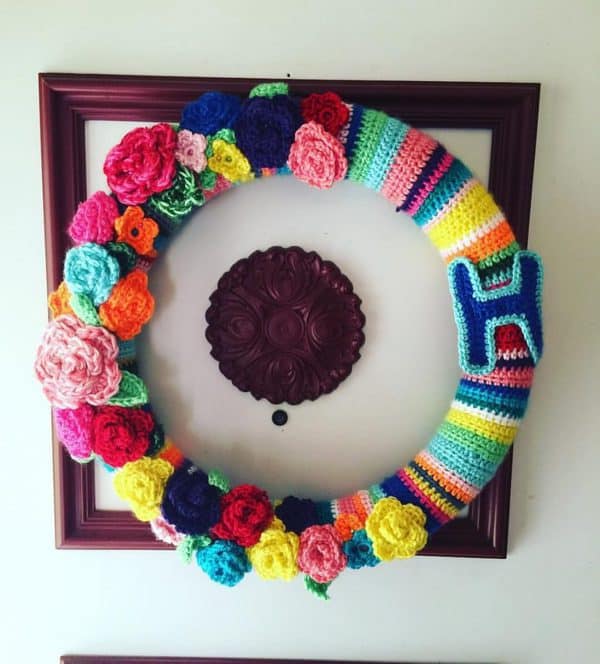 In all that spare time you have, try selling crochet or knitted items. I crochet, and I find that many people love handmade items, especially close to Christmas. While I do sell some throughout the year, I try to make sure I have a large stock available to sell to customers around Christmas.
What could you sell? So many ideas, such as:
Hats for adults and kids
Bonnets for babies
Gloves
Scarves
Dishtowels
Face scrubbies
Baby blankets
Stuffed animals
22. Tap Trees & Sell Maple Syrup
Not everyone can sell maple syrup; you clearly need maple trees on your property. With only one acre of land, we typically produce just enough maple syrup to last our family a year. However, if you have a bigger piece of property, you can easily have a surplus.
Maple syrup is pricey and eats up some of your time, but you will make a profit! A gallon sells for $40 to $50, but it also takes 40 gallons of sap to make one gallon of syrup!
If you want to try tapping trees, check out my list of supplies needed for tapping maple trees.
23. Woodwork Projects
If you love to create things with wood, woodworking is for you. People LOVE handmade items like tables and benches. Those take time. For quicker items, try making shelves and signs.
24. Raise Bees & Sell Honey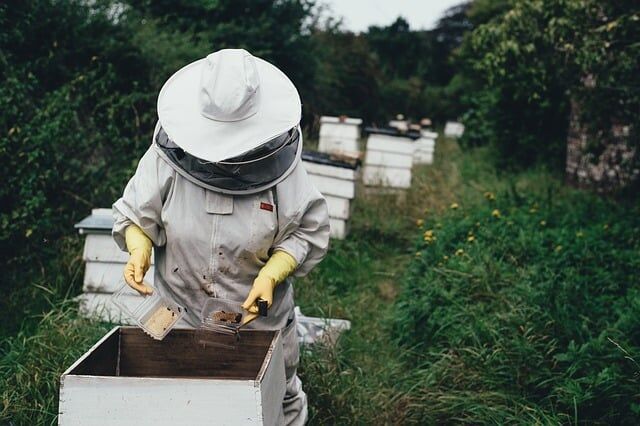 You may or may not have bees. If you do, you have the option to sell the honey and any products from the bees, such as beeswax. If bees intimidate you, remember it is legal in most cities. Bees are natural and important for our food cycle!
You can make things with the beeswax as well. People love beeswax candles and lipgloss made from beeswax.
25. Sell Bees!
Yes, you can sell bees as well! You won't want to do this until you are very familiar with beekeeping, but selling bees is just like selling any other livestock. The best thing is that you can have plenty of bees on a small property.
26. Start a Blog or Freelance Writing
You can start a blog like the one you are reading right now. I won't tell you that blogging is a way to make money fast, but it's a great side-gig. Yes, you can make a full-time income blogging, but that takes time. Even if it's online, you're still using your homesteading lifestyle to make money on a homestead – it's perfect!
If that's your dream, expect to take some time, but it can happen. Invest the time and you'll reap the rewards.
Freelance writing is one of my main sources of income. It can give you some confidence with blog writing while making thousands of dollar at home.
27. Start a YouTube Channel
Instead of a blog, you can consider starting a YouTube channel. People love to watch YouTube videos; who can blame them? What you show on your YouTube channel might depend. Some people want to create gardening videos, preservation videos, or whatever you want!
28. Raise & Sell Meat Rabbits
On a small homestead, you can raise and sell meat rabbits. You have to be sure that your state allows you to do this; you might have to have them processed at a certified butcher. The other option is to raise and sell them alive so that the purchaser can butcher them.
Selling rabbit meat is more of a speciality since it's not as common. Despite the relatively cheap cost of raising rabbits, selling their meat in your area might come with a premium price tag if no one else offers it!
29. Rabbit Manure
Rabbit manure is like gold, perfect for gardens. If you raise rabbis, sell their manure as well. Consider selling rabbit manure in bags to local gardeners and farmers.
30. Breed & Sell Heritage Pigs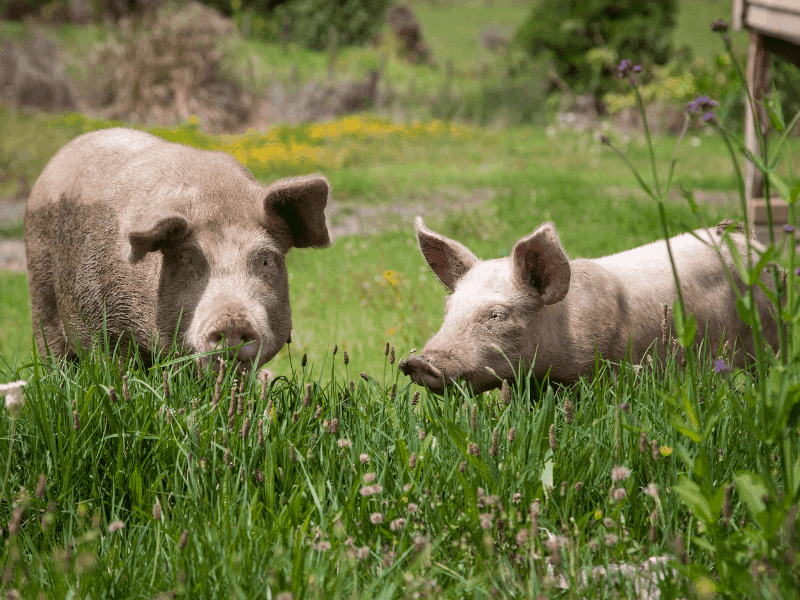 Pigs are an animal that you can raise in relatively small spaces. You need shelter and a place for them to do their business. Pigs are incredibly intelligent and won't go to the bathroom where they sleep.
Heritage pigs can be bred and raised for a considerable amount of money per pig. Jut be sure to take the time to really study fallowing and the logistics of breeding and raising heritage pigs. If you figure it out, it's a great way to make money on a small homestead.
31. Take Pictures and Sell Stock Photos
Do you have a talent for photography but don't want to invest the time in a photography business? You can sell stock photos! Websites need pictures, so you can sell the photos that you take to be used by others. You can take pictures of different flowers, animals, locations, and more.
32. Raise Worms
Have you ever considered raising worms? You can sell worms for those who practice vermicomposting, those who want more worms in their garden, or local fishermen! Raising worms can be done in a small space, like your basement or garage.
33. Make & Sell Homemade Candles
Similar to making soap, you can make and sell homemade candles. People love candles, and I do too. Learning how to make candles is on my bucket list. You can even make soy wax melt for those who prefer warmer rather than candles.
Not only do homemade candles sell well at craft fairs and farmers market (along with online), but they make excellent gifts!
34. Create Unique Metalworks
Another option is to make metalworks. Now, you have to have the equipment and skill to do this, but people pay a premium for unique metal art. I love fun and unique metal decorations for my landscaping and garden beds. You can sell them at fairs and craft shows.
35. Try Other Homestead Crafts
While I didn't list them all, there are dozens of homestead crafts you can make. Try selling wreaths from your pine trees. You can make potpourri, rugs, blanket, and so much more. The best thing is that you get to use your creativity to produce works that other people will love.
Find Ways to Make Money on a Homestead
Don't let your mall homestead feel limiting to you. You can make money on a homestead, even if it's small, if you plan appropriately. You might not be able to breed and sell cattle, but that doesn't mean you don't have multiple streams of income available to you.
How do you make money on a small homestead?