Have a Simple Christmas: 12 Tips to Remember
Christmas doesn't need to be chaotic, busy, and over your budget. Embrace the idea of a Simple Christmas.
I used to think that Christmas was all about presents and the hustle of the season. We jumped from party to party, event to event, and by the end of the month, I felt burned out. After awhile and a few more kids, I realized a simple Christmas is what I love the most.
Nowadays, we focus the most on building traditions and spending time together as a family. I look back and only remember a few presents my parents got me, but the things I remember the most are what we did together as a family.
That's what I want for my kids.
I don't want the season to come to an end feeling like all I did was rush around, and I surely don't want it to only be about presents.
Here are some of my best tips for creating a simple Christmas your family will love and cherish.
How to Have a Simple Christmas
1. Figure Out What Gives You The Most Stress
Two years ago, I realized that I dreaded some parts of our holiday season, but I didn't want to feel that way. So, I took time for some reflection.
What gives you the most stress during the holiday season?
Sometimes, little things cause the most stress, like shopping on a deadline or getting holiday cards finished. It could be larger issues like family conflicts.
One thing that causes stress for my family is our Christmas Eve party is 45 minutes from our home, and we end up getting home late. The kids are fussy, and it wasn't working, so we made a change last year.
It was so much better!
Make reflections ahead of the Christmas season.
2. Create Priorities for Your Family
After you think about what needs to be changed, set priorities for your holiday season.
Family time is what I value the most and what I want to encourage. We find things to do together like looking at local light set-ups, movie nights, and making gingerbread house kits.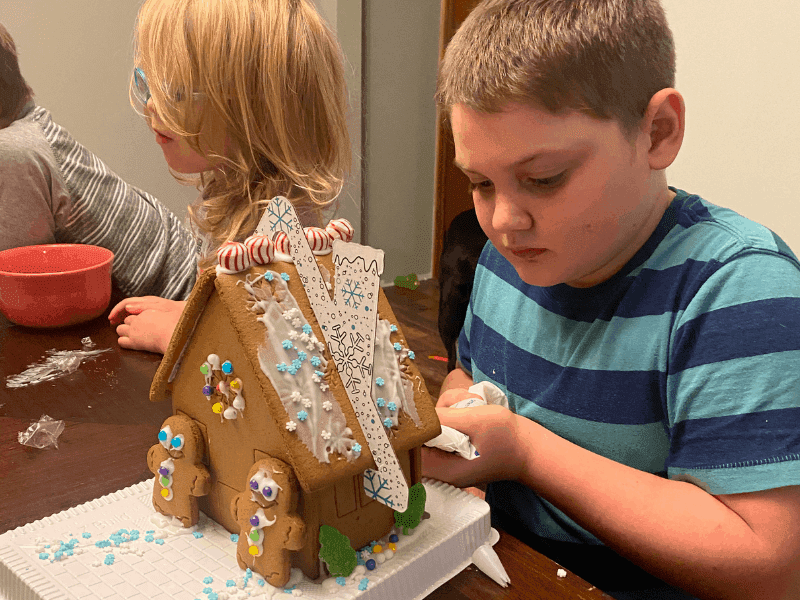 Traditions are perhaps the most important thing for our family, and over the years, we continue to add more. The kids each have their favorite, and we look forward to them year after year.
Related: 20 Budget-Friendly Christmas Traditions
3. Make a List in Advance and Stick to It
When you don't make a Christmas list, I can guarantee that you'll buy more and spend more money than you intended. It happens to me every year.
I go to the store for groceries or a new sweater, and I come home with gifts that I saw and felt like someone would like. Since we don't buy tons of toys and gifts throughout the year, part of me wants to go crazy and spoil my kids during Christmas.
However, I can do that with a list as well!
4. Stick to a Christmas Budget
Our society focuses on consumerism; we love materials and buying more things. That often doesn't pair well when you have a budget.
I'm not going to tell you how much your budget should be, nor will I tell you mine. I think it's personal, and every family needs to set a Christmas budget that works for them and their goals.
I suggest you set a budget, save for the year, and avoid using credit for Christmas. Otherwise, spend what you want!
Related: 12 Simple Tricks for a Frugal Christmas
5. Limit Your Gifts
Everyone has a different idea about what Christmas should look like. I grew up in a home where I received more gifts than I ever knew what to do with, and it put a lot of pressure on me to recreate the same type of Christmases for my kids.
The truth is that we don't NEED to buy tons of gifts.
Instead, focus on buying gifts that your loved ones will value and appreciate the most. Wasting money on gifts just for the sake of giving a gift is useless.
Spend time thinking about your loved one and what matters the most to them, and buy gifts accordingly. Each year, we always get our kids new snow gear because they play outside. Winter gloves, hats, and new sleds are always a hit and used until they give out!
6. Stay Home and Be Cozy with Your Family
Some of my favorite memories throughout the Christmas season are when I stay home with my husband and kids. Despite this season being magical, it's also exhausting, and it's easy to lose your focus when it feels like a whirlwind.
Be intentional this Christmas season.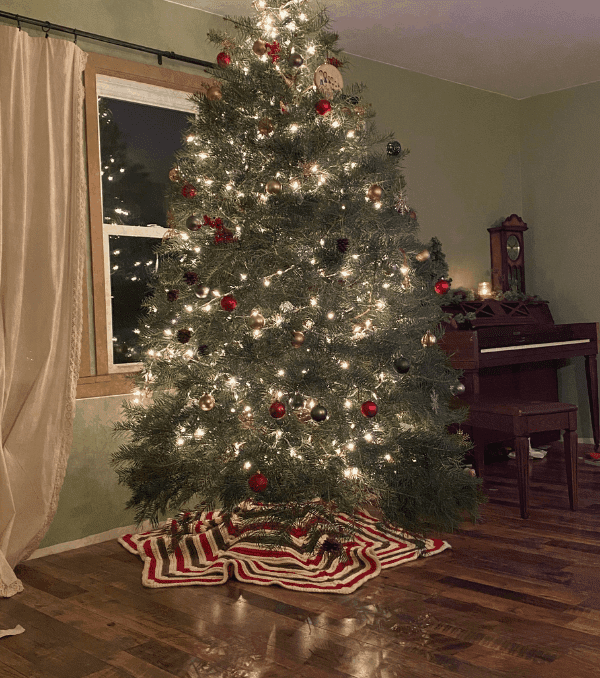 Make ample time to stay home, and make the space for your family as cozy as possible. We like to have plenty of warm blankets to snuggle under while on the couch. Binging movies is a real thing for our family, and I love that.
7. Don't Overpack Your Schedule
I'm an ambitious person; I want to do all the things and think I can until I become so overwhelmed that I have a slight break down.
The holidays are full of parties and exciting events, but a full schedule comes with stress. Make sure you schedule ample time for downtime and relaxing. If you're stressed, you won't be able to enjoy making memories as much as you should.
8. Give Homemade Gifts When You Can
Homemade gifts are amazing, but when the season is busy, it's not a big deal if you can't give something homemade.
Remember, cookies count as homemade gifts too!
Also, never feel guilty about making homemade gifts. It takes a lot of time and consideration to create a gift for someone, and the thought is what truly counts when giving Christmas gifts. If making Christmas gifts makes it easier to stick to your budget, go for it!
9. Enjoy Baking with Your Kids
I have to be honest; sometimes, baking with my kids drives me nuts. It takes so much longer than I want, and they make quite a disaster.
Last year, we all had a certain virus and spent three weeks quarantined at home, so we spent a lot of time baking. We all loved it and definitely put on a few pounds.
I don't need to bake for the whole world; we don't need to bake dozens and dozens of cookies. Instead, I bake cookies with my kids, and we enjoy them throughout the season.
10. Make Time for Friends
The holidays are when you want to spend time with those you love, so don't forget to make time for friends.
Invite your friends over for dinner, and keep it simple. Order pizza or plan a potluck. Don't put all the stress on yourself; remember, you want to spend time together. Your friends don't care if it's a fancy meal or not.
11. Cherish the Simple Christmas Activities
Some of the best parts of the Christmas season are the simple Christmas activities.
I look forward to trimming our Christmas tree every year. Watching the kids decorate the tree is a highlight for me.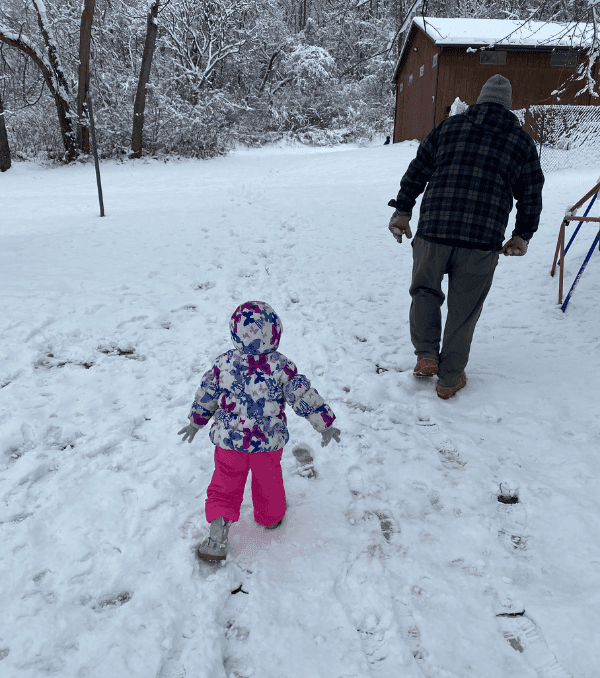 Last year, we spent multiple days sled riding, building snowmen, and having snowball fights. Then, we came inside and drank tons of hot chocolate.
You don't have to spend tons of money on activities; simple is best.
12. Focus on Building Lasting Traditions
Our family picks traditions that will last for years to come, and that aren't too troublesome for us to do each year.
Locally, we have several drive-through light displays. I love to visit these because the kids can wear their jammies, and we grab fast food on the way.
No shame!
Last year, when we were social distancing due to being sick, we spent plenty of time visiting these displays. The kids love them!
Another favorite Christmas tradition is making gingerbread houses. Now that our big kids are getting older, they're becoming a bit more competitive with their homes. We buy each kid a gingerbread kit, and my husband and I assist the younger kids.
We love to watch the Polar Express; it's one of our favorite Christmas books and movies. Having a Polar Express night with popcorn and hot chocolate is another favorite.
Work on building traditions that your kids will remember whenever they think about Christmas time as a child.
13. Don't Go Crazy with Decor
I love decorating our home for Christmas, but going crazy isn't keeping it simple for me. I focus on winter decor that will last throughout the season, along with some key Christmas pieces.
I personally love homemade decor and anything that looks rustic or old-fashioned. An example is we made cinnamon salt-dough stars to hang up on the Christmas tree and as a DIY garland. It's an easy yet fun project and looks awesome.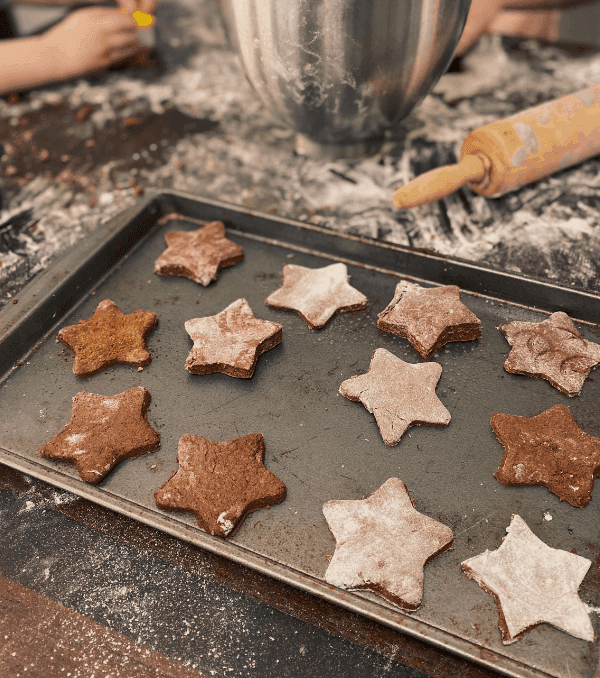 14. Don't Be Afraid to Say No
Sometimes, you have to tell someone no or say no to an activity that sounds nice but you don't have the mental space for it.
If it's going to add a larger burden to your holiday season and make you feel more stressed, then say no. For some of us, saying no is hard, but working on vocalizing your limits is important if you want to have a simple Christmas.
15. Embrace Convenience
I love to cook from scratch, but sometimes when you want to appreciate the season, don't be afraid of embracing conveniences.
Sometimes, that means ordering pizza instead of cooking dinner. That might be mean buying frozen pies instead of baking them homemade or ordering cookies from a local bakery for a party instead of making your own.
If I have to ditch something from my schedule during Christmas, spending too much time cooking from scratch is one of the first to go.
---
Having a simple Christmas is truly about embracing memories and spending time together over the idea that Christmas is only a consumer holiday. It's not – make memories that will last a lifetime rather than presents you'll forget in a year.
What is your favorite way to have a simple Christmas? Let me know in the comments!