Canning Cabbage Soup: An Easy Winter Dinner
I came home from shopping one day to find my husband canning cabbage soup. It's one of our favorite, easy winter dinners.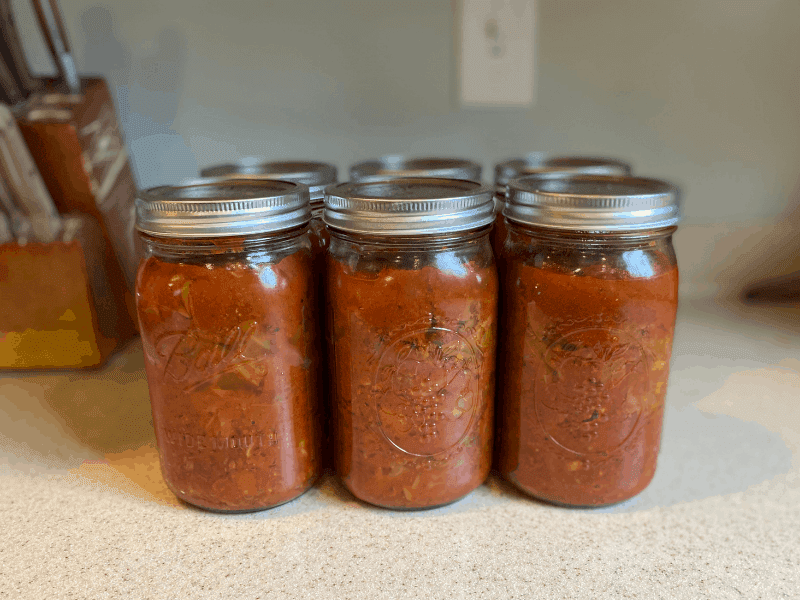 Our spring and fall gardens always contain cabbage, and one of our favorite ways to preserve cabbage is canning cabbage soup.
I love stuffed cabbage rolls, but to be honest, all the work deters me from making them as often as I would like. A few years ago, we started making unstuffed cabbage roll soup with all the same ingredients but less work.
Then, we realized that it was possible to can cabbage soup and save it for the winter. Now, our homestead pantry always has several jars that we can open and serve for a quick, hearty meal in the winter.
Soup and winter go hand in hand, right?
If you're ready to try canning cabbage soup at home, here is how to make it.
Canning Cabbage Safety
It's important for me to tell you that the National Center for Home Food Preservation doesn't have any safe recommendations for canning cabbage or cabbage soup. So, if you're someone who likes to follow all canning safety, I suggest you don't make this.
It's not worth the worries!
The reason that the NCHFP doesn't have cabbage soup as a soup canning recipe is that they haven't taken the time to test canning cabbage soup. Until that happens, it won't be recommended for home canning.
That being said…
Cabbage soup contains ground beef and cabbage, and it's pressure canned for 90 minutes. I feel confident that all is fine, and when cabbage is in soup, discoloration isn't a concern.
Here's what you really need to remember.
Cabbage soup MUST be pressure canned to reach the temperatures required to kill any bacteria and spores. It's absolutely not safe enough to simply water bath (boiling water) can this recipe.
If you don't feel comfortable canning cabbage, try using my instructions to freeze fresh cabbage.
Supplies Needed to Can Cabbage Soup
Once you're ready to can cabbage soup, you need to gather up the supplies needed. Here is what you need to have:
Gather The Ingredients
Once you have all the equipment needed for canning, you need the ingredients. If you have a favorite recipe, it's easy to adjust these ingredients to what you prefer. Use my recipe as a basis and turn it into your own.
3-4lbs Ground Beef
2 TBSP Olive Oil
9 cups beef broth
3 garlic cloves, minced
1 onion, diced
1 cup bell pepper, chopped
7 cups of fresh cabbage, shredded thin (white stalk removed)
2 – 28oz cans tomato sauce
4 cans diced tomatoes
1 cup celery, chopped
3 TSP black pepper
2 TSP salt
1 TBSP dried parsley
2 TBSP dried basil
1 TBSP dried oregano
2 TSP paprika
2 TBSP white vinegar
I highly recommend that you get your herbs from Mountain Rose Herbs. I buy our herbs in bulk when I cannot grow enough for the year.
Canning Cabbage Soup Instructions
Ready to get started? Here's how to make and can cabbage soup.
1. Brown the Beef
Start by adding the ground beef into the pot and browning it until it's completely done. Put the beef into the colander, and run water over the ground beef to remove any grease.
Place the beef to the side.
While the beef is cooking, use this time to chop and prepare the onion, bell pepper, garlic cloves, celery, and cabbage.
2. Cook the Veggies
Put the olive oil on the bottom of the pot and heat it over medium heat. Toss all of the veggies besides the cabbage on the oil and cook for three to four minutes, until the onions are soft and translucent.
3. Add the Other Ingredients
Once the vegetables have a few minutes to cook, add all the other ingredients to the stock pot. It needs to cook for 45 minutes to one hour, allowing all the flavors to blend together. You want this soup to taste delicious, so use this time to also taste test and decide if your personal taste preferences want to add any more spices.
4. Prepare Canning Supplies
While the soup is cooking, fill the pressure canner with water to the allotted line (usually two to three inches) and put it over low heat.
Wash and clean all of your jars, checking for any cracks and nicks in the glass jars.
5. Canning Cabbage Soup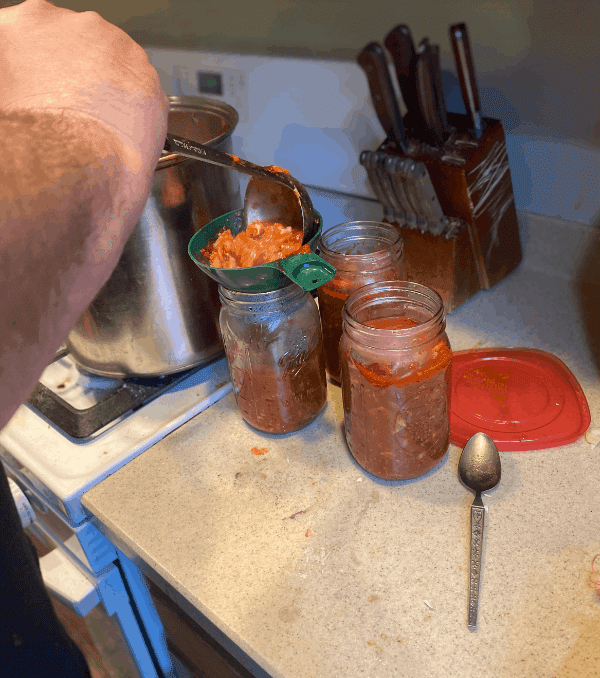 Place a towel on the countertop, and use a canning funnel to ladle the hot cabbage soup into the awaiting cleaned, warm jars. You need to leave one-inch headspace; use the headspace measuring tool to double check.
Clean the rims of your jars with a clean cloth, making sure no bits of food are left behind that might disrupt the seal of the lids. Place the new lids and rings on the jars, finger tightening them.
Place the jars into the awaiting pressure canner, and repeat the step for all the jars. We ended up making seven quarts!
6. Process the Jars
Once all the jars are filled and inside the canner, place the lid on the pressure canner, and turn the stove up to high heat. Let steam vent for 10 minutes, and place the canning weight over the vent, allowing the canner to build pressure.
Process pint jars for 75 minutes and quart jars for 90 minutes at 10 pounds pressure. I live at 1,000 feet above sea level, so I need to process at 11 pounds pressure.
Once the timer goes off, turn off the heat and let the canner gradually lose pressure and cool. The lock will release when it's safe to open.
Always open the lid away from your face; steam burns!
Remove the jars from the pressure canner and place them on a towel or cloth. The jars need to sit undisturbed for 12 hours. After that time, check the seals and store the jars without the rings.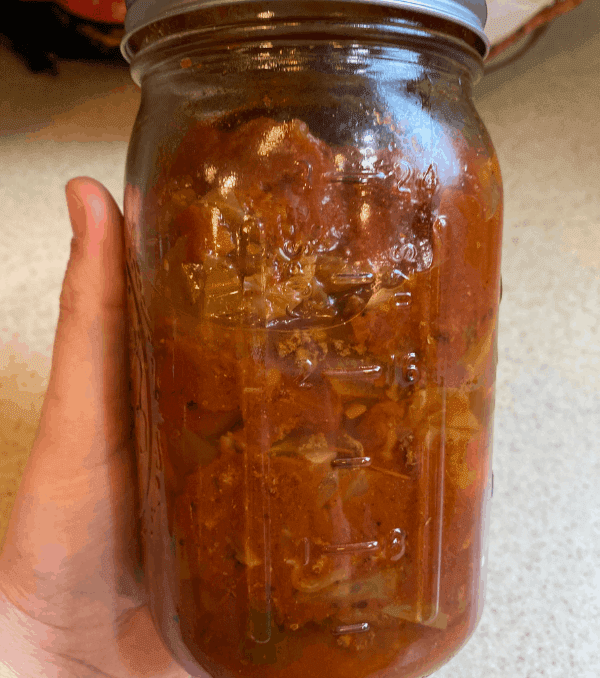 ---
I love having jars of homemade cabbage soup in my pantry to open in the winter when it's snowy and cold outside. It makes for one of the easiest dinners, and canning cabbage soup is easy. It's perfect for beginners and those new to canning, so give it a try!
Recommended Supplies for Canning Cabbage Soup