12 Simple Tricks for a Frugal Christmas
Having a Frugal Christmas doesn't break the bank and helps you enjoy the reason for the season even more!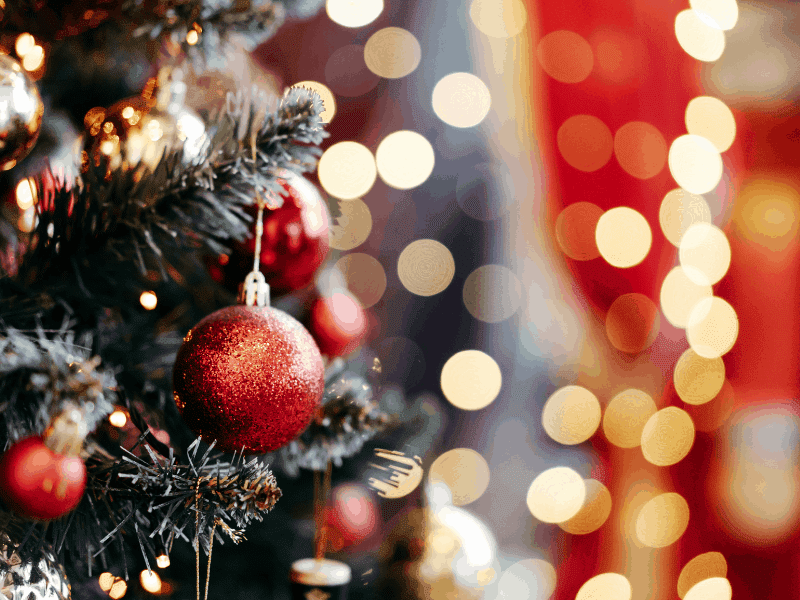 I remember looking at our budget, thinking that we wouldn't have enough money to give our kids a big Christmas. I grew up with large Christmas mornings; I knew my parents spent thousands on two kids. We didn't have that, nor would we go into debt for Christmas. We had to figure out how to have a frugal Christmas.
Frugality and Christmas are two topics that rarely seem to go together. Our society is full of consumerism, and Christmas is the time for stores to make the most money.
Part of homesteading is a lifestyle change, and for us, that has meant learning to put our money other places. Christmas comes every year, and it's not a reason to create new debt.
When we started to focus on a frugal Christmas, our family found the joy in the season. This season is more than a singular day when your family wakes up and opens presents. I want my kids to remember all the fun traditions and things that we do together.
Those are the memories I want to foster the most.
So, if you're worried that you won't be able to afford Christmas this year, here are some of my best frugal Christmas tips.
What is a Frugal Christmas?
A frugal Christmas is simply a Christmas on a budget, but I suggest focusing less on having a smaller budget and more on a larger appreciation and dedication to enjoying the entire season. Too many people focus on Christmas as a single day – December 25th – but it's truly a season.
We celebrate Christmas all December, and I don't shy away from making memories all winter long.
So many traditions are budget-friendly and won't cost you too much. Baking a dozen cookies and watching Christmas movies is cheap. Driving around to look at Christmas lights cost the price of a gallon of gas.
12 Tips to Have a Frugal Christmas
1. Set a Budget
Christmas comes every year, whether we want it to or not, and there is no reason to go into debt or break your bank for this holiday.
Don't get me wrong, I love a big Christmas with all kinds of presents. Watching my kids open gifts makes my heart sing, but everyone has a different amount of money that they can comfortably spend.
I suggest setting a budget no later than six months before Christmas. Know how much you want to spend, and start saving for that now. If you can save all year, that's even better because it means the monthly amount you need to save is less.
2. Make a List for Everyone
Having a frugal Christmas means, to me, buying intentionally. Don't rush your list making; think about what each person will love and value. Buying more gifts just to put things under the tree doesn't make sense to me. I want each thing that I buy to matter and have a purpose.
Take your time to consider what you want to buy for each person.
The trick to making a list is – ONLY BUYING WHAT YOU PUT ON THE LISTS.
Honestly, that's where I struggle, but it's where I spend the most money. I see something and I think that it's cute, so I buy it. That wastes a lot of money.
3. Start Shopping Ahead of Time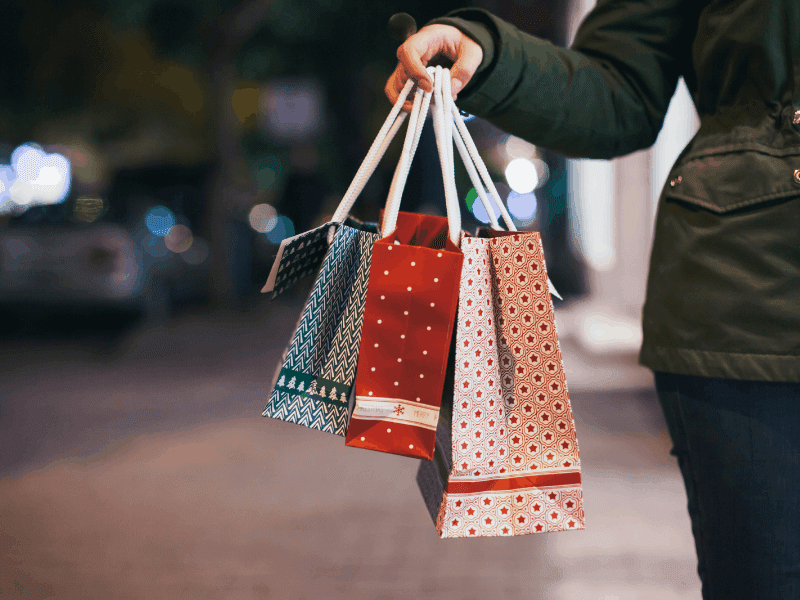 I know some people who shop only on Black Friday, although, to be honest, the deals aren't as good as they used to be years ago!
I know some people who shop all year, and others who shop a few days before Christmas.
I recommend making those lists early and start shopping in August or September. We often use the layaway feature at Walmart and put that in as early as they open it. Not only does this allow me to stretch payments over a longer period, but the gifts stay hidden until two weeks or so before the holiday.
If you have sneaky kids, you know the problem here.
4. Avoid Sale Days "Just Because"
Are you checking Amazon sales to just see what is on sale for that day? In years past, I would search the lightning deals each day and buy random things. I would buy them because the price was good, but did I need those things?
Probably not.
5. You Don't Have to Buy for Everyone!
Last year was the first year I didn't buy for my sister and her boyfriend. Christmas was harder, financially, because our whole family had COVID, and my husband was out of work for several weeks. My sister is a server, so you know her income took a serious hit in 2020.
It felt strange, but it's important to remember that Christmas is about more than just buying gifts. Spending time and cherishing the memories you make with your family is most important.
6. Practice Contentment
Part of our frugal Christmas is practicing contentment and finding the beauty in so many different things. We need to teach our kids to be content and grateful for what we have because we are all blessed to have what we do.
There is something about winter time and Christmas that makes everything seem content and cozy.
When you're practicing contentment during Christmas, here are some tips.
Stop buying gifts simply to buy things. Give people things they need that will be valuable to them.
Live in the moment. It's so easy to keep your phone in your hand, claiming we are taking pictures, but really we scroll social media all the time. Live in the moment and cherish it. Watch the joy in your children's faces when they see Christmas lights. Treasure the day you decorate the tree.
Show people you appreciate and love them by helping when you can and offering things like yummy baked goods. A simple tray of homemade cookies with a note that you're thinking of them means so much to people.
Don't compare yourself or your Christmas to anyone else. Keeping up with the Jones is never a good idea, especially at this time of year.
7. Try Some Homemade Gifts
I wish our society loved homemade gifts more because I think they're amazing.
When I receive a homemade gift, so many things go through my mind. I think about the time that the person put into creating something for me – that's love and should be highly appreciated. Also, homemade gifts tend to be much higher quality than something you'll buy at Walmart.
Nothing is better than getting or giving homemade gifts.
This could be making a gift basket with different homemade jams, or if you crochet or knit, you can make so many things. My kids and I are going to try making baskets this year – it should be fun and I think their grandparents will love them.
8. Focus on Christmas Traditions
I love Christmas traditions; it's my absolute favorite part of the holiday season. We have so many Christmas traditions like visiting local light attractions, making gingerbread houses, and having a Polar Express night.
Christmas is more than a singular day; it's a season. Make the entire season full of traditions, and they don't have to cost a lot of money. Make some cookies and deliver them to neighbors. Go caroling with friends, and drive around to look at decorated houses.
We are big Polar Express fans, and the Polar Express book is magical. It's even better than the movie, somehow, but it's true!
9. Make Staying Home Magical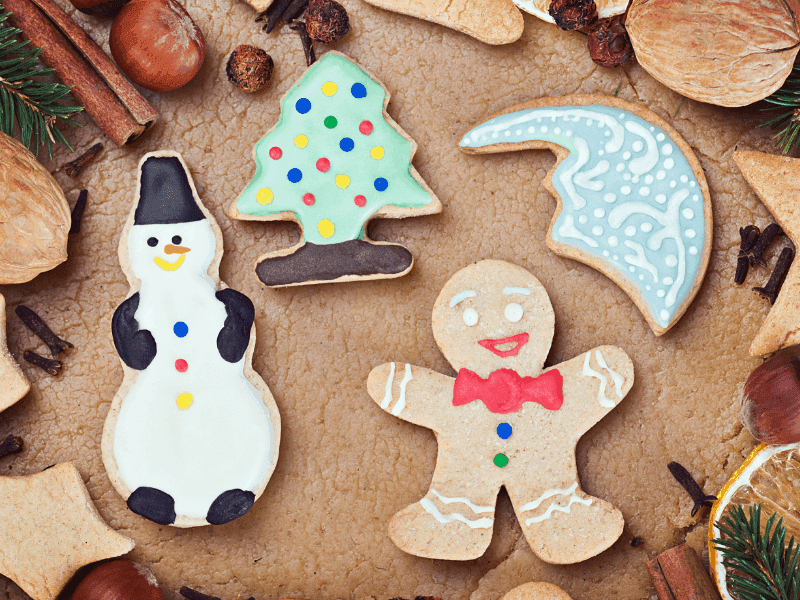 Being home doesn't have to be boring, especially during Christmas. If you can't afford (or don't want to spend) money on decorations, make DIY Christmas decor.
Bake Christmas cookies together, and listen to music throughout the day. Cuddling under blankets, watching a movie, and looking at the Christmas tree is the ultimate magical experience.
Don't be upset about spending time at home. Let your kids know that being home during the holidays is the absolute best place to be, and make the season magical for your kids.
10. Don't Go Overboard with Decorating
Part of having a frugal Christmas means to cut back on unnecessary spending. I love to decorate, but I never go overboard. Each year, I buy a few new things. I like the decor section at Joann Fabrics with coupons; I always find good deals there.
Find some DIY decoration options. I crochet Christmas-inspired blankets and Christmas tree skirts for a truly handmade Christmas.
My best tip is to gradually expand your Christmas decoration collection. You don't need to have a Griswald home, nor do you need to have a home that stepped out of HGTV. Grabbing a few things each year will expand your decorations without breaking the bank, and make sure to ask friends if they have anything they don't want anymore!
11. Give Stocking Essentials Not Luxuries
In our home, stockings often have essentials rather than luxuries. I might include a gift card and some cute small toys, but my mother always filled mine with fun essentials that I like to have.
If you have girls, give them nail polish and nail care products. Get them a new brush and some hairbows that will look adorable. Bubble bath soap and bath bombs are fun but also bath products that are used in our home.
12. Share Cooking Duties with the Family
If you need to have a frugal Christmas and end up being the host for Christmas Eve or Christmas dinner, let the family know that this will be a potluck year. For every get together (including birthday parties), all of my family members bring a dish. It's what we are used to doing for decades, but it might be strange for other families.
However, it cuts down on the costs associated with hosting get togethers in your home.
---
Having a frugal Christmas is a great way to focus on creating traditions that will last a lifetime and making memories. Gifts are only one part of the holiday. It's so much more, and being intentional with your money helps you see the beauty of this season.