11 Delicious Ways to Preserve Green Beans from Your Garden
Every year when you drown in green beans, you don't have to freeze or can all of them! Here are 11 different ways to preserve green beans straight out of your garden.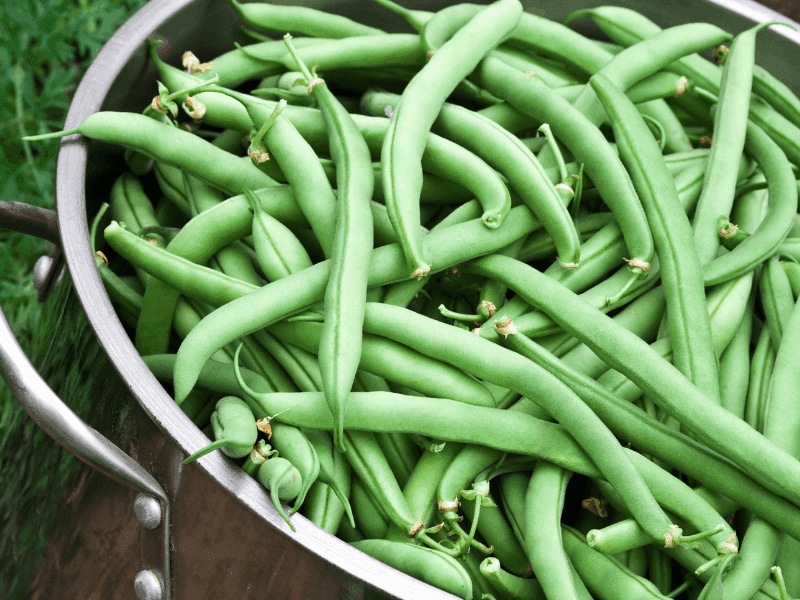 Green beans are one of the most prolific plants that I grow in my garden, and every year, I end up with gallon bags filled to the brim. I stand in my kitchen wondering how many times my kids will eat green beans before they throw a fit, but no more! Now, I use as many different ways to preserve green beans and stop trying to cook them all at one time.
I love fresh cooked green beans, but when you're growing bush green beans, they produce their harvest all within a few short weeks. Pole beans spread out the harvest, making them better for fresh eating while bush beans are best for preservation. Bush beans also produce faster, so that's the type most people pick.
You don't have to make green beans with every meal until you feel like you'll turn into a bean soon.
Green beans are easy to preserve; they hold their flavor well and are versatile. Most people tell you to can or freeze them, and those are two of my favorite choices, but it's not the only ways to preserve green beans.
Here are some other preservation methods for green beans – you might be surprised by a few of them!
11 Ways to Preserve Green Beans
1. Freezing Green Beans
One of the first ways to preserve green beans that people try is freezing fresh green beans. Green beans freeze well, but they need to be blanched before freezing. Freezing preserves the nutrients in your green beans better than most other preservation methods, and if you want a versatile way to preserve green beans, this is the way to do it.
The process is so easy!
The green beans need to have a quick blanch before you spread them out on a baking sheet to flash freeze for one to two hours. Then, transfer the frozen green beans into a freezer-safe bag or container.
I like to freeze green beans often because they work great for sautéed dishes and steamed dishes.
Take a look at my step-by-step tutorial for freezing fresh green beans. It's so unbelievably easy!
2. Dehydrating Green Beans
Hear me out; dehydrated greens are actually REALLY tasty. They're a yummy snack on the go. If you've ever eaten dehydrated or freeze dried peas or snap peas, the idea is similar.
Dehydrated green beans are great for soup mixes, but I prefer to use them as a snack with dip. They taste great when you dip them in a ranch dip – so yummy. Think of these like homemade veggie chips.
I used some of the different seasoning ideas from Whole New Mom; she shows how to make dehydrated green bean chips.
I will tell you – I tried this recipe in an oven, and I don't feel like the green beans came out as dry as they do when you use a dehydrator. I think it's simply because the dehydrator operates at a lower temperature but for longer periods, so they're really able to get that crispy bite you want when you think of a chip.
If you're looking for a dehydrator, I think one of the best dehydrators on the market is the Excalibur 9-Tray Dehydrator. It's huge, and it's without a doubt an investment, but it can dehydrate a lot of foods at one time.
3. Air Drying Green Beans
I have to be honest – this is one way to preserve green beans that I've yet to try, but it's an old-fashioned preservation method that old-timers called "leather britches."
The idea behind air-drying green beans is actually really easy. Start by washing them and snip off the stem ends, but leave the other end. Then, let the beans drain until dry, and then take a needle and string, threading it through the beans. You need to use a strong string, such as a kite string.
When you thread the beans, put the needle through the center of the bean; both ends need to be loose. Once you thread all the beans, hang the beans in a clean, dry, warm place.
I'm not entirely sure how to use air dried green beans, but I think that you could rehydrated them and use them similar to dehydrated green beans. The nice thing about using this way to preserve green beans is that they store for years like this.
Plus, they're like an old-homestead-style decor that doubles as food. Who doesn't love that?
4. Freeze Drying Green Beans
Let's talk about another possible investment in the food preservation world – freeze dryers.
Freeze dryers are expensive, so this happens to be one of the least common ways to preserve food at home. However, freeze drying has AMAZING benefits, which is why we're considering buying one next year. When you freeze dry foods, they last for DECADES – seriously.
It's really the ultimate way to preserve and save food.
If you decide to go that route, look at the Harvest Right Freeze Dryers. They're without a doubt the best option for home preservers rather than professionals.
With all of that being said, freeze-drying green beans is an excellent idea. Take a look at the tutorial by Acre Life; these green beans have a 25-year shelf life. Isn't that crazy?
5. Canning Green Beans – Raw Pack
My second favorite way to preserve green beans is to can them using the raw pack method.
Now, there are two ways to can green beans: raw or hot packing. Hot packing is when you cook the green beans and load them into your glass jars before processing the beans. Raw packing is when you fill the glass jars with raw, uncooked green beans and boiling water.
No matter how you process green beans, you need to use a pressure canner.
I prefer the raw packing method, and I have a step-by-step guide to show you how to can green beans using the raw pack method. It's perfect for home preservers who are new to using a pressure canner. Don't be scared of the pressure canner – it's not scary!
6. Crisp Pickled Green Beans
If you've never tried pickled green beans, you're missing out. This recipe is so yummy; the dill flavor is strong and the red peppers in the recipe give it a nice kick without being too hot that kids can't enjoy them.
This recipe from All Recipes is different than a lot of others because you don't have to cook the beans first. Any time I can cut out a step and preserve green beans (or any food) faster is a win in my book.
When making pickled green beans, it's safe to use a water bath canner. You have to let these green beans sit in their jars for at least two to three weeks to let the flavors meddle together.
7. Spicy Garlic & Dill Pickled Beans
This recipe for spicy garlic and dill pickled beans by The House and Homestead has to be my favorite for pickled green beans because it has all the flavors. They're a bit spicy and garlicky – I LOVE garlic – and you can taste the dill, but they aren't overwhelming with the dill flavor.
Once again, the beans don't need to be cooked ahead of time; you have to snap and trim them to the size to fit your jars. It's safe to water bath can these pickled beans, and making the brine only takes a few minutes.
While I cannot eat these all the time, I love having a few jars on my shelf. They're a delicious snack and garnish for different dishes.
8. Lacto-Fermented Green Beans
If you're ready to dive into fermenting, make sure you try to make facto-fermented green beans. These are rich in healthy probiotics, and you don't need any crazy equipment to make these yummy beans. All you need is glass jars, green beans, water, and salt.
Seriously – that's it.
Within a few weeks, your lacto-fermented green beans will be ready to eat, and they'll taste amazing.
9. Spicy Fermented Green Beans
Ready to take your fermented green beans to the next level? Try this spicy garlic and dill fermented green beans recipe. The combination of these delicious spices and herbs used by Fermented Food Lab is delicious.
The recipe is still easy enough for beginners, and you don't have to cook the green beans. It will only take a few minutes to put this together. It takes at least one week before you'll find the flavor that you like, and after that, the fermented green beans last for about one month in the fridge.
10. Green Beans in a Salt Pot
Centuries ago, salt was one of best ways to preserve foods after the harvest before refrigeration, canning, or dehydrated were used. It works because above a certain level, microorganisms cannot live in high levels of salt, preserving the foods.
Nowadays, it seems strange to preserve something in salt, but salt was used to preserve meats, fish, butter, and all kinds of other foods centuries ago. When you use salt, you have to know that you need to remove all the salt before consuming them. That typically involves soaking and repeated rinsing. You don't want to eat too much salt!
I found this recipe for green beans in a salt pot, and I think it sounds so interesting. Our harvest looks huge this year, so it's going to be one of my goals to try. You need a stoneware pot or a wooden barrel, and you put salt at the bottom – coarse or fine salt. Then place green beans on the top.
Continue to layer salt and green beans. Over time, you'll see a natural brine forming. Learn more about this process over at Chelsea Green!
11. Italian Style Preserved Green Beans in Oil
Another old-fashioned style of preserving foods is in oil. This works great with green beans, and they taste delicious.
Start by cooking the green beans for 8-12 minutes in boiling water. Once cooked, they need to be placed in clean jars with 1/2 inch headspace. The beans must be completely submerged in the oil to work properly.
The tutorial for green beans preserved in oil by An Italian in My Kitchen shows you exactly what you need to do. This way to preserve green beans keeps them good for up to three months, and they need to be stored in the refrigerator after opening.
Preserve Green Beans All Year!
Don't let your green beans go to waste. Green beans are prolific, but you don't have to freeze them all or give them to your neighbors. Try a few of these different ways to preserve green beans, and your pantry will be stocked.