6 Simple Crochet Christmas Tree Skirt Patterns for Your Homestead
Adding a crochet Christmas tree skirt to your decorations this year will add a unique flair that you'll love.
I always share with you all, my lovely readers, gardening and homesteading topics, but I don't share something very near and dear to my heart – crocheting. I'm avid crocheter, and I want to bring that part of my life more to my website and feature patterns from creators (one day my own) and I'm kicking that off by showcasing crochet Christmas tree skirt patterns.
Not just any tree skirt patterns though. You can find hundreds of patterns, but last year, I went on a quest myself to find tree skirts that would fit into the homesteading life and decor I select for my house.
Many crochet Christmas tree skirt patterns you'll find online are modern, and if that's your style, rock it, but it's not mine. I like a rustic look. I find inspiration in all places, from the white, clean lines of the newer-style farmhouse look to old hunter cabins that seem rustic and rundown yet are full of charm.
That's what I want for my own – rustic, farmhouse, charming, and welcoming.
All of these patterns fit that for me, so if you're ready to start crocheting, here are some patterns I think you should consider trying.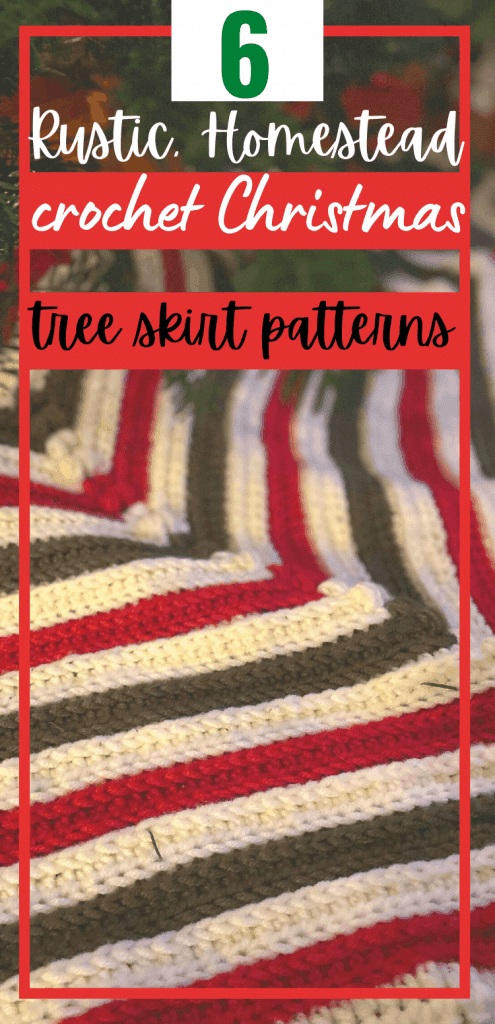 6 Rustic Crochet Christmas Tree Skirt Patterns
1. Homestead Tree Skirt by HookedHazel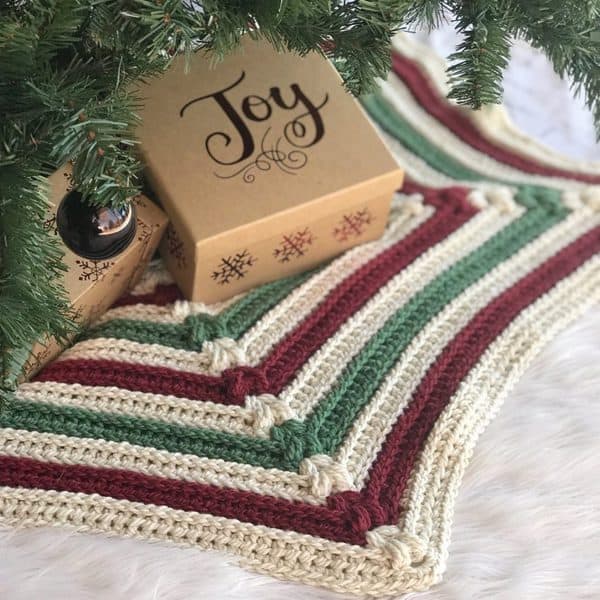 I had to include this pattern because I made this one last year. If you're a beginner, the pattern is easy to understand and doesn't include any stitches that would be too advanced for someone new. The trickiest stitch would be a puff stitch, but you can find dozens of YouTube videos to help you.
I love that you can adjust the width of this pattern yourself by adding or taking away rows. So, if you prefer a huge, wide Christmas tree, you can make it bigger. If you like a small, pencil tree, you can reduce the rows.
2. Rustic Wonderland Christmas Tree Skirt by Violet Loops
Beauty doesn't need to be complicated, and the reviews of the Rustic Wonderland pattern tell us just how easy this is to make. Beginners don't need to be aware; you can give this tree skirt pattern a try.
On their Etsy shop, you also can see the same pattern created in red. I think the white would look great if you prefer a white light Christmas tree, combined with the white skirt – it would be PERFECTION. The red would look great with both white lights and colored lights.
Plus, think of all the button options! You could go wild with your choices.
3. Buffalo Plaid Tree Skirt by MJ's Off the Hook Designs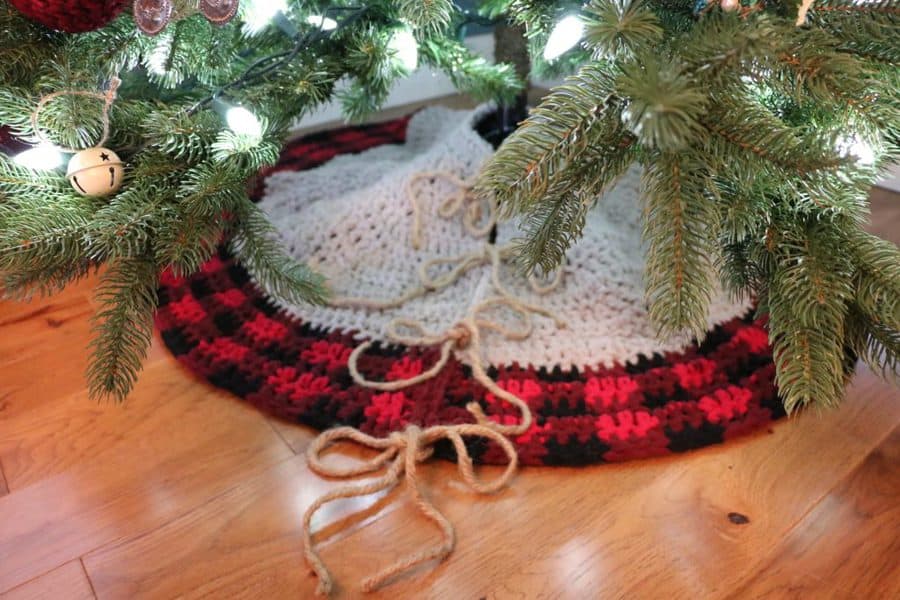 Does anything scream rustic and country-inspired more than buffalo plaid? If you are looking for a free crochet Christmas tree skirt pattern, you should give the design by MJ's Off the Hook Designs a try.
I like that the buffalo plaid isn't TOO much; the cream in the middle makes it pop without being too bold to include in your living room. The idea of using simple jute to close the skirt is adorable and matches perfectly with the rustic-look.
She also includes a pillow-case pattern to match, so you can toss a few pillows on your couch to bring a cohesive look to your living room.
4. Farmhouse Christmas Tree Skirt by MellowWood Designs
MellowWood Designs created an adorable tree skirt pattern that is ideal for advanced beginners to intermediate crocheters. It uses a soft, chenille yarn by Bernat, so you might want to cuddle under your Christmas tree, or you might be inspired to make a blanket a well.
This tree skirt has a lot of texture, created with the raised braids and bobbles. Even though braids and bobbles sound hard to make, they're not, so give this pattern a try. Using chunky yarn means that you could finish this in a weekend.
5. Snow Flurry Tree Skirt by Cozy Nooks Designs
When I saw this pattern, I knew I had to add it to my queue of patterns to make for Christmas. It looks like a fluffy layer of snow laying under your tree! You achieve this look through the textured effect created by Cozy Nooks Designs – it's genius.
The pattern uses chunky yarn, creating a very farmhouse-inspired look. It also isn't made in the typical circle; instead, you make a rectangle, so you wrap your tree in this soft, gorgeous skirt.
Are you afraid to give it a try before you're a new crocheter? Don't be! It's a beginner pattern, and since you use super bulky yarn and a large size U hook, it works up fast!
6. Plaid Tree Skirt by Whistle & Ivy
Plaid is making a comeback in every way, and I'm here for it. Plaid skirts, hoodies, pillows, tablecloths, tree skirts – whatever – I love it. There is something so rustic and farmhouse-y about plaid. It's probably because I remember my grandfather riding his tractor and ALWAYS wearing a plaid flannel with his jeans.
If you aren't into the white, crisp farmhouse look that Pinterest shares all of the time, I think this is the option for you. It's a classic, and the pattern is great for beginners. Since Bethany, the creator at Whistle & Ivy, used a thicker, heavier yarn, it won't take as much time to create. The stitches are all in the beginner to intermediate beginner stage, so it's possible for anyone to make this.
Did I mention that this pattern is FREE? Another great reason to give it a try!
Crochet This Christmas
This year, why not try making a crochet Christmas tree skirt? It will add a touch of rustic, homestead charm that you'll love. These six patterns are some of my favorite ones, and I think you'll love them as well.
Have you tried to crochet a Christmas tree skirt? If not, it's worth it!