15 Ways to Preserve Zucchini for the Fall
When your zucchini harvest arrives, it comes in hot and heavy. You'll need to find different ways to preserve zucchini if you don't want it to go to waste.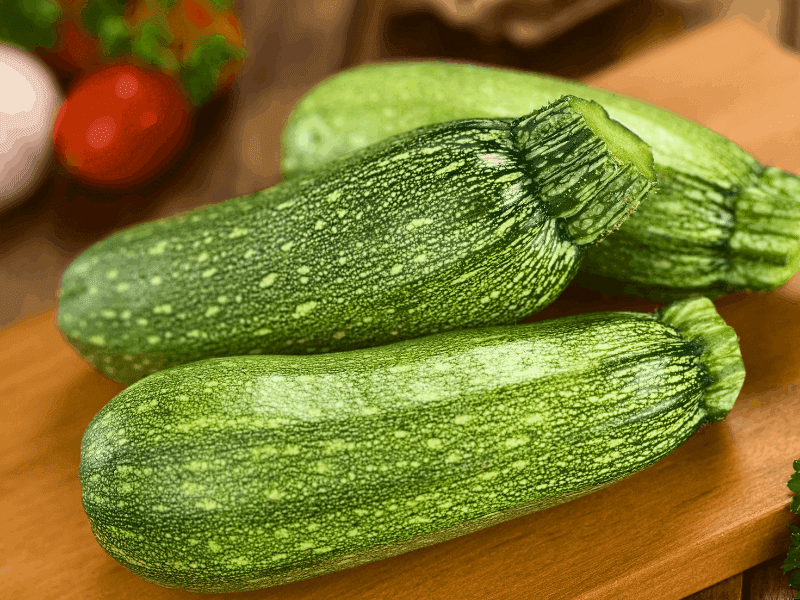 You don't have to drive your family nuts with zucchini recipes all summer long either. I love to find different ways to preserve zucchini and use it throughout the year. From zucchini salsa to zucchini bread, you'll find tons of preservation methods for zuchini.
One thing to note is that zucchini is not safe to can by itself. You need to pickle it or add it to a recipe that is canning safe, boosting the acidity level.
Some home canners argue that zucchini is safe to can using a pressure canner, but I like to avoid any potential canning mistakes. While it is safe to add zucchini to other canning recipes, we cannot be sure how long is needed in the pressure canner to safely can zucchini at home.
So, I avoid it, but that doesn't mean there aren't delicious, safe ways to can zucchini – there are several.
Zucchini is quite versatile, so you can find dozens of ways to cook it and preserve it. One of our favorite dinners is zucchini shrimp pasta, but after several meals, my kids and husband are screaming for mercy.
Here are some of the best ways to preserve zucchini for the fall and winter months.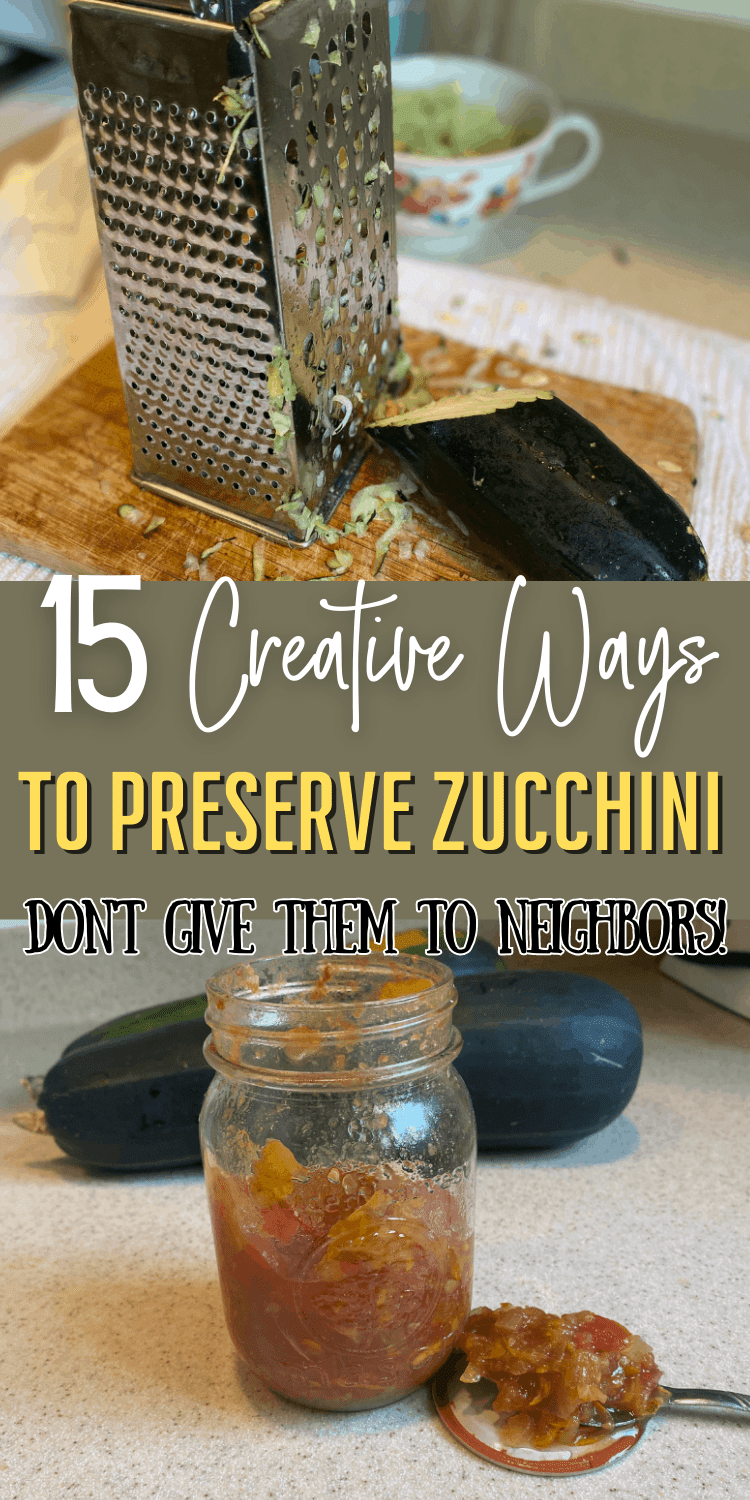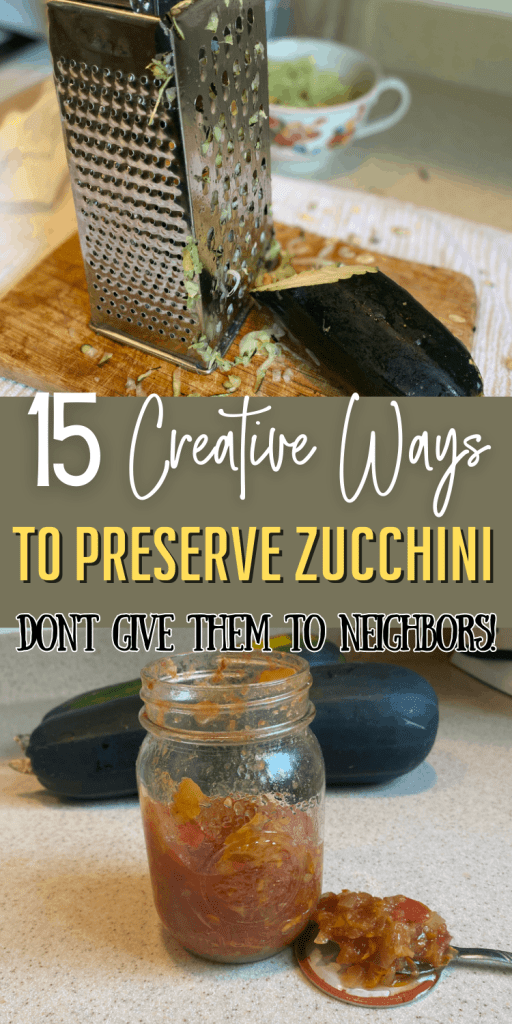 15 Ways to Preserve Zucchini for the Fall & Winter
1. Keep in Cold Storage
Many people believe that only winter squash can be stored for long periods; summer squash stores decently as well. Now, you won't be able to enjoy fresh zucchini a year later, but a cold basement or root cellar will keep your young zucchini edible for several months.
Yes, really.
Start by picking only young, firm squash without any blemishes. Each squash needs to be wrapped in tissue paper or place in a shallow container with straw or dry sphagnum moss.
They need to be stored around 50 degrees F; a metal or plastic container works. Make sure you have drainage holes at the bottom of the container.
2. Make Zucchini Salsa
My absolute favorite way to preserve zucchini is to make zucchini salsa. It uses up a ton of zucchini – around 10 cups – and it's a showstopper at parties. My friends ask for zucchini salsa when we have parties – and I happily oblige them.
If you've yet to try it, you have to do so. Put it on your list of things you need to can this year. Trust me, it's worth it.
3. Cook Up Some Zucchini Pickles & Relish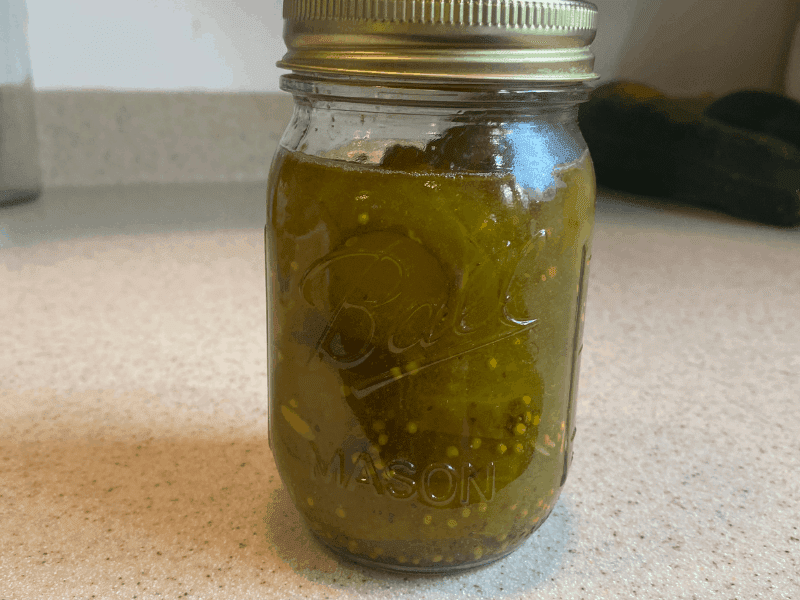 Not a salsa fan? Okay – weirdo – those things happen. Instead, try turning your zucchini in some pickles or relish. Both of those are huge hits.
I made zucchini bread & butter pickles, and those were a simple canning recipe that also tastes great on hamburgers or just by themselves.
I also made a huge batch of zucchini relish, the perfect topping for hamburgers or hot dogs in the summer.
I haven't made these yet, but I found a great recipe for Sweet & Sour Zucchini Pickles. These sound delicious, and since I have several zucchini ready to be used up, it's on my to-do list.
I do recommend that you use pickle crisp when making pickles from zucchini. In my experience, they won't be crispy and crunchy otherwise. The texture of zucchini isn't, in general, crunchy. It's worth the addition!
4. Freeze It For Later
One of the easiest ways to preserve zucchini is by stocking up your freezer. That makes it easy to grab and use when you feel like baking zucchini muffins or some of your favorite dinner meals.
There is more than one way to freeze zucchini. Here are a few ideas to try.
Slices or Pieces: Many dinners use slices or cubes, so you can freeze them like this until you're ready to use them. Zucchini slices or cubes can be used in casseroles, soups, stir-fry, or sauteed dishes.
Shredded: My favorite way to freezer zucchini is by shredding it. That's how I make homemade zucchini muffins and bread – one of my kids' favorite snacks. Shredded zucchini can also be used in quiche and frittatas.
Zoodles: These are zucchini noodles – the basis of my zucchini shrimp pasta. You'll need a spiralizer to make these, but if you're looking for a low-carb pasta alternative, zoodles are all the rage.
Puree: This sounds strange, but if you're like me, adding veggies to your child's food can be tricky. Add some zucchini puree to soups or pasta sauce – sometimes, we have to be a bit tricky!
Halves: I personally don't find that zucchini halves freeze as well, but some people have success. The goal is to be able to use them as a zucchini boat for recipes, but I find that they're too mushy once thawed. I suggest you give them a try and see your results!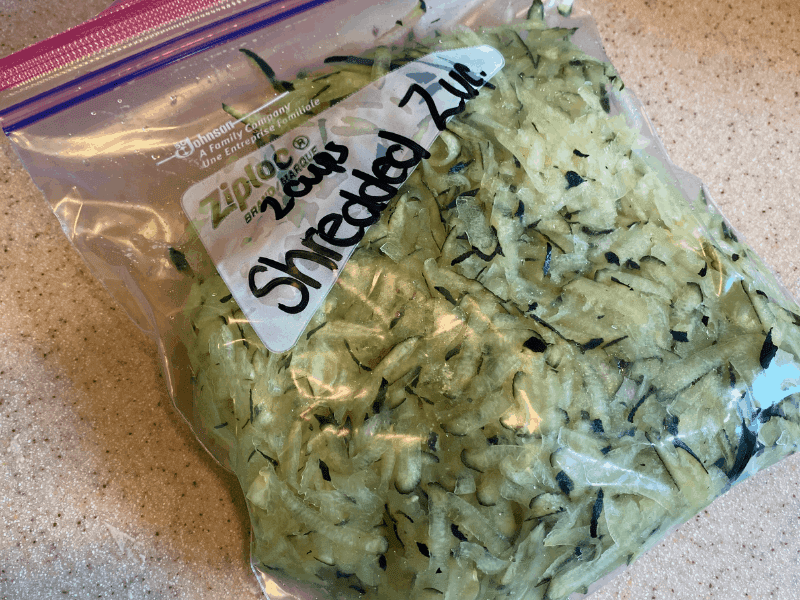 5. Dehydrate into Chips
One of the great benefits to dehydration is that food takes up very little space, and it stores for quite awhile. You can find pounds of fresh zucchini into glass jars that you can keep in your pantry.
Adding a dehydrator to your kitchen is a worthy tool.
So, how can you use dehydrated zucchini? Try adding them to your favorite soup or pasta dishes; dehydrated veggies plump back up when exposed to liquid. By the time your dish is done cooking, the dehydrated zucchini will be re-hydrated and delicious.
Looking for a sweet dehydrated treat? Try this recipe for strawberry zucchini fruit leather. The recipe is to die for – so yummy!
6. Ferment Zucchini Sticks
Fermentation feels intimidating to many home preservers, but I promise – it's actually one of the easiest food preservation methods that you can learn. I like fermentation because it doesn't involve crazy steps to prepare the food. They go in raw, so no cooking that's going to heat up the kitchen.
If you want to learn more about fermenting at home, check out my simple guide on fermenting.
These lacto-fermented zucchini sticks are delicious and have the added bonus of being great for your digestive health.
7. Shredded Zucchini Kraut
Instead of typical cabbage sauerkraut, why not make some kraut out of zucchini? Making sauerkraut is another form of fermentation, so make sure you have a basic understanding of fermenting before making this recipe.
All you need is a few large zucchinis; save your oversized ones for this – the ones that you missed while harvesting – and some sea salt! That's it! Zucchini kraut is a healthy alternative with a twist on a classic.
8. Freeze Zucchini Noodles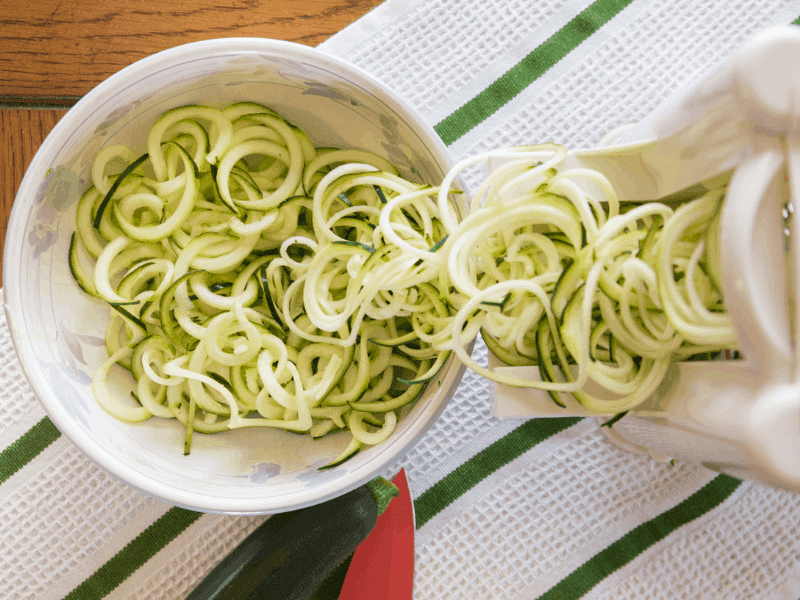 Many of my favorite zucchini recipes use zucchini noodles, but then I learned how to freeze zucchini noodles. That means our family has fresh zucchini noodles all year-round.
Freezing zucchini noodles is easier than I imagined. You will need a vegetable spiralizer to create the noodles. I let the zoodles sit in a strainer for up to an hour to let the water drain off of the zucchini. You also can squeeze them with paper towels to help drain off the water.
Then, blanch the noodles in boiling water for one-two minutes. Let the zoodles drain in a strainer before laying them on a baking sheet and flash freezing for one-hour.
Flash freezing isn't a necessary step for freezing zucchini noodles, but I found that it prevents them from clumping together in the bag.
Stick the noodles in a large, Ziploc bag and freeze. When it's time to cook, I put them back into the pan frozen; they un-thaw fast.
9. Make Zucchini Soup and Freeze It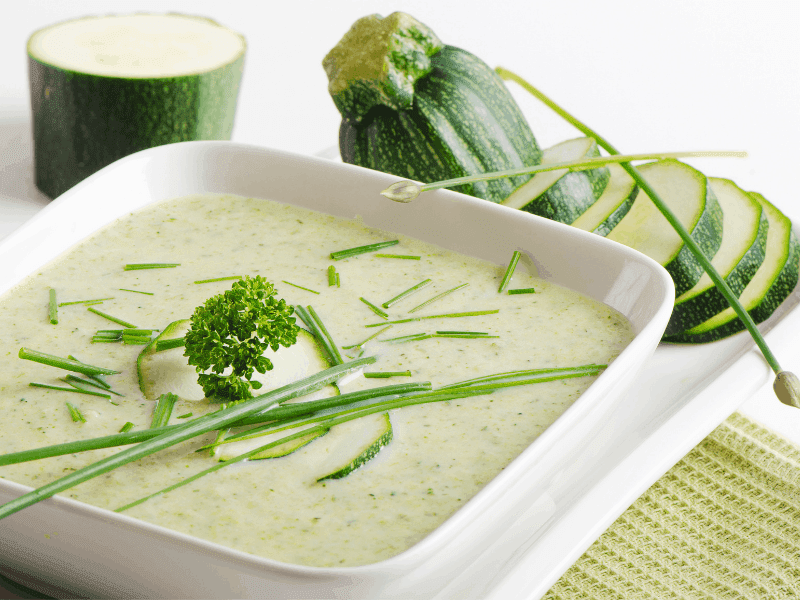 Zucchini can be used in many soup recipes. You can find specific zucchini soup recipes or come up with your own. Here are some zucchini soup recipes to try.
If you want to try a canning zucchini recipe, here is a canning-safe recipe. Remember, it's not safe to can pureed soup.
10. Preserve Zucchini in Oil
I had no idea how to preserve zucchini in oil until recently when my mother-in-law told me that her mother always did this in the summer. Storing food in oil isn't ideal for long-term storage, but it can preserve zucchini for up to six months. It does vary based on the recipe used.
I went on the search for zucchini recipes stored in oil, and I found some fantastic options. Despite the longer steps, I tried this Zucchine Sott'Olio recipe, and it was delicious! The recipe says that it can last around six months, but we ate them long before that time.
9. Zucchini Marmalade
I love this idea from Practical Self Reliance; Ashley creates delicious recipes. Zucchini marmalade only needs five ingredients and no pectin! This would be delicious spread over some homemade bread.
This is a canning safe recipe that needs to be processed in a water bath canner for 10 minutes. You also can freeze or use immediately if you don't want to break out the canner.
I know sometimes it's way too hot in the middle of the summer!
10. Zucchini Bread Jam
This week, I made this zucchini bread jam that I found over at Cosmopolitan Cornbread. I cannot believe I've never heard of this before, but guys, it's divine and so easy to make.
It really tastes like zucchini bread with a hint of apple. We ate it on toast and zucchini bread muffins I baked as well. I imagine that this would taste amazing as a cake filling. The recipe makes 4-5 half-pints.
11. Canning Zucchini and Tomatoes
One of our local restaurants serves zucchini and tomatoes, and it's one of my favorite side dishes. When I found out that it's possible to can tomatoes and zucchinis, I was so excited!
Tomatoes with zucchini need to be pressure canned to be safe. The recipe needs three pounds of tomatoes to one pound of zucchini. If you use the full recipe, you'll end up with around seven quarts, but I prefer to to can this in pints since we serve it alongside chicken and rice.
Seriously, your family will love this!
12. Canned Zucchini Salad
Canning zucchini salad is definitely on my list for the year. This recipe from Northern Homestead looks amazing. It is a recipe that uses zucchini, peppers, and tomatoes. Zucchini salad is often served as a side dish or mixed with rice.
It sounds delicious.
13. Faux Pineapple – Zucchini Pineapple
One of the very first ways to preserve zucchini that I tried years ago was making zucchini pineapple. Zucchini takes on the flavor of whatever you put it into, so it absorbs the flavor of the pineapple.
How would you use faux pineapple?
I like to bake with it! It tastes delicious. You also could eat it just the way that it is right out of the jar.
Faux pineapple is a canning safe recipe, so you don't have to worry that it won't preserve well. The zucchini holds up well in the acidity of the pineapple juice.
14. Freeze Zucchini Bread or Muffins
Does your family love zucchini bread or muffins as much as mine? I made two dozen and they ate them in one day.
Kids are crazy!
If your kids cannot get enough of these yummy treats, consider baking zucchini bread or muffins and freezing them to eat later. I prefer to make zucchini bread, wrap it in foil and store in a plastic freezer bag. Then, when I'm ready to eat the loaf, take it out of the foil and bake in the oven until unfrozen.
15. Make Zucchini Wine
I have to tell you – I'm a bit unsure about this idea. However, if you love making homemade wine, this would be a unique recipe to add to your wine storage. The zucchini wine recipe from Misfit Gardening looks easy enough that I understood the instructions (and I'm a total novice at wine making).
Common Questions About Preserving Zucchini
Who knew there was so many ways to preserve zucchini? This means that you can find more zucchini recipes to use throughout the year by saving all of your fresh zucchini.
You might still have some questions about how to save zucchini for the winter.
How to Freeze Zucchini Without Blanching
Are you wondering – can I freeze fresh zucchini without blanching? The answer is YES, you absolutely can!
The best way to freeze zucchini without blanching is to shred it. While it's possible to freeze sliced zucchini, I have better results freezing shredded zucchini without blanching.
Here's how to freeze shredded zucchini.
Cut off the top and end of the zucchini.
Shred your zucchini! You can use a grater, which is the cheapest option but it also gives you an arm workout. Another option is to use the shredding blade in your food processor.
Put the shredded zucchini in a colander and press down to remove water.
Measure out how much shredded zucchini you want to put in each freezer bag. I store my shredded zucchini in two cup portions, which is what is used in my zucchini bread recipe.
Label the freezer bags with the date and cup amount. Put in your freezer!
How to Freeze Squash for Frying
Freezing squash for frying is similar to how to freeze yellow squash, but you need to season and flour the zucchini slices.
Here are the tips for freezing squash for frying.
Don't cut the zucchini any thicker than 1/4 inch for ideal thawing. A mandolin makes slicing zucchini easy.
Pat the slices dry with a paper towel.
Mix flour with whatever spices that you want to use and dip each slice into the flour mixture.
It's best to freeze the floured zucchini slices on freezer paper. Lay the slices of floured squash on freezer paper in a single layer.
Flash freeze for an hour before storing the squash in a container or plastic bag in the freezer.
Final Thoughts
Don't let those extra zucchinis go to waste! Try one or a few of these different way to preserve zucchini at home instead of forcing your family to eat dozens of zucchini dinner recipes.
What is your favorite way to preserve zucchini?