How to Make Mulberry Jelly: Step-by-Step
Have you ever tried mulberry jelly? My kids love it!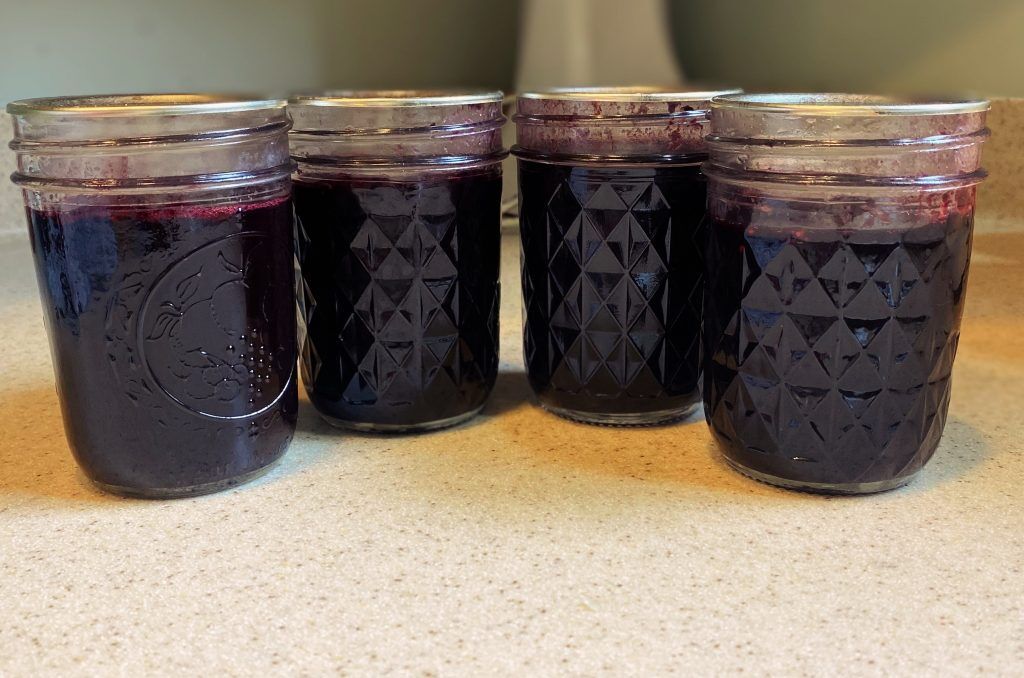 Never heard of mulberries? Surprisingly, I never had either until I met my husband, and his parents had a massive mulberry tree. I decided that I would learn how to use those mulberries. That meant learning how to make mulberry jelly!
The mulberry bush hangs over the top of the kids' swing set on the property. It used to be my husband's swingset growing up.
One thing about mulberries is that they have the staining power of like 100 strawberries. My kids naturally run barefoot on the property. There is something so darn cute about mulberry stained feet. Just be aware and try to avoid getting the stains on clothes that matter.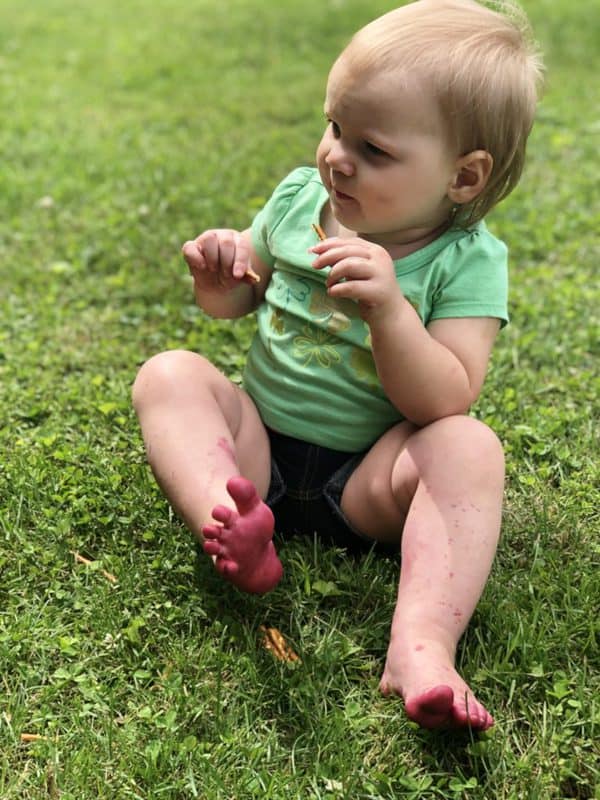 What are Mulberries?
Mulberries are a fruit that grow on a deciduous tree in temperate areas of the world. People love them for their unique flavor and composition of nutrients.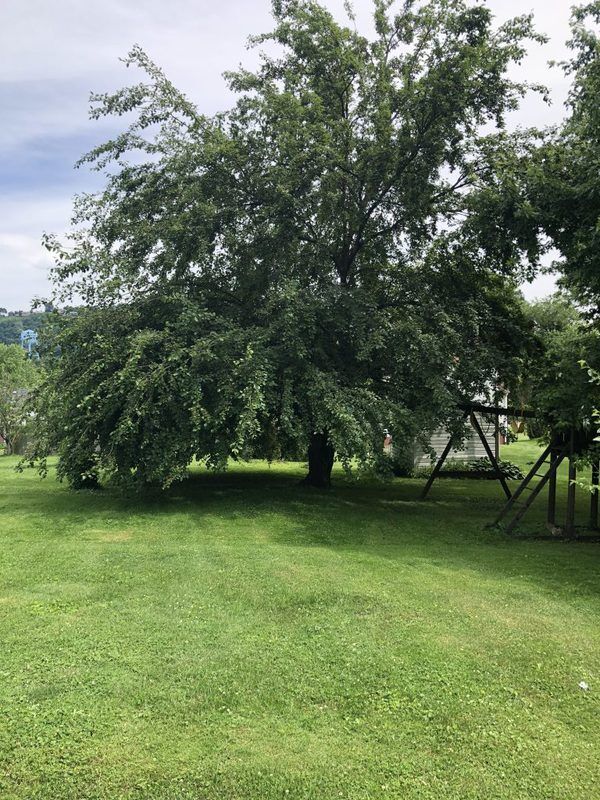 They have a sweet and tart flavor that make them ideal for jams, jellies, tarts, pies, wines, and more. Andrew, my husband, is making mulberry wine this year, and I can't wait to share the results of that with you!
The Health Benefits of Mulberries
Just like other berries, mulberries have tons of nutrients that support our bodies, such as vitamin C, vitamin K, potassium, and calcium.
A few of the health benefits of mulberries include:
Aids in digestion because it contains 10% of the recommended dietary fiber.
The high levels of iron content can boost the production of red blood cells, helping to distribute oxygen to tissues and organs.
Helps to improve vision because of the carotenoids found in mulberries.
Mulberry leaves have anti-inflammatory properties. You can use mulberry leaf tea to reduce inflammation pain.
The fruits contain more vitamin C than oranges with 190% of the daily recommended value per serving.
If you're interested in learning more about the health benefits of mulberries, check out this list from Organic Facts. It'll make you want to eat mulberries even more.
Making Mulberry Jelly
Making mulberry jelly requires a few steps and some canning supplies. After you pick and wash the berries, you need to juice them with a juicer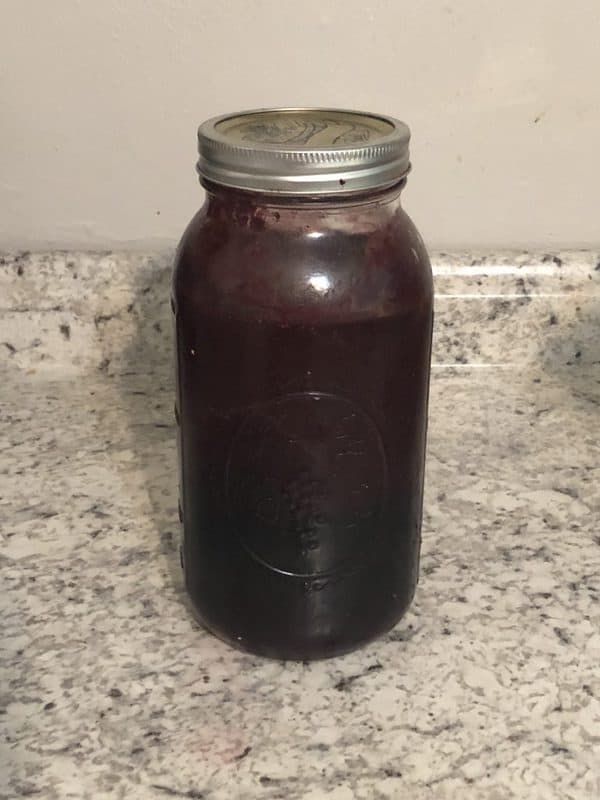 . You can make mulberry jam, but the stems should be removed, and that's just too much work for me. I like to push them through the juicer. I ended up with a full gallon of mulberry juice from one day of picking.
Mulberry jelly needs to be placed into a water bath canner, and you'll need to add some lemon juice to be sure the acidity level is correct.
Otherwise, I use basically the same recipe for most of my jellies and jams. This recipe uses low-sugar pectin. I don't like to put too much sugar in my jellies and jams; I like the flavor of the fruit to shine through more than the sugar.
The Best Mulberry Jelly Recipe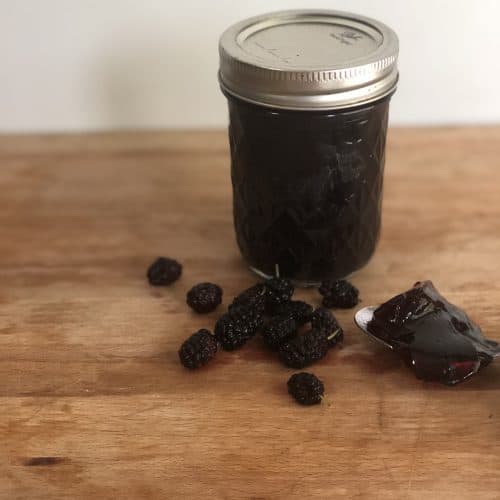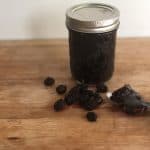 Mulberry Jelly
A delicious, foraged jelly from mulberries, perfect for snacks and sandwiches
Servings
6
Half-Pint Jars
Ingredients
4

Cups

Mulberry Juice

3.5

Cups

Sugar

1/4

Cup

Lemon Juice

1

Box

Low-Sugar Pectin
Instructions
After picking the berries, wash them well to remove any bugs and twigs that might be stick in the bucket.

Juice the mulberries. It removes the stems and seeds. I recommend re-juicing the pulp at least once to remove even more of the liquid. You'll be surprised what comes out if you run the pulp through the juicer a few times.

Put the juice in a heavy-bottom pot. Bring the juice to a boil and let cook for 5 minutes to cook off some of the excess water.

In a bowl, mix part of the pectin and one cup of sugar. Whisk it together then pour into the boiling juice. Mix well to remove lumps.

Add the remaining 2.5 cups of sugar and 1/4 cup of lemon juice.

Bring to a rolling boil. Stir for the entire minute to prevent the jelly from burning. Remove from heat.

Ladle hot jelly into jelly canning jars. Measure 1/2" headspace and wipe off the edges of the jar with a clean rag. Put on the lid and rims and tighten.

Process the jars at 10 minutes. Remove from the canner and let sit on the counter top, on a dry towel, for 12 hours.
Check Out These Other Jelly & Jam Recipes
Have you ever tried making mulberry jelly? Let me know in the comments!