Bacon Wrapped Meatloaf in the Air Fryer
Have you ever tried bacon wrapped meatloaf then cooked in the Air Fryer?
My husband and I are obsessed with the Air Fryer, particularly my husband. He has made so many great recipes in it, from brussel sprouts to burgers. Yes, he makes burgers in the air fryer!
Of course, we use it for the obvious food items as well, such as fries and chicken nuggets. Next to our Instant Pot, the Air Fryer is one of our top used kitchen gadgets.
He decided he wanted to come up with a recipe for bacon-wrapped meatloaf. It does require you to form the meatloaf in a bread loaf pan to get it properly wrapped. The process might seem complicated, but I promise it is not!
How to Make Bacon Wrapped Meatloaf
Before I get started, we have 3 Air Fryers, and this works best in our Air Fryer oven. It forms the best, but if you can make it fit, then you can use any that you have at home!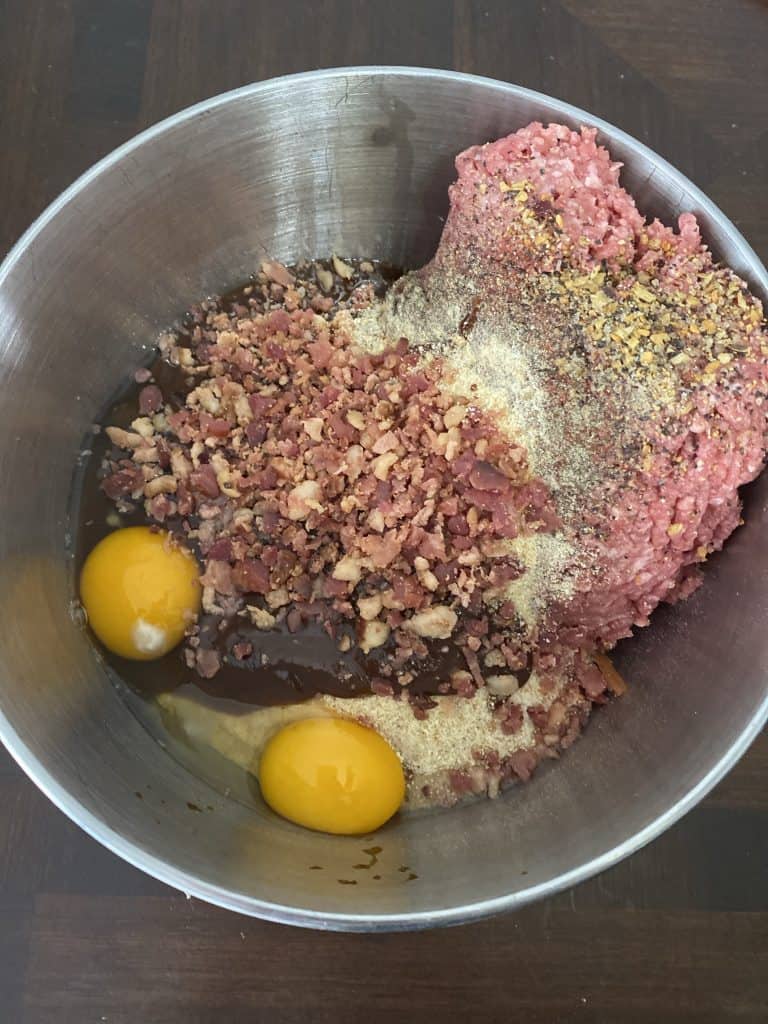 We started by mixing all of the ingredients together. In this recipe, we increased how much meat we used because our family of 6 typically needs 2-2.5 pounds of ground beef. Keep it at 1-1.5 if your family is smaller than ours.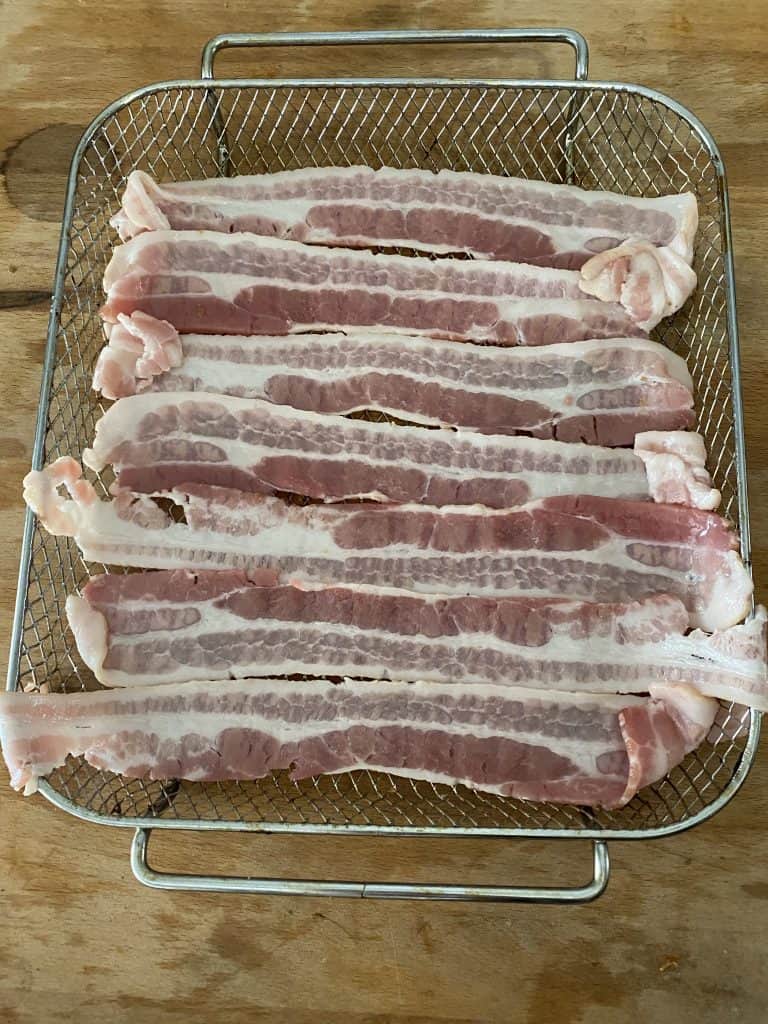 Then, my husband spread the bacon over the basket of our air fryer. Later we moved it to the pan because it fit better, but this makes it easy to see how to spread it!
Next, form your meatloaf in a loaf pan, and make sure you grease the pan a bit beforehand. It is essential to do this. You need to pack it down so that it doesn't fall apart. I wouldn't try to do it without a loaf pan.
Then, you'll flip it over on top of the bacon. Since you greased the pan a bit, with a few shakes, it'll slide right out.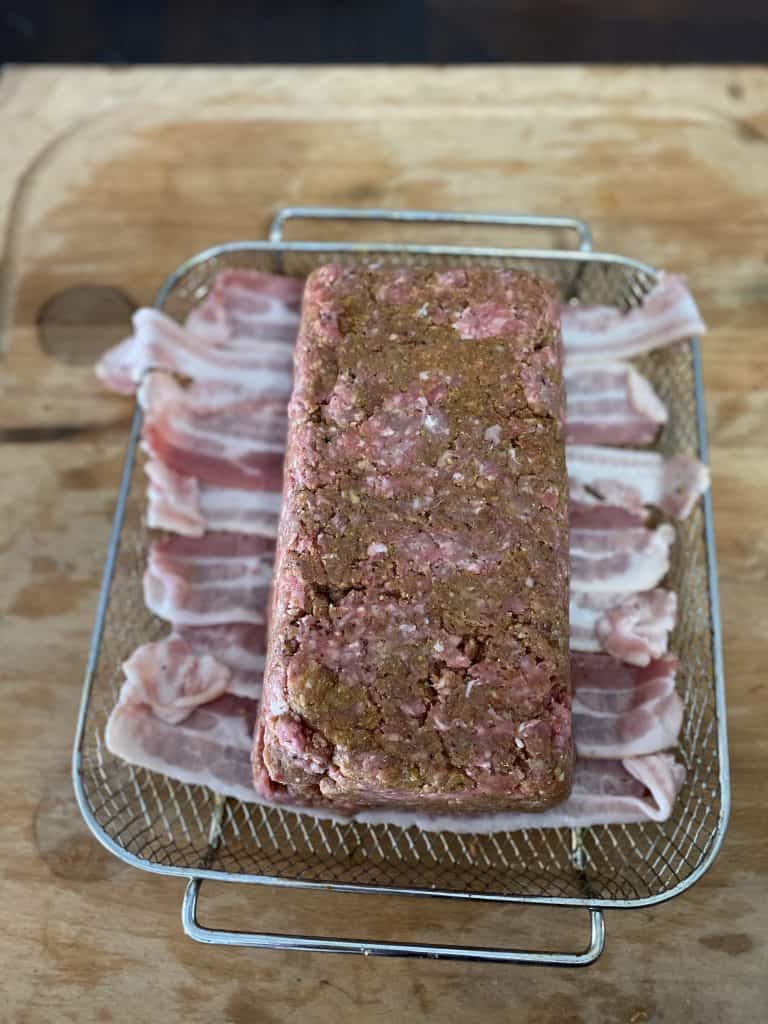 Doesn't that look awesome?
Here comes the part that might seem a bit complicated, but it really isn't. You need a few extra pieces of bacon leftover to spread over the top. You'll fold the pieces sticking out on the sides up over the top of the meatloaf.
Then, you'll use the remaining pieces of bacon to cover the top.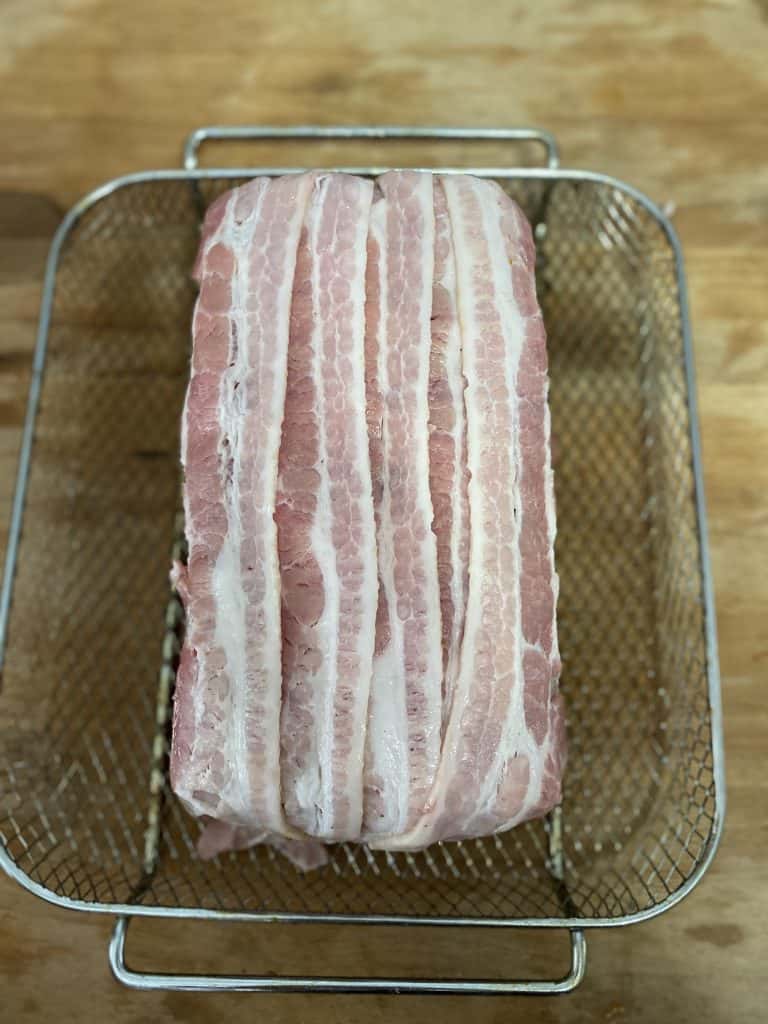 Sound complicated? I promise it isn't!
Now, you're going to cook it in your Air Fryer! In ours, we cooked it on 400 degrees for 50 minutes. That's with 2lbs of meat, so I would recommend around 40 minutes for less.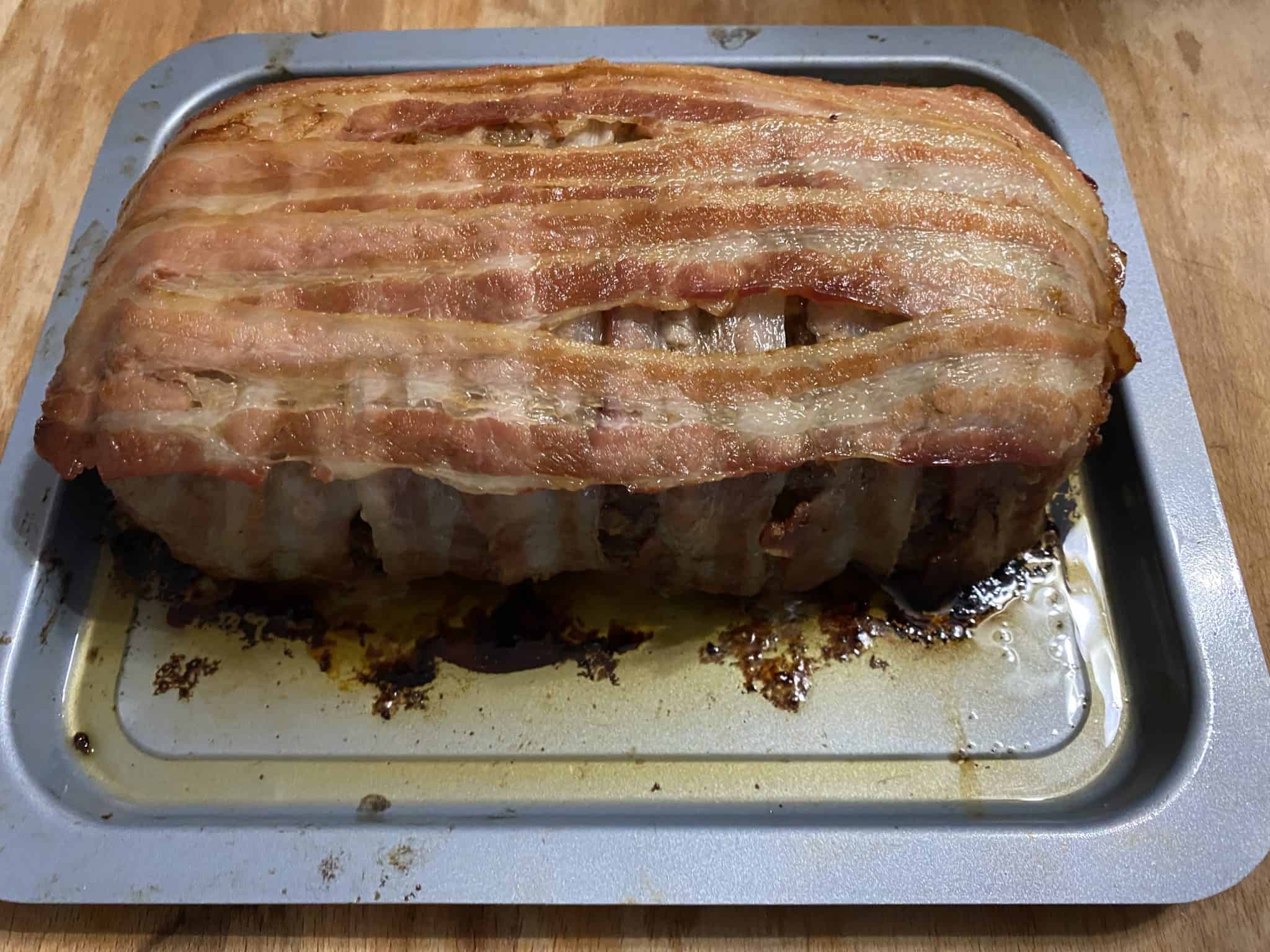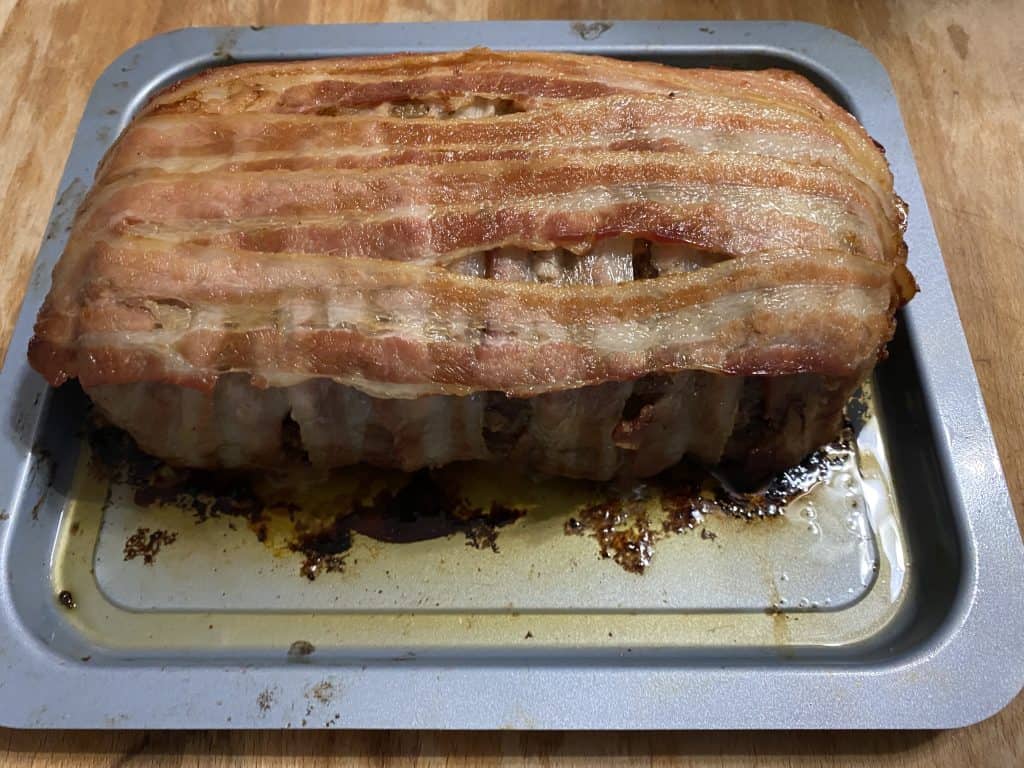 After 45 minutes, your meatloaf is finished, and it is delicious. We paired it with mashed potatoes because who doesn't love mashed potatoes?!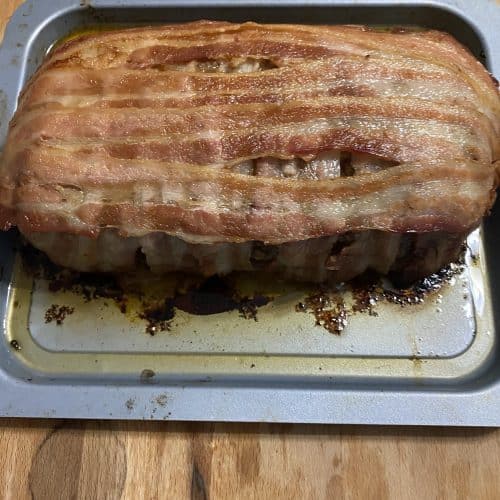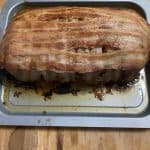 Air Fryer Bacon Wrapped Meatloaf
Meatloaf wrapped in bacon and cooked in the air fryer, a perfect dinner for your family
Ingredients
2

TSP

Chili Powder

1

TBSP

Montreal Steak Seasoning

1

TBSP

Onion Powder

1

TSP

Garlic Powder

1

TSP

Salt

1

TSP

Pepper

1/4

Cup

Bacon Bits

2

Eggs

1 1/2

Cup

Panko Bread Crumbs

Plain

1

Cup

BBQ Sauce

1

Pack

Bacon

1 1/2

lbs

Ground Beef
Instructions
1. Combine all seasonings, panko bread crumbs, eggs, bacon bits, 1/2 cup BBQ sauce, and beef into a large mixing bowl. Set aside.

2.. Pack the seasoned meat into the loaf pan. Then, wrap the edges of bacon around the meatloaf.

3. Layer bacon across the Air Fryer basket or tray, whatever you want to use.

4. Flip the packed meatloaf on the center of the spread-out bacon. Then, wrap the bacon around the meatloaf. Use 3-4 extra strips of bacon to cover the top of the meatloaf.

5. Cook at 400 degrees F for 40-50 minutes depending on how many pounds of ground beef you end up using. For 2lbs, you'll need 50 minutes.

7. After 40 minutes, check to ensure the meat is thoroughly cooked. Enjoy!
Give our meatloaf with bacon in the Air Fryer a try!