Beautiful Feet Books – Early American Primary: An Honest Review
*I received no compensation or free products for this post. These opinions are my own.

History is a passion for me. I have a B.A. in history. When Caelyn reached kindergarten, I wanted to introduce some type of history, but I didn't want it to go above her head. I was ready to introduce something, anything, to my first child.
After days of researching, I stumbled upon Beautiful Feet Books, and I am so thankful that I did. Beautiful Feet Books follow a literature-based style of learning, easily adaptable to Charlotte Mason or other styles.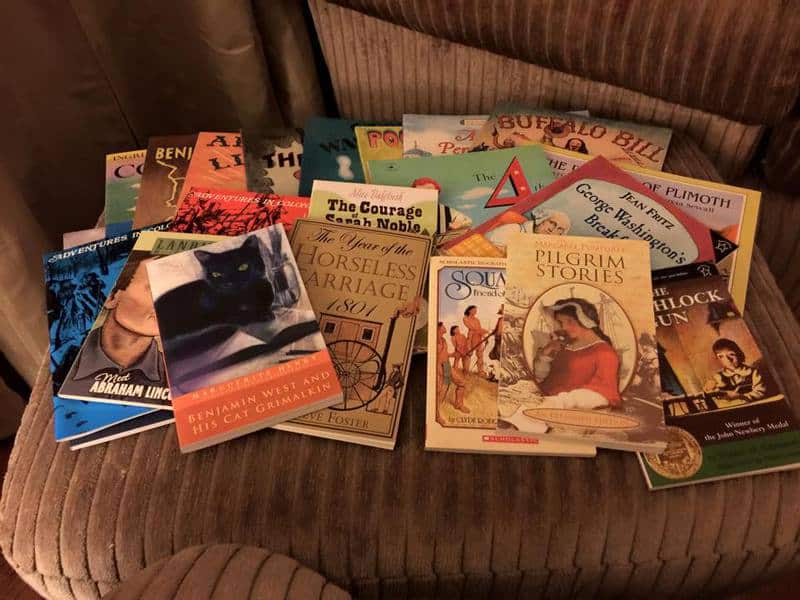 I purchased the two-year program for the Early American Primary. You have the option to purchase one or two years. The two-year is a bigger pack and more expensive, but you get double the amount of books. I figured we would utilize the books at one point.
This package is meant for K-3rd graders, and I think it would work perfectly for all of those ages! They also have an immediate pack you could use to allow an older child to tag along with the program.
What I Loved about Beautiful Feet
Beautiful Feet Books stand out because of the books they select. They are top quality. We added so many lovely books to our collection.
Instead of a boring workbook, your children learn through living books. They learn about Jamestown through a diary about a man living there. It allows the children to engage and become more excited about the topics.
The guide given breaks the reading down into lesson amounts. If you want to finish the jumbo pack in one year, you would complete 3 lessons per week. For a two-year program, you complete 2 lessons per week. We did the 2 lessons, and I added some extra readings. However, it would work fine without anything extra added. My daughter just found some periods fascinating, so we expanded even further after the second year.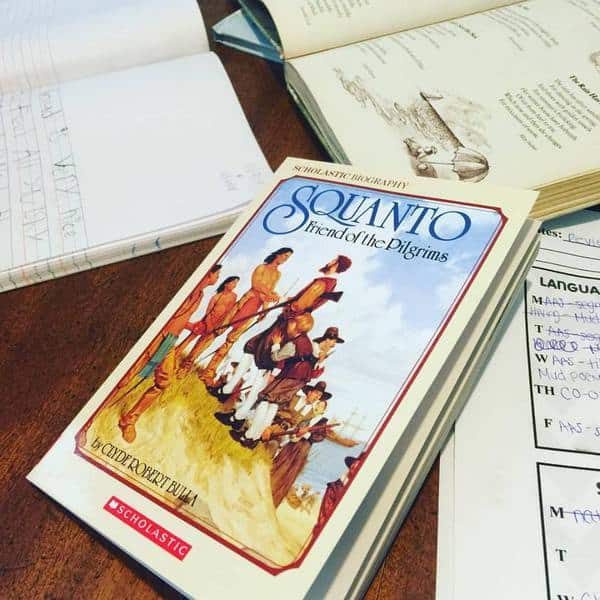 Each lesson includes notebooking prompts. You receive a notebook with the program, and the website has downloadable coloring pages. The instructions tell you what picture to color. There are questions to ask your child for them to answer in the notebook. The first year, we mainly did oral questions. The second year, we took turns writing out of the answers.
I love notebooking! It is a great way for the kids to express some creativity and have fun with learning. It also allows them to go back and review the things they learned earlier.
I love this program, and I plan to use it with my two boys as they reach this age. I do have two things I would change if I could.
More independent readers: I found some Magic Tree House and Imagination Station books that worked perfectly for a few of the time periods. I would've liked to see more independent readers for kids in the upper age range. My daughter is an advanced reader for her age. It could even be an add-on purchase option!
More Projects: It would be nice to see more additional project ideas included in the program. My daughter loves hands-on projects. We completed a few that were my idea. It would be nice to see a "suggested project" section. They would just be supplemental and not an encouraged or large part of the program.
I wouldn't change anything else, and I simply just added what I wanted to the program. Because of the Beautiful Feet Early American History program, we spent hours cuddled up reading. My daughter always wanted to read more. The books were that good!
She relates things back to what she read. We were able to visit Mount Vernon as we studied George Washington. We visited museums to learn more about Native Americans. Our two-year journey through this package prompted thousands of questions, rabbit holes that we studied, and two years of great memories.
Now, we are using their Geography Through Literature package and loving it!
I hope this review was helpful for you. Have you used any programs by Beautiful Feet Books? What was your experience. Let me know in the comments!