Have a No Spend Month: The Key to Pay Debt Down Faster and Save More Money
Are you searching for extra money in your budget to throw towards debt? When your budget is tight, finding even an extra $20 can be a struggle. Or, you may feel lazy towards debt payoff and need to kick it into high gear. Try a no spend month to get back on track.
There is no better way to beef up the debt snowball than to have a no spend month.
Wait, a no spend month?! Does that mean our family won't spend money on anything?
No! That isn't what a no spend month is at all. The concept is whatever you make it, but most people assign these typical rules to a no spend month.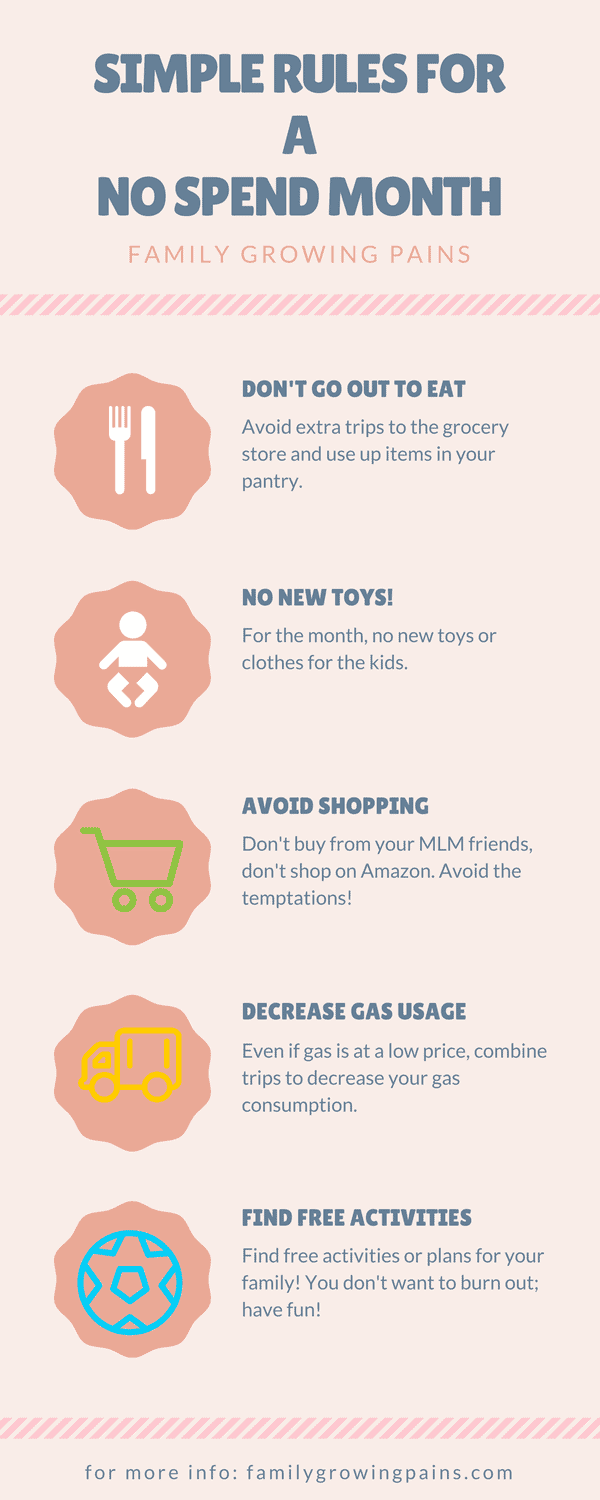 With all of the money we save, we will be able to make larger payments toward debts. Our primary goal this month is a remaining credit card that needs to go!
I am excited (and nervous) to start! We are going to try to encourage the kids and tell them it is a game. I'm hoping the weather brightens up so we can spend extra time at the park and less time other places.
What is a No Spend Month?
Are you wondering what is a no spend month? I felt the same way. I was like how do people spend no money at all?
I mean, everyone has bills. You have to buy food and gas. How does it work?
Here's the deal.
When you have a no spend month, you don't purchase anything beyond what is vital. A lot of people combine no spend months with pantry eating challenges.
It makes sense because we are coming out Christmas when you probably spent more than you typically do. January isn't the only time for a no-spend month; you can use this trick whenever you find that you need to save more and spend less.
Yes, you need to buy gas, but you might not find yourself taking the long way home. You need to preserve the gas, so combine trips whenever you can.
For example, we have speech therapy for my son on Thursdays. So, I also pick up groceries, deliver eggs to my customers, and any other task that needs done.
You need to buy groceries, but check the pantry and use as much as you can beforehand. Spend only what is necessary.
Want a date night? Get creative and create a date night experience at home when the kids go to bed.
You get the idea. Your goal is to spend as little as possible.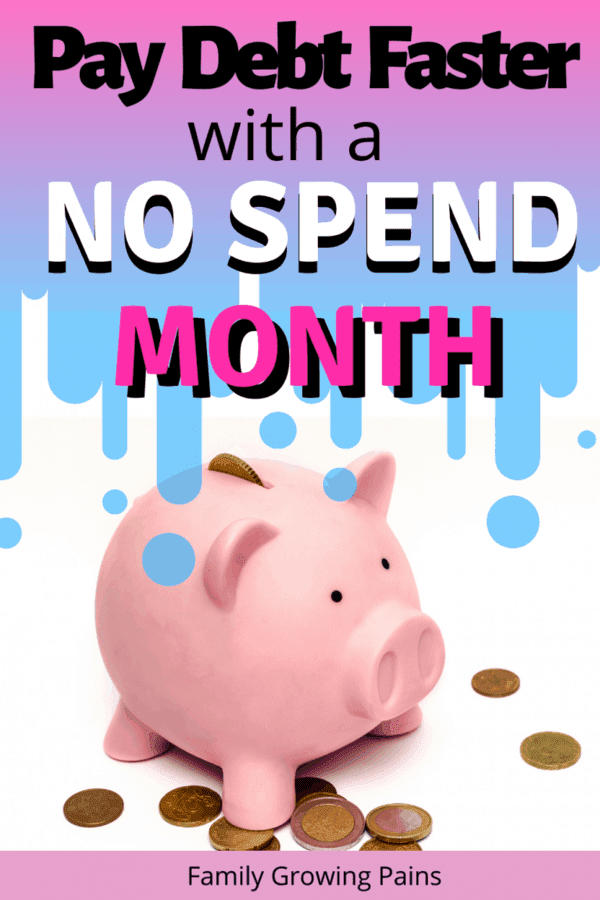 How to Plan a No Spend Month
First, look at what you have to do that month. Preparing and planning ahead is a must-do for a no spend month.
You might have doctor appointments scheduled that require co-pays. Those need to go into the budget. If your child has a birthday, then you either see if you can move the party into the next month or set a strict limit and stick to it.
Those of us with several kids find that there seems to be rarely a time without an impending birthday.
Or your niece or nephew might have a party soon. These things are unavoidable, but stick them in the budget and have a strict limit.
Look at your local calendar for some FREE events that you might be able to attend with your family. Plan a board game night and a movie night with your kids – at home. Those are cheap.
Write out your bills and your income. Determine how much is leftover and be prepared to put it directly into savings.
If you can, see if your spouse can work overtime or if you can make extra dollars selling some items on the marketplace. You want to save as much as possible and that might mean making even more to spend.
Meal plan! Friends, this will be HUGE during your no spend month. You only want to buy what is necessary, remember? Take a serious inventory of all the food that you have in the house and make the plan from what you have first.
Also, don't forget to look at other necessary purchases. Your vehicle tags might be due. Be diligent; you don't want any surprises.
Set Goals
You can set more goals than just to not spend money or to save money. Here are some examples of our goals when we have a no spend month.
Curb Our Spending Habits: After Christmas, it can be hard to stop the insane amount of purchasing. We are ready to be done!
Sell Unneeded Items: As I mentioned before, we hope to move this summer. Everyone knows that moving reveals just how many items you collected over the years. This month, I need to get rid of things. No items in and a lot out!
Trim Our Budget: I have had the same budget for months now. Sometimes, I feel as if we need a refresh button. I need to look at it with fresh eyes to see what needs change and what needs updated. This month, we will focus on changing and adapting our budget to meet the growing needs of our family.
Does a no spend month sound like a great idea for your family? Do you want to commit to paying off more debt in one month than usual? Join me! Let me know in the comments if you're planning a no spend January, February, or some other time this year!
Pin It For Later: